'The Office' Director Ruined a Take by Laughing Loudly During a Steve Carell Scene
The Office cast has admitted to more than their fair share of moments when they laughed while filming a scene and ruined takes. One episode's director even lost it during a Steve Carell and Amy Ryan scene because she thought the actors broke character — but that wasn't the case at all.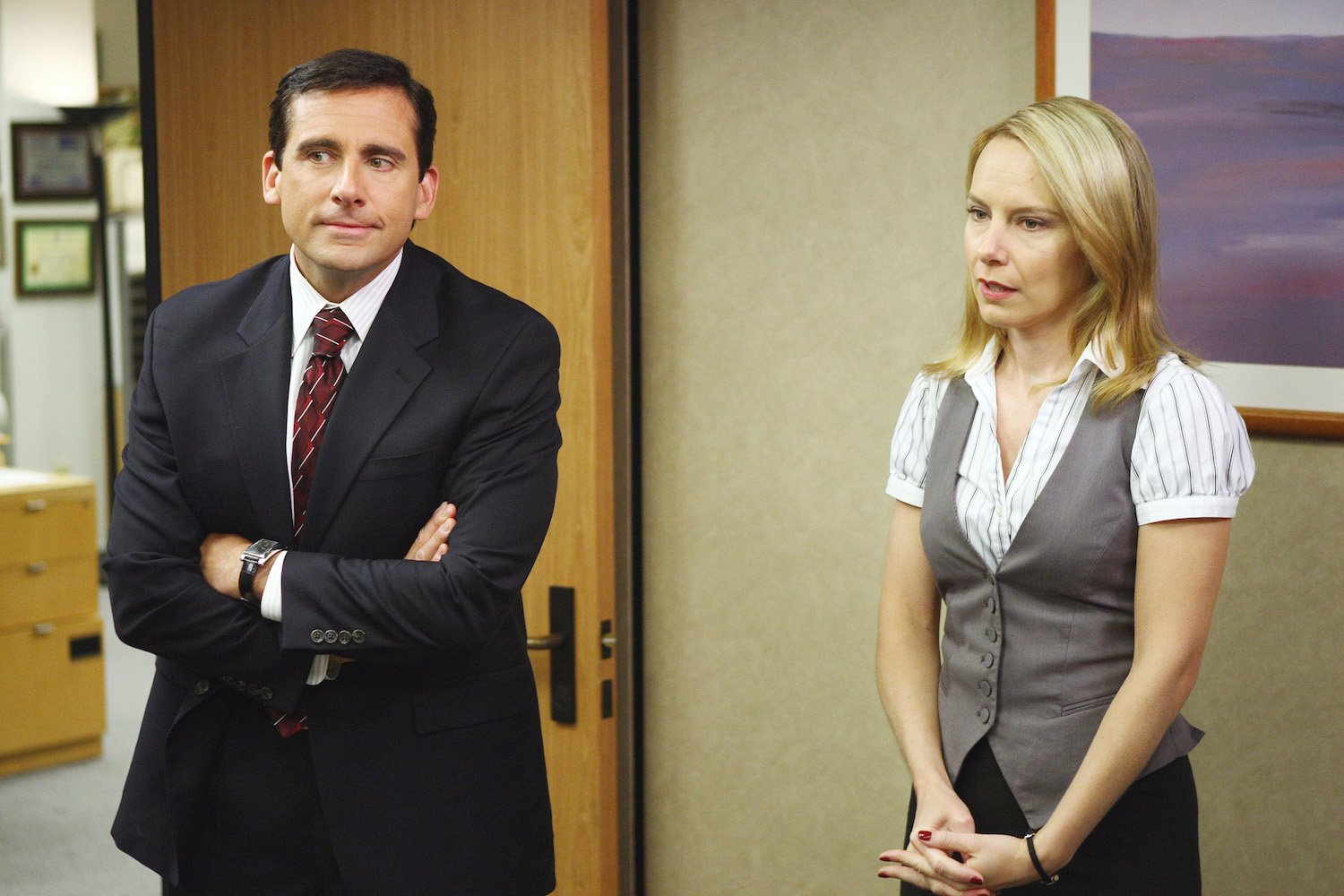 Michael Scott promised Bruce Springsteen tickets in 'The Office' 'Crime Aid' episode
During the June 23 episode of the Office Ladies podcast, Jenna Fischer and Angela Kinsey discussed The Office Season 5 episode "Crime Aid." After the Dunder Mifflin office is robbed, Michael Scott organizes an auction in an effort to raise money. He teases that he has Bruce Springsteen tickets so that people will attend the auction but then can't find them when it's time for people to bid on the tickets.
He tells everyone the tickets were stolen and when Michael later tries to confess to Holly that he never had Springsteen tickets, she tells him he doesn't have to explain as she already figured out the tickets never existed.
"About the tickets. It's sort of a gray-kind of a gray area in terms of … whether or not I had them," Michael tells Holly, who then covers his mouth.
The Steve Carell and Amy Ryan scene made the director laugh out loud
That moment between Michael and Holly made director and show runner Jen Celotta crack up — but mostly because she thought that she saw the actors break character. Fischer asked her co-host, "You know how Jen Celotta was always ruining takes by laughing on set? All the time, especially talking heads."
When Celotta directed the "Crime Aid" episode, she ruined the take between Carell and Ryan by laughing out loud. "Well Jen told me that she totally ruined a take during this scene," Fischer explained. "She says the moment when Holly is trying to cover Michael's mouth and tell him, 'Don't say it, don't say it' and then how Michael is sort of delighted by this so he starts laughing and then Holly starts laughing…"
"Jen said that it felt so real to her that she thought they had broke," Fischer continued. "So Jen started laughing and ultimately ruined the take. And Steve was like, 'Why were you laughing?' And she said, 'I thought you were breaking.'"
"And he said, 'No, we were just acting.' And then they all kind of laughed at that," Fischer shared. "But she said that moment made it onto the blooper reel."
Michael and Holly share a kiss
In the episode, Holly admits that she figured that Michael probably didn't have concert tickets. "The Springsteen tickets seemed too good to be true," she says. "But a lot of Michael seems too good to be true. So far it's all true. But yeah, those tickets really seemed too good to be true."
After corporate boss David Wallace sees Michael and Holly share a kiss, he is interviewed on camera about the relationship, saying, "No, I did not know that Michael was dating Holly."
Fischer explained that Michael and Holly will have some challenges ahead of them. "This is going to cause some problems for this couple going forward," she noted.
RELATED: 'The Office' Star Said the Cast 'Couldn't Stop Laughing' While Filming 1 Iconic Episode