'The Office': Dwight Schrute's 9 Must-Watch Episodes Before It Leaves Netflix
Between his skills as a beet farmer to his undying loyalty to Michael Scott (Steve Carell), Dwight K. Schrute (Rainn Wilson) is easily one of the more memorable characters from The Office. While Dwight began as a slightly annoying character, his epic battles with Jim Halpert (John Krasinski) will go down for the ages. Here is a look back at Dwight's nine best episodes every fan should watch before The Office leaves Netflix.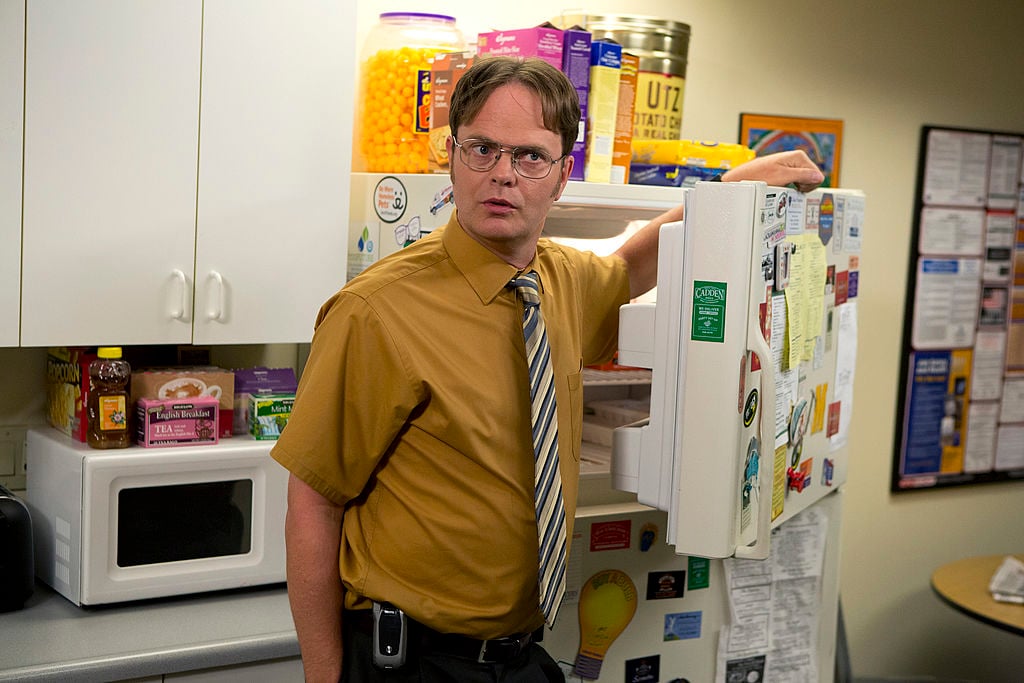 1. Dwight gets a concussion
In this Season 2 episode of The Office, "The Injury," Michael started the day by accidentally scorching his foot on the inside of a George Foreman Grill. Michael's injury drove the story in this one, but Dwight quickly stole the show after wrecking his car. Dwight suffered a concussion in the crash, which made him act even stranger than usual. This includes typing his name over and over again and actually being nice to his fellow workers.
2. Jim and Dwight throw down
Following years of pranks, Dwight finally has enough of Jim and demands that something be done in "Conflict Resolution." Things quickly unravel, however, once Dwight realized that all of his complaints have not been reported. This leads to Michael reading out all of Jim's pranks over the years while Dwight leads the office in a chant to get Jim to transfer.
3. The drug test
Towards the end of Season 2, Dwight discovers drugs in the building and quickly launches an investigation to catch the lawbreaker. The ensuing investigation is Dwight at his best. Not only does he have ultimate power over his co-workers, but watching him interrogate everyone is absolutely hilarious. Things take a turn when Michael asks Dwight to give him fake urine, which initiates a moral dilemma.
4. Dwight's coup
For the first two seasons of The Office, Dwight was the one person Michael could always rely on. That all changed in the Season 3 episode, "The Coup," when Dwight attempted to become Scranton's branch manager. Dwight's efforts, of course, failed and he resumed his position as assistant to the branch manager. He also lost a bit of Michael's trust, something he would work hard to gain back.
5. The surprise
The Office episode, "Email Surveillance," Jim decides to host a party at his home but does not want to invite Michael to the festivities. The only problem with this plan is that Dwight does not want to go unless Michael is part of the fun. Jim then convinces Dwight that the party is a surprise for Michael, which throws him off the trail.
6. Dwight resigns
Dwight experienced a lot of growth in Season 3, and his two-part arc in "Traveling Salesman" and "The Return," is a perfect example of his importance to the series. In the first part, Dwight is forced to resign from Dunder Mifflin because he does not want to out Angela as his secret office romance. He then comes back to the company in "The Return" after Michael realizes that letting him go was the wrong decision.
7. Jim becomes Dwight
In Episode 20 of Season 3 of The Office, titled "Product Recall," we get one of the funniest opens of the show's history. Jim does a perfect impression of Dwight, down to his favorite mustard-colored shirt to his hairstyle. Not one to be outmatched, Dwight gets Jim back at the end of the episode with a spot-on impression of Jim's laid-back style and attitude.
8. Dwight and Jim team up
In "The Alliance," Dwight and Jim join forces after hearing how corporate wants to downsize the company. Jim, of course, agrees to collaborate with Dwight and does not miss this opportunity to torment his co-worker, resulting in some of the show's best pranks.
9. The speech
In Season 2 of The Office, Dunder Mifflin gave Dwight a reward for being the best salesman of the year. The honor means a lot to Dwight, but it also requires him to make an acceptance speech in front of the entire company. Fortunately, Jim is on hand to coach Dwight on making the perfect speech. Although Jim set Dwight up for failure, his speech is actually well received by everyone at the ceremony and has become of Dwight's more iconic scenes.