'The Office' Fans' Favorite Cold Open Is Really a Blooper Because of This Mistake
The sitcom is one of those shows that always leaves fans questioning if the funny scenes are scripted or improvised. However, The Office fans may be surprised how many of the jokes and unexpected twists were planned from the very beginning.
There is a cold open that is a favorite among fans that is a quick interaction between Jim (John Krasinski) and Dwight (Rainn Wilson.) Find out why it's actually a blooper kept in the show and more.
Jim pops Dwight's fitness orb in a cold open on 'The Office'
Dwight sometimes gets on Jim's nerves. In the episode, "Performance Review" he does this by bouncing on a fitness orb at his desk.
Dwight tries to convince him to get a fitness orb to strengthen his core. Jim doesn't look interested at all. Eventually Jim asks him how much he paid for it and when he answers $25 he gets his scissors and pops it.
The fitness orb wasn't supposed to pop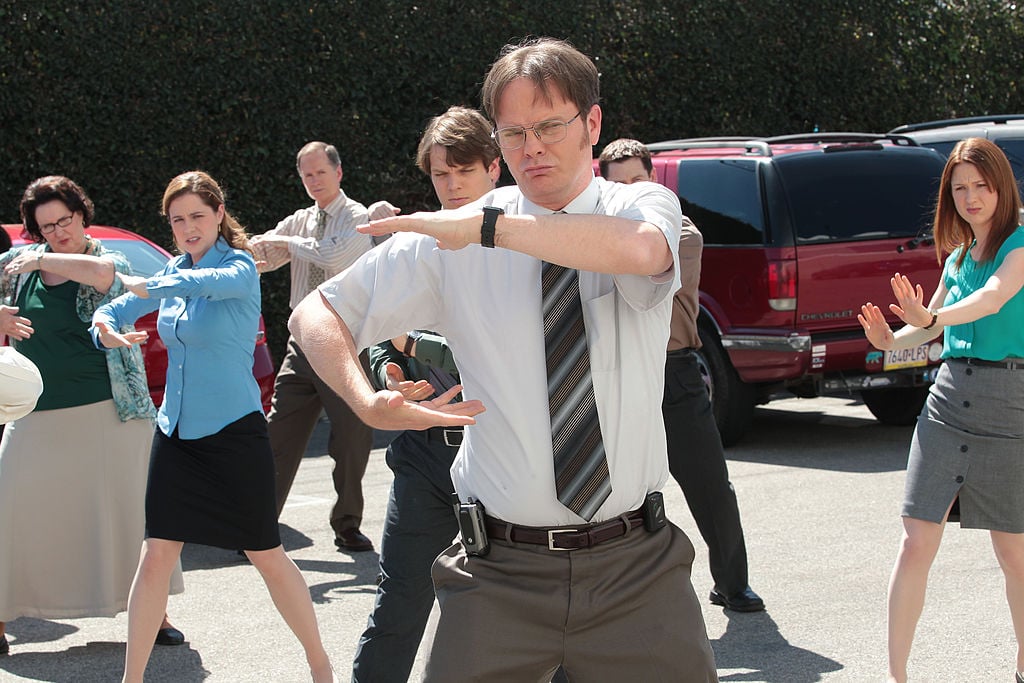 Jenna Fischer and Angela Kinsey talked about what was in the script on their podcast, Office Ladies. "Well everyone, it was not meant to pop," revealed Fischer. She talked to the props master about the episode.
He bought 17 balls and practiced with John Krasinski using three of them. "The idea was that John would stick the scissors into the fitness orb and it would deflate very slowly and the camera would be in front of Dwight's desk and you would see him very slowly melt to the floor as Jim very smugly," said Fisher before Kinsey added "looks on."
Fischer continued, "They practiced three times. It worked perfectly and they had 14 left for this scene." The actress said the props master told Krasinski "As long as you don't hit the seam of the ball with the scissors, which would be one in million chance that you could do it, the ball would slowly deflate and it would work as planned."
Larry Wilmore pushed to keep the blooper in the show
The actors went on to shoot 13 takes. They decided to use the last ball even though all the other takes went perfectly. Krasinski did it again for the last take and he accidentally hit the seam, which made it pop.
"You can see the shock on Rainn's face," said Fischer. She later said, "We were all completely shocked. We were like 'Oh my god!' And you could totally see John break. You can see his shoulders."
However, he made sure to turn around and leave so his reaction wouldn't be caught on camera. "I swear you can hear somebody say, 'What?!'" said Fischer.
The plan was to use another take where everything goes as scripted. Writer, Larry Wilmore was the one to push for the fast pop instead of a scene where the ball deflates.