'The Office': Fans Might Get a Reunion Soon According to Brian Baumgartner; 'I've Heard Rumblings'
Fans of The Office have been hoping for a reunion since the comedy series ended in 2013. Now, 16 years later, fans are still waiting on The Office's cast to come together and create fresh content for fans. According to Office star Brian Baumgartner, a reunion might come sooner than we think.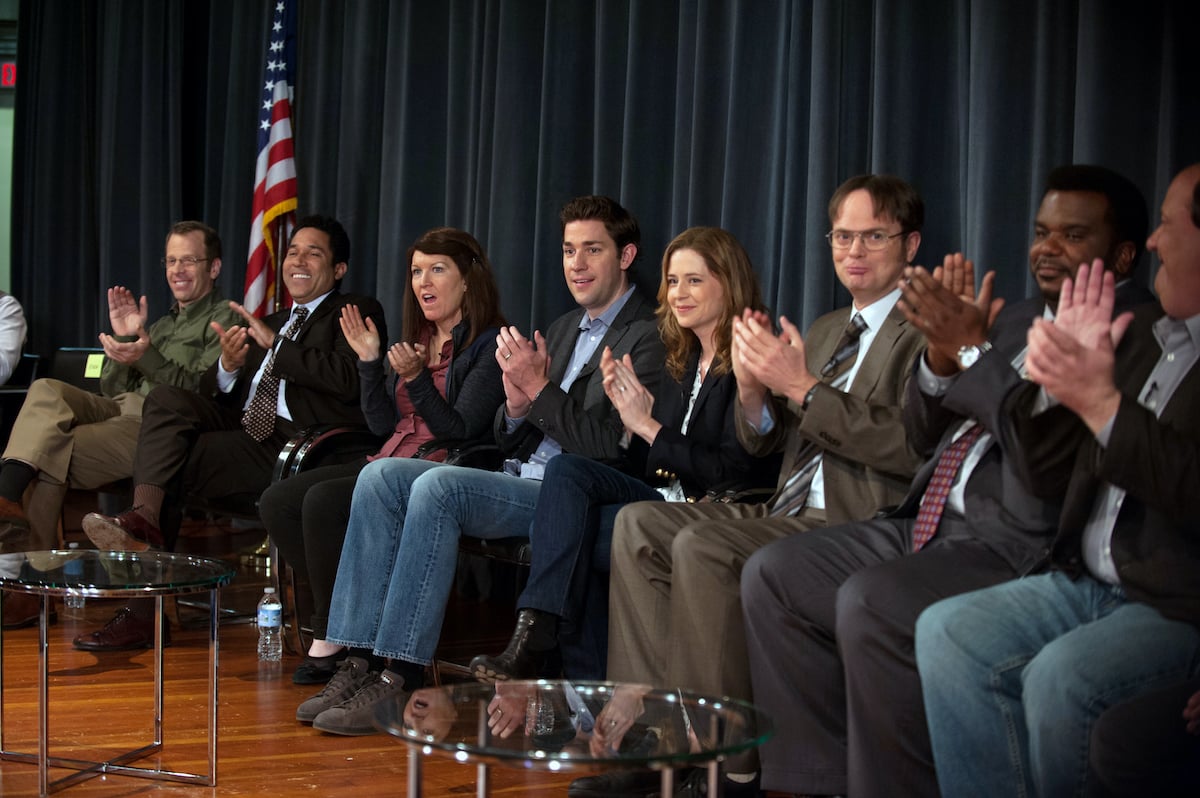 Does the cast of 'The Office' still communicate with one another? 
As such a tight-knit cast, it shouldn't surprise many fans that The Office stars still keep in touch with each other. Many of them returned to help Baumgartner in his podcasts An Oral History of The Office and The Office Deep Dive.
Angela Kinsey and Jenna Fischer have a podcast of their own. Plus they're currently working on a book together. 
Other members of The Office cast that still keep in touch include Mindy Kaling and B.J. Novak. In 2019, Kaling told US Weekly Novak is regularly at her house to babysit her daughter.
And as Ed Helms revealed on an Office Ladies podcast episode, there's still an Office group chat. "The friendships that have endured, I mean, I can't believe we're all still on a text chain," Helms said. "That blows my mind. And I just I love that so much." With so many connections still in tact, it's not surprising how the cast of The Office is ready and willing to participate in a reunion.
Greg Daniels teased a reunion of 'The Office' when the show moved to Peacock
Last summer, NBC released their streaming platform Peacock. Instead of streaming their favorite episodes of The Office on Netflix, fans had to subscribe to Peacock to watch the comedy, plus gain access to exclusive clips. 
When the platform launched, showrunner Greg Daniels teased the possibility of a reunion. "I think it's probably more likely now that the show is on Peacock," Daniels told E! News. "But no plans right now." 
Despite a lack of plans, Daniels had some ideas about what The Office reunion could look like. "I think the issue is what's left to say about the characters," he added. "I don't know — it's still pretty vague. When we ended it, we jump forward a year and a lot of them aren't working [at Dunder Mifflin] anymore." 
Instead of continuing the story, Daniels had the brilliant idea to find "lost episodes" and shoot them as if the characters were still living in 2010. Whenever and however they decide to do it, many fans are ready for The Office reunion. 
Brian Baumgartner teases the possibility of 'The Office' reunion
Since The Office's cast is so close, it leads many fans to wonder if a reunion of some kind is in the future. "Do any of the cast members hope to do a reunion show in the future?" a fan asked Baumgartner on the "Sweet 16" episode of The Office Deep Dive podcast. "Has anyone pitched any ideas?" 
Baumgartner hesitated at first, then said: "We have discussed it quite a lot. I believe it is certainly possible. There are some ideas that have been circulated among email and text chains. But I am not at liberty to discuss that." 
Baumgartner was more than willing to discuss anything about The Office's past. But when it comes to future projects, all he would say was that he has heard "rumblings." 
And for many fans of The Office, those rumblings are enough. Stay tuned to Showbiz Cheat Sheet for updates on The Office reunion.