'The Office' Fans Will Be Shocked to Learn Jenna Fischer's Real Name
Jenna Fischer's real name isn't Jenna — find out what name 'The Office' star's parents gave her when she was born and how she became known as Jenna.
The Office fans know actor Jenna Fischer plays Pam Beesly. But what many fans might not know is that Jenna isn't The Office cast member's real first name. Jenna is only a nickname. Find out what name the actor's parents gave her when she was born, plus the many ways Fischer's personal life influenced her role on The Office.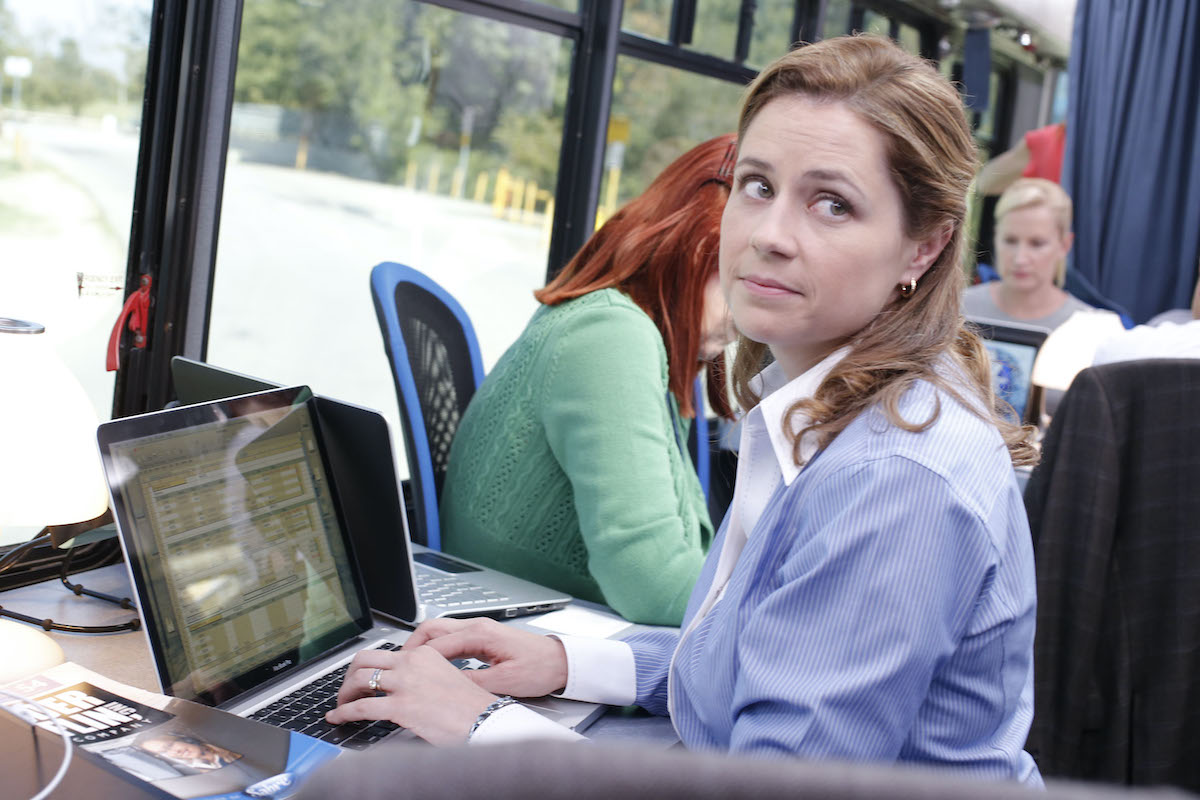 Jenna Fischer's real name is Regina Fischer
Thanks to a tweet from 2020, The Office fans now know Fischer's first name isn't really Jenna. "Today I learned @jennafischer's real name is Regina," the tweet reads. "So now I'm wondering how she came up with calling herself Jenna?! [And] no, Jenna is not her middle name — I checked." 
Fischer saw the tweet and replied with an explanation for why she goes by Jenna. "My parents just always called me Jenna," the actor says. "From the first day it was my nickname." 
Fischer's full name is Regina Marie "Jenna" Fischer. She was born to Anne and James Fischer in Fort Wayne, Indiana, but raised in St. Louis, Missouri. 
Pam from 'The Office' was influenced heavily by Jenna Fischer's life
As discussed on Office actor Brian Baumgartner's podcasts An Oral History of The Office and The Office Deep Dive, Fischer shares a special connection with her role on the show. After she landed the part, Fischer came up with a "Book of Pam." 
In her character notes, Fischer created Pam's backstory, including how she and Roy Anderson (David Denman) met. Fischer's input was used in other ways on The Office, too. 
One story from Fischer's childhood inspired one of Pam's saddest talking heads in the series. "Dreams are just…that," Pam tells cameras in the "Boys and Girls" episode of season 2. In the episode, Jan (Melora Hardin) hosts a "Women in the Workplace" seminar and encourages Pam to take art classes. By the end of Pam's talking head discussing her dream house, she breaks down crying.
The house Pam mentioned — the one with the terrace — was inspired by a story Fischer read when she was a little girl. In the "choose your own adventure tale," Fischer remembers envying the girl who had a house with a tower. Inspired by her memory, B.J. Novak worked it into the story for that episode.
'The Office' cast use their first names in the show
Fischer might be one of the only actors on The Office who goes by a nickname instead of her given name. But she isn't the only actor who influenced their role on the show.
Often, the writers relied on the actors for character details. "In our defense, we have 18 characters to deal with," writer Brent Forrester explained to Baumgartner on An Oral History of The Office. 
In some ways, those influences were as detailed as Fischer's "Book of Pam." In other ways, those influences were as simple as sharing the same first name. 
Most of The Office cast have the same first name as their characters. Meanwhile, Creed Bratton's full name is the same as his role in the show. Other Office cast members who have the same name as their characters are: 
Phyllis Smith — Phyllis Lapin Vance 
Oscar Nuñez — Oscar Martinez 
Angela Martin — Angela Kinsey 
Clark Green — Clark Duke
The cast likely use their first names for their characters because of the connection they share. For example, Phyllis Smith was initially a casting assistant who read with the actors auditioning for The Office. 
But when director Greg Daniels heard her reading, he knew she would fit right into the cast. In a way, Smith is playing a version of herself.