'The Office': How Long Will It Take You To Watch The Entire Series Before It Leaves Netflix?
Netflix has confirmed the sad news that it will no longer feature the full run of NBC's hit comedy, The Office, once its contract with the network is over. The news has created a panic among Netflix users, who have grown accustomed to having access to all the episodes of The Office for years. Luckily, there is still plenty of time for you to watch the entire series before Netflix gives it the boot. But just how long would it take to watch The Office from start to finish?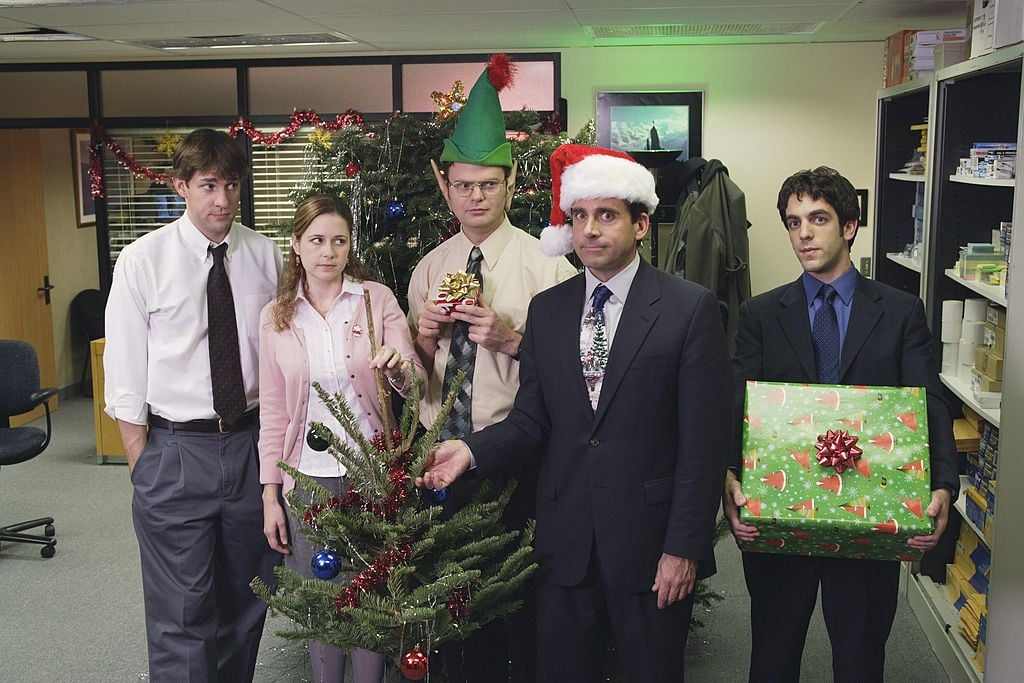 According to Binge Clock, it would take a person four days, three hours, and 30 minutes to watch the entire series nonstop. This number, of course, is not taking into account any breaks a person would normally take, so it is probably slightly longer for the average person. If you do plan on binge-watching the show, know that you are not alone. The Office is the third most binge-watched show on Netflix. If you find that you do not have enough time to binge-watch the entire series, here is a quick list of the eight best episodes you should watch before The Office leaves Netflix.
1. Diversity Day (Season 1, Episode 2)
"Diversity Day" is one of those episodes that encapsulates the heart and soul of Michael Scott. The diversity seminar was required after Michael did an impression of Chris Rock in the office. Things reached a high point (or low point) when everyone had to guess each other's ethnicities based on index cards that were taped to their heads.
2. The Dundies (Season 2, Episode 1)
This is the first time we learn about Michael Scott's (Steve Carell) annual award ceremony known as The Dundies. Michael displays all the qualities that we love and hate about him, including his obvious obsession with Ryan (B.J. Novak). The ultimate scene comes when Pam (John Krasinski) gets a little too tipsy and kisses Jim (Jenna Fischer) in public.
3. Office Olympics (Season 2, Episode 3)
This episode of The Office really shows how much Jim liked to goof off at work, but it also provided us with a slew of fun office games to play whenever we're bored. While watching the group win medals was fun, Pam realizes that Dunder Mifflin probably is not challenging Jim enough.
4. Christmas Party (Season 2, Episode 10)
The Christmas party at Dunder Mifflin in Season 2 proved that the series knows how to handle the holiday season. The group was supposed to play secret Santa but opted for a game of Yankee Swap instead. This almost ruined Jim's teapot plans for Pam, but she eventually got his super sweet gift anyway.
5. Casino Night (Season 2, Episode 22)
Speaking of the show's most famous couple, this episode features Jim confessing his love for Pam for the first time. Although Pam rejects him at first, the two later share an intense kiss in the office. The other storyline to watch in this one is Michael's dual romance with Carol and Jan, who meet each other for the first time at the fundraiser. Their scenes together are about as awkward as it gets.
6. The Convict (Season 3, Episode 9)
Michael's impromptu meetings in the conference room were some of the best moments of The Office. In this episode, Michael greets everyone as Prison Mike to make sure they know that prison is a lot worse than working for Dunder Mifflin. The meeting was inspired after the office found out that someone in the building spent time in prison.
7. Dinner Party (Season 4, Episode 13)
When it comes to the most awkward moments on The Office, you would be hard-pressed to find something that beats Michael and Jan's (Melora Hardin) dinner party. Michael finally gets his employees to show up for a dinner party and they get a firsthand look at their dysfunctional relationship. By the end of the night, Jim and Pam could not get out of the party any sooner.
8. Goodbye Michael (Season 7, Episode 22)
Michael's final episode on The Office is emotional enough to make anyone cry. Although he always loved attention, Michael decided to tell everyone he was leaving for Colorado a day after he was scheduled to go. Jim, of course, figured this out ahead of time and got in a tearful farewell before the World's Best Boss hung it up.