'The Office': Jenna Fischer Doesn't Care If People Call Her Pam Forever
Jenna Fischer is certainly not someone who is short on talents. The 45-year-old entertainer is a mother, an author, and most recently a co-host to a popular new podcast, Office Ladies. But what Fischer is most known for, is her portrayal of Pam Beesly Halpert on the hit NBC show, The Office. One-half of one of the best television couples of all time, Pam is the lovable receptionist with one heck of a character arc.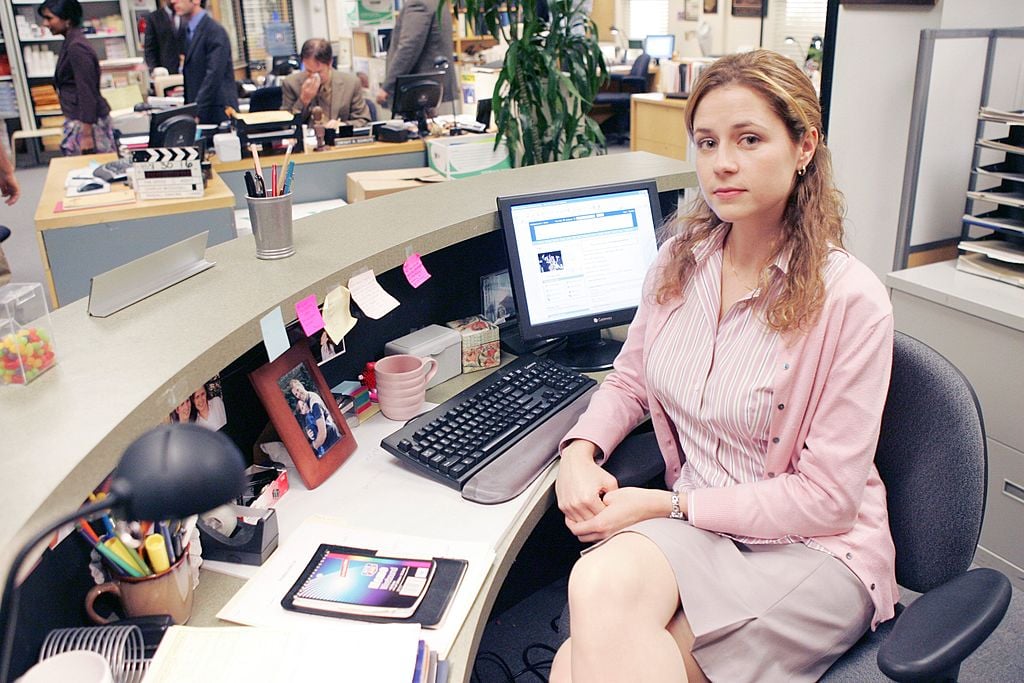 The evolution of Pam Beesly
When we first meet Pam, she is easily the meekest member of the Dunder Mifflin family. She is caught in lukewarm and never-ending engagement to warehouse worker, Roy and seems to be unable to go after any of her passions. Though it's very obvious to the audience what Pam wants, she seems to be incapable of truly going after it. However, as we move through nine seasons of The Office, Pam seems to fully come out of her shell. By the end of the show, she is able to assert her will and has created a life and family for herself that she is truly proud of.
Though Pam catches lots of heat from diehard fans of The Office, many fans are able to resonate with her character. In fact, Fischer constantly gets approached by fans who are in awe of Pam's personal character journey. In a recent interview with The New York Times, Fischer opened up about how people are able to connect with her famous role. "A lot of young women talk to me about Pam's journey, the way that Pam finds her voice and finds herself throughout the life of the series," Fischer admitted about her Office character.
The cast is constantly approached by fans
But that connection doesn't just extend to Fischer's character, it's true of the whole show. Fischer and the rest of the cast are constantly approached by fans who feel that The Office truly fosters a connection with their loved ones. Through the show, they are able to find common ground even in challenging times. "We all — the cast — have people come up to us and say, 'My son and I can't really agree on much these days. He's going through those teen years, but the one thing we do is watch 'The Office' together. It's the thing our family does together. It gives us something to bond over, to connect with, to have in common,'" Fischer's best friend, Angela Kinsey (who plays Angela Martin on The Office) shared.
But does Fischer ever get tired of talking about The Office? Since she recently launched an Office themed podcast dubbed Office Ladies, we'd wager no. In fact, Fischer says being known primarily for her role as Pam is not a hassle, but rather a dream of hers that she's had nearly her whole life.
One of the most memorable characters in tv history
"When I was a little girl growing up in St. Louis, I wanted more than anything to be on a comedy television show. I used to watch Cheers with my family and thought, 'One day I want to be Shelley Long. I want to play a character on a TV comedy that everyone remembers.' So I don't care if people call me Pam for the rest of my life. I'm proud of that," Fischer confessed. We certainly think Fischer has a right to be proud of her time spent as Pam. Truly The Office wouldn't be The Office without her.