'The Office': Jenna Fischer Reveals How She Really Cried for This Iconic Pam and Dwight Scene
Jenna Fischer had to flex her acting muscles on The Office in one particularly memorable scene with Rainn Wilson. The Pam and Dwight moment is iconic for Fischer's emotional performance and she explained how she cried real tears — which moved her co-star to tears as well.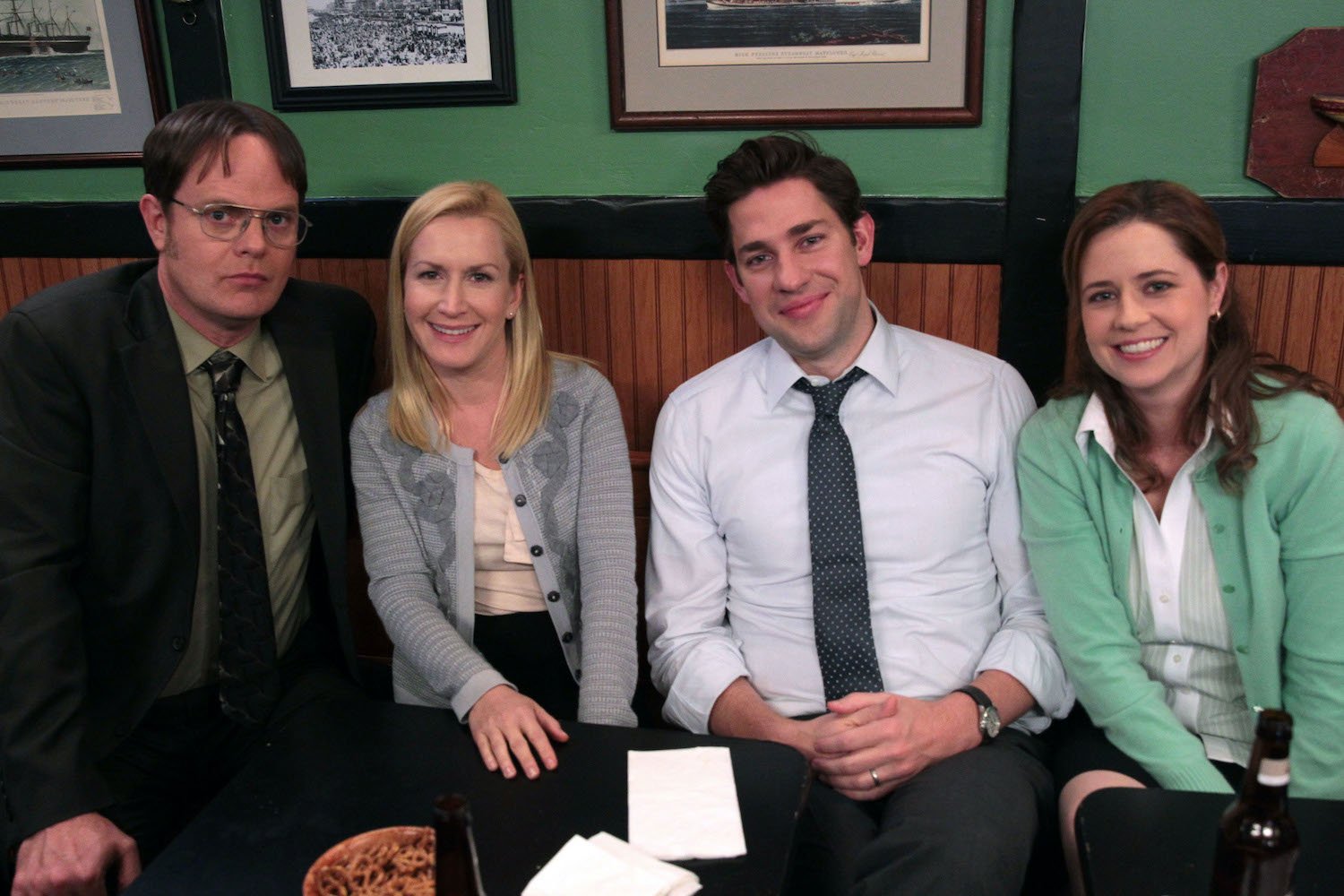 Pam tries to move past her feelings for Jim by helping him with his relationship
The Office is known for delivering the laughs, but the documentary format allowed the show to highlight some of the characters' more emotional moments, too.
During the August 12 Office Ladies podcast, hosts Jenna Fischer and Angela Kinsey discussed season 3 episode 12 "Back From Vacation," in which boss Michael Scott returns from a Jamaican getaway with Jan. One storyline in the episode involves Jim objecting to girlfriend Karen getting an apartment near his and Pam convincing him he's being unreasonable.
Pam helps Jim with this relationship issue as a good friend but later, after Karen thanks her for talking to Jim, she shows how conflicted she is because she has feelings for Jim.
RELATED: 'The Office': Inside Jim and Pam's First Fight and Why It Made Jenna Fischer Cry for Real
Jenna Fischer and Rainn Wilson shared one of the show's most emotional scenes
While Pam wanted to be a good friend to Jim, she definitely had some issues with offering relationship advice to him. The documentary crew captures her sitting on a bench in private, breaking down in tears.
Wilson, who plays Dwight, happens upon Pam sobbing and asks, "Who did this to you? Where is he?," and she answers, "What? no. It's… nothing." He then awkwardly tries to comfort her, but doesn't understand why she's upset, saying, "So, you're PMSing pretty bad, huh?"
Jenna Fischer reveals how she cried real tears during the scene
Fischer's performance felt authentic… because it was. During the podcast, she shared the secret behind arriving at that emotional state, as Office showrunner Greg Daniels wanted her to really cry.
"Angela, I watched this scene and it just brought tears to my eyes because I remember shooting it so clearly," Fischer told her co-host. "This was like early on in the show and whenever we had these really emotional scenes like that parking lot scene with Jim and Pam, we would just kind of shut down everything. And I remember that we shut down the set and we took hours prepping and shooting this crying scene."
"It was really important to Greg that I really be crying. They did not want to put fake tears in my eyes. He wanted me to really go there," she continued.
She added, "This is a really big challenge for an actor. And so what they did was they made everything really quiet and no one talked to me for about a half-hour and I put on the saddest music I could find, and it was sad because it was personal to me. It was music that brought up memories of breakups… music that I listened to at different times in my life when I was having a particularly hard time — so it would bring up a lot of emotions."
Fischer even went so far as making a playlist that had songs. Before they shot the scene, she listened to the playlist until she started crying and they started rolling at that moment. "And that's how they were able to begin the scene with me crying," she explained.
Fischer didn't reveal her playlist, but did say there was a Ben Folds song in the mix. She found that artist Norah Jones was her go-to that season as well, explaining, "I had a whole Pam soundtrack that I would listen to on my drive to work during season 3 when her [Pam] and Jim were estranged. And it was Norah Jones. She's just so soulful and wishing and a little lost."