'The Office': Jenna Fischer Reveals the One Thing She Has in Common With Pam Beesly
Jenna Fischer doesn't think she's all that similar to Pam Beesly from 'The Office,' but there is one similarity the two share.
Jenna Fischer is widely regarded for playing Pam Beesly Halpert on The Office. The talented actor recently opened up about the biggest differences between herself and Pam, of which there are many. But as different as Fischer is from her role in The Office, there's also a striking similarity between Pam and Fischer's drive.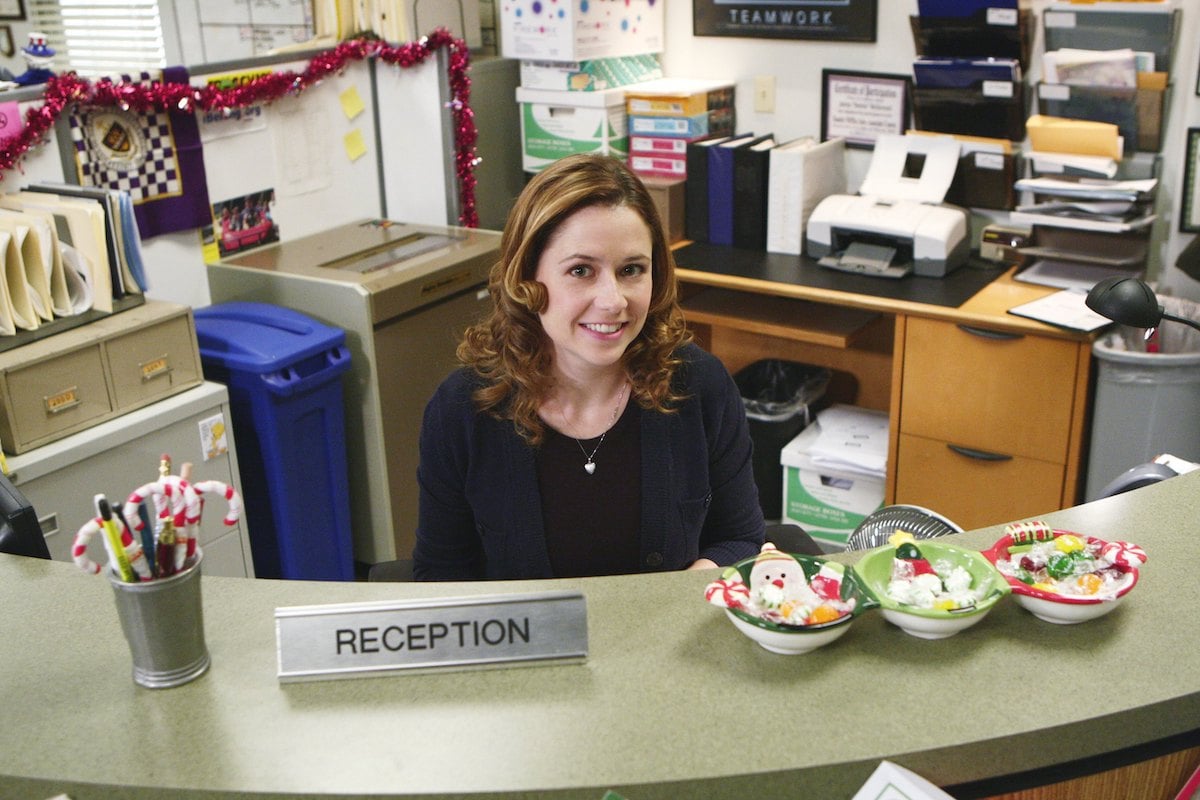 Pam Beesly is a timid receptionist on 'The Office'
Pam Beesly was the receptionist at the Dunder Mifflin Scranton branch in the mockumentary series The Office. Initially, she was engaged to warehouse worker Roy Anderson (David Denman). Internally, she harbored a deep-seated love for salesman Jim Halpert (John Krasinski). While Pam was often defined by her love interests on the show, she was so much more than that. She was a young woman with passions and dreams that were often weighed down by the dead-end job she felt stuck in.
Pam Beesly is less ambitious and more willing to tolerate a bad relationship than Jenna Fischer 
During an interview with Fischer on his latest podcast, The Office Deep Dive, Office star Brian Baumgartner asked how she differs from the character Pam Beesly. "It would not take me three years to tell Jim I had feelings for him," Fischer started. "I would have dumped Roy much quicker."
Fischer mentioned how when fans first meet Jim and Pam, they've already had a friendship for several years. Add on the three years it took for Pam to finally call off her engagement to Roy — "I am much more ambitious, more entrepreneurial" Fischer said.
Jenna Fischer thinks she's more motivated than Pam Beesly on 'The Office' 
"As Jenna, I was taking much more action in my life to get out of my situation," Fischer explained. Unlike Pam, who spent years in a job with very little motivation to pursue her dreams, Fischer went out there and chased opportunity. There's a reason for that, though. Fischer had the love and support of her family, whereas Pam had "a lot more forces against her." 
"I'm not sure Pam's mom was saying things to her like, 'Honey, you can do anything you want to do — if you want to be an artist, go be an artist,'" Fischer demonstrated. Fortunately, those were the kind of encouraging messages she was getting from her parents. Fischer said they weren't supporting her financially as an actor, but emotionally and spiritually, they were always there for her. Fischer believes that if Pam had those "tools in her toolbox," she might have chased her dreams sooner. Still, despite her vastly different approach to life, Fischer said she and Pam share one thing in common.  
Jenna Fischer and Pam Beesly both needed to learn to speak up for themselves
Though their differences are many, there's one thing Fischer and Pam have in common. "The way that we are very similar is that it took me a long time, like Pam, to figure out how to speak up for myself," Fischer explained. Despite her ambitious, more "entrepreneurial" mindset, Fischer sat behind a reception desk for many years before landing the role of Pam on The Office. "I literally sat at reception desks and daydreamed about the day that I might be an actor," Fischer said. Like Fischer, Pam had dreams of obtaining the freedom to express her artistic abilities.