'The Office': Jenna Fischer Reveals the Real Reason This Pivotal Jim and Pam Scene Was So Emotional
This fan-favorite moment from The Office was a turning point in Jim and Pam's relationship — one that moved actor Jenna Fischer (and the episode's director) to tears. Jim, who had been interviewing for a position at the corporate office, changed his mind about the job, returning to Scranton to ask Pam out.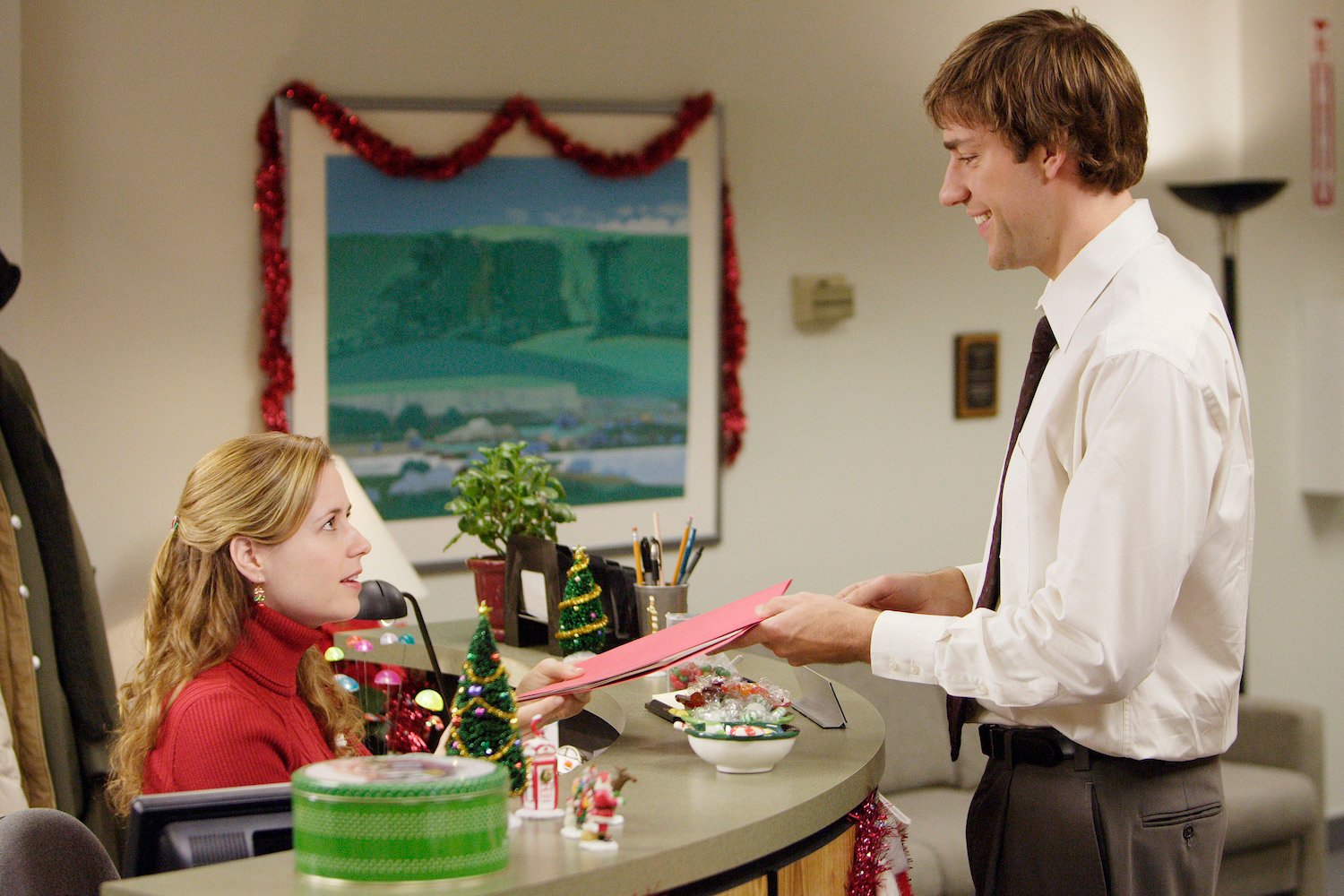 'The Office' reveals Jim and Pam's heart-to-heart talk
In the season 3 finale of The Office, it appears that Jim Halpert (John Krasinski) is pursuing a new chapter in his life, interviewing for a job in the Dunder Mifflin corporate office.
Viewers get to see how things played out after Pam (Fischer), exhilarated from walking across hot coals in the previous episode ("Beach Games"), told Jim how she felt about him.
During Jim's interview, he's asked where he sees himself in 10 years and fans see the conversation the two had after Pam blurted everything out at the beach.
Jim finally asks Pam out
Back in the Scranton office, it's business as usual, but Jim's desk chair sits empty as he's in New York for the interview.
In a talking head scene, Pam shares her thoughts on Jim likely getting the job. She gets interrupted by him as he surprises her with a question that thrills her.
"I haven't heard anything, but I bet Jim got the job," Pam says in the talking head. "I mean, why wouldn't he? He's totally qualified and smart; everyone loves him. And … if he never comes back again, that's OK. We're friends and I'm sure we'll stay friends. We just … we never got the timing right, you know? I shot him down, and then he did the same to me. But you know what? It's OK, I'm totally fine. Everything is going to be totally …"
Jim opens the door and apologizes to the camera for interrupting the interview. "Um. Are you free for dinner tonight?," he asks Pam. When she says "Yes," he notes, "Alright, then it's a date."
Pam is emotional, looking like she's about to cry, and attempts to refocus on the interview, asking, "I'm sorry, what was the question?"
RELATED: 'The Office': This Tense Jim and Pam Scene 'Highlighted Their Bond' and Has the Sweetest Backstory, Jenna Fischer Revealed
There's a reason Jenna Fischer started to cry
During the Nov. 18 Office Ladies podcast, Fischer recalled filming the scene and explained why she teared up — it had everything to do with the episode's director, Ken Kwapis.
When Fischer's co-host Angela Kinsey remarked, "Ken Kwapis said you made him cry," Fischer gave the behind-the-scenes scoop.
"I owe that moment to Ken Kwapis and I'll tell you why … it's crazy because Ken Kwapis, he was a type of father figure to us," she explained.
Fischer got teary-eyed thinking about the way the director was so kind and wonderful. "I think we got that on the first take," she said of the scene.
She continued, "We had kind of planned it out with the camera when it was going to swish over and when it was going to come back to me. So in that moment, when the camera swishes back to me, I was actually looking at Ken Kwapis and he had tears in his eyes and that made me tear up and we just shared this moment, this private moment of acknowledgement for this journey of this character."
Fischer added, "And he smiled at me, in a way that a parent smiles at you when they're proud of you."
Kinsey compared it to a dad giving the encouragement of "Like, you did it, kiddo. You did it."
Fischer wondered if she could have had that performance with any other director at the helm, noting, "That was a moment between Ken and I. That was about my personal Jenna journey with Ken Kwapis on this show."