'The Office:' Jenna Fisher and Angela Kinsey – Which of the 'Office Ladies' Has the Highest Net Worth?
Jenna Fischer and Angela Kinsey get to regularly relive their days on The Office through their popular Office Ladies podcast. While both continue to pursue other acting projects, the besties are keeping quite busy with their new show about their old show.
Since both are successful actresses, some may wonder who has a bigger bank account.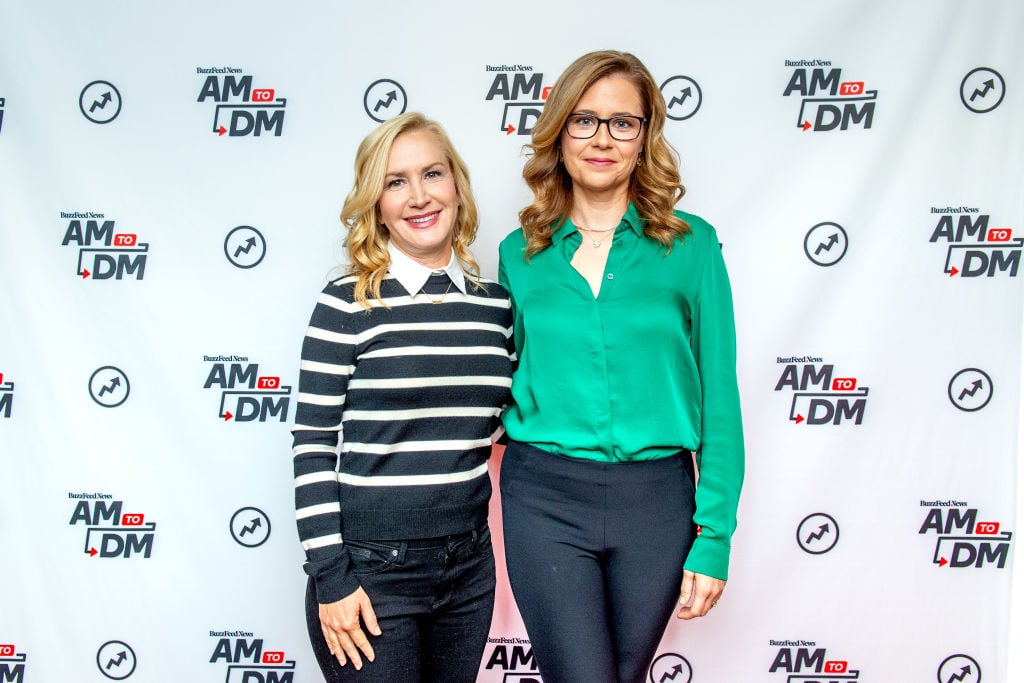 Angela Kinsey originally auditioned for the role of Pam Beesly
While Kinsey perfectly portrayed the character of uptight, judgmental accountant Angela Martin, the actress had originally hoped to land the role of receptionist Pam Beesly.
"I auditioned for the role of Pam, and I went in, you guys, and I thought I did so great," Kinsey told the audience on The Kelly Clarkson Show, according to Popsugar. "It was a room full of people, and there was a moment where Michael is fake-firing Pam in front of Ryan the temp to pull a prank, and Pam starts to cry and calls him a jerk."
The Office alum revealed that she wanted to emphasize the name-calling in the audition, which may have brought on an unwanted result. "I called him a jerk," Kinsey said. "Everyone started laughing, and I was like, 'I don't think that was supposed to be a laugh. I think I missed something.'"
Fortunately, they had another role in mind for Kinsey. "They brought me back and said, 'Hey, we've got a judgy, snarky lady in accounting,'" she recalled. Turned out to be a perfect fit!
'Office Ladies' hits the airwaves
Fischer and Kinsey launched their Office Ladies podcast in October on Stitcher's comedy network, Earwolf. The real-life besties timed their debut perfectly with the former sitcom hitting a particular milestone.
"As we close in on the 15th anniversary of the show, it seemed like a great time to share our stories and behind-the-scenes trivia with fans," Fischer said in a statement, according to CNN, "Besides talking about The Office, you can also hear us chat a little about our lives, our Target runs together, our friendship through the years."
Relishing the opportunity to walk down memory lane with her BFF, Kinsey looked forward to reliving all the special moments of the iconic show.
"The Office was such an amazing chapter of our lives and it means so much to us that we get to share some of our memories of filming it with our audiences," Kinsey said.
Net worth of 'Office' alums
According to Celebrity Net Worth, Kinsey graduated from Baylor University and later became an intern for Late Night with Conan O'Brien in 1993. After some classes with The Groundlings and voice work on King of the Hill, she auditioned for The Office and landed the role that made her a star.
Kinsey's total net worth: $12 million
In addition to achieving celebrity status as the object of Jim Halpert's affection, Fischer has appeared in several movies. With film credits including Hall Pass, Blades of Glory, 15:17 to Paris, and A Little Help, Fischer is no stranger to the big screen. Serving as director, writer, and star in her own mockumentary entitled Lollilove in 2004, The Office actress has proven she has many talents.
Fischer's total net worth: $16 million