'The Office': Jim and Pam's Chemistry Is Evident in This Iconic Moment, According to Jenna Fischer
Name a better TV couple than Jim and Pam on The Office. Fans loved the way the two clicked as flirty friends and then watched as they dated and got married, stumbled a bit in their marriage, and looked like they had a beautiful future as the show ended. During a recent Office Ladies podcast, Jenna Fischer, who played Pam, pointed out one moment between the two that really showed their chemistry.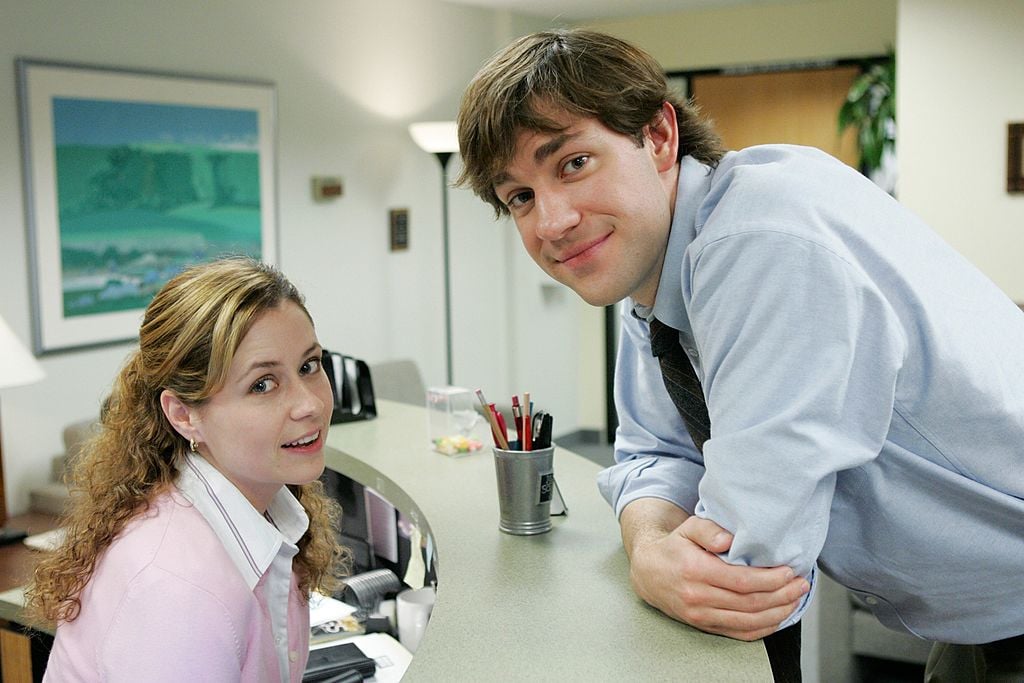 Unpacking the 'Halloween' episode
During the Jan. 14 installment of the Office Ladies podcast, hosts Fischer and Angela Kinsey looked at season 2's "Halloween" episode, in which boss Michael Scott is forced to fire a staff member of the Scranton branch of Dunder Mifflin. Their co-star Creed Bratton shared his experiences from the episode during the podcast, as well.
In turns out Bratton's character almost got fired, as Michael labored over whom to cut. Michael called Creed into his office to fire him. But when he was unsuccessful, he fired the other background actor, Devon Abner, who played the character Devon.
Fischer shared that showrunner Greg Daniels couldn't fire a series regular cast member because they had contracts, and he didn't want to fire a supporting cast member either. So it came down to Bratton and Abner, who at the time were the two background actors on the show.
"He told us, 'One of you guys is going to have to go, but we don't know yet. We're going to shoot you both and see how it works,'" Bratton said. "I remember being a little nervous, and Devon and I were friends." 
In the end, Daniels learned that Abner had a theater contract and would be going on tour, which helped to settle the choice.
The episode marked an iconic Jim and Pam moment that showed their chemistry
During the podcast, the hosts pointed out that Jim and Pam had their first air high five during the episode, a moment that comes to the minds of many fans when they think about the couple's timeline on the series.
Kinsey noted how it's pretty tricky to pull off, having tried it with her daughter and finding the timing challenging. But Fischer said she and John Krasinski, who played Jim, "kind of did it perfectly the first time."
"It was meant to be," Fischer said. "That speaks to our chemistry, I believe."
The characters are 'pushed and pulled'
During the "Halloween" episode, Pam suggests that Jim should apply for another job, and he is hurt by the idea of her not missing him if he left. She later apologizes for pushing him about the job, saying she'd "blow her brains out" if he left. Jim tells the camera that Pam is the only thing keeping him there.
During the podcast, they discussed how these characters are "being pushed together, pulled apart" quite often, with Fischer pointing out that these episodes of The Office start to feature a sweet Pam and Jim moment and then a moment "where someone gets their feelings hurt."