'The Office': Jim and Pam Were Supposed to Have This Heartbreaking Ending but 1 Thing Prevented It
It's hard to imagine Jim Halpert and Pam Beesly's relationship not lasting in The Office. But according to Brian Baumgartner's podcast The Office Deep Dive, showrunners initially intended for the couple to break up. 
Beyond that, producer Greg Daniels wanted the couple played by John Krasinski and Jenna Fischer to experience a heartbreaking moment at the end of the series post break up. Find out what Daniels had planned for Jim and Pam, plus, the one thing that stopped him from putting it in The Office.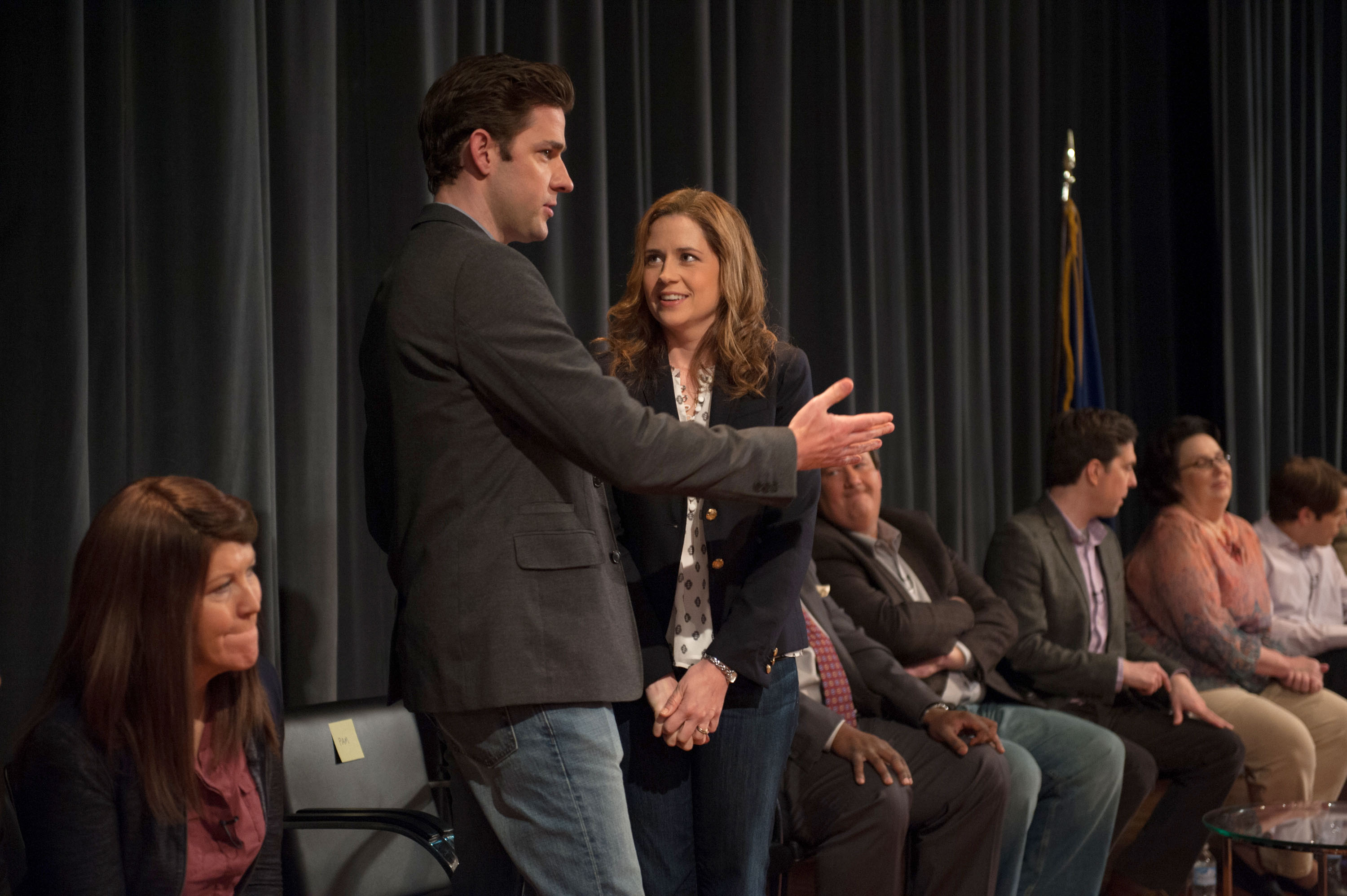 'The Office' fans value Jim and Pam's relationship
Jim's crush on Pam was evident from season 1. Watching their will-they-won't-they romance develop over three seasons had most, if not all, Office fans highly invested. When Jim finally asks Pam on a date in season 3, fans let out a collective sigh of relief.
Throughout the next six seasons, fans watched Jim and Pam get engaged, married, and eventually start a family. But like any relationship, Jim and Pam's marriage wasn't always perfect.
The Office fans watched as the couple struggled through Jim's back and forth to Philadelphia to pursue his dream job. Plus, Pam's friendship with the boom guy, Brian (Chris Diamantopoulos), weighed heavily on their marriage.
Fortunately for Office fans, everything worked out. Jim and Pam realized they both needed to make sacrifices for their marriage to work. But behind the scenes, Daniels had other plans for the couple.
'The Office' showrunners considered breaking Jim and Pam up and meeting during the reunion at the end of the series 
As Office writer, director, and producer Brent Forrester points out to Baumgartner on The Office Deep Dive, Daniels planned for a reunion in the finale. "The word reunion would come to mean two things," Forrester explains. In addition to the cast of the documentary coming together, Daniels wanted a separated Pam and Jim to have a reunion, too.
Per Forrester, The Office audience was "so pained" by the idea of Jim and Pam breaking up. We see the couple get close to separating, but it was so unpleasant for everyone that showrunners "bailed" on the story.
As executive producers on the final season, Krasinski and Fischer had a lot of input. Forrester recalls Krasinski saying the last season was "for the fans" and that they should give fans "the thing they most want." In this case, that was for Jim and Pam to live happily ever after. 
'The Office' fans prevented Jim and Pam's breakup from coming to fruition
As Baumgartner and Forrester discuss, Office fans had a lot of say when it came to Jim and Pam splitting up. The Office aired when MySpace was the preferred form of social media, giving showrunners a direct connection to fan's thoughts about the series. 
RELATED: 'The Office' Fans Will Be Shocked to Learn Jenna Fischer's Real Name
Office writer Owen Ellickson also recalls this trend of fan feedback. He explains to author Andy Greene in his book The Office: The Untold Story of the Greatest Sitcom of the 2000s how fans didn't like the episode "Vandalism" when Brian "saves Pam" (via Collider).
"They were bothered that there might be some triangle that Pam and Jim would be involved in and even more insulted that we thought they might believe that," Ellickson says. "Greg absolutely turned on a dime after that and we pivoted away, I think pretty skillfully given how quickly we had to do that. It involved decently sized edits to the next two episodes." 
If anything, this proves showrunners — especially the good ones — are listening, viewers. Keep voicing your opinion and who knows what shows you could change the trajectory of next!