'The Office': John Krasinski 'Was in Full Giggle-Fest Mode' During 1 Hilarious Scene With Jenna Fischer
John Krasinski fondly recalled that his favorite scenes with Jenna Fischer on 'The Office' were those when the two were 'stuck in it together.'
John Krasinski and Jenna Fischer had great chemistry on The Office as Jim and Pam. Krasinski recalled one type of scene he really enjoyed doing with his co-star — and a moment in particular where he found himself "in full giggle-fest mode."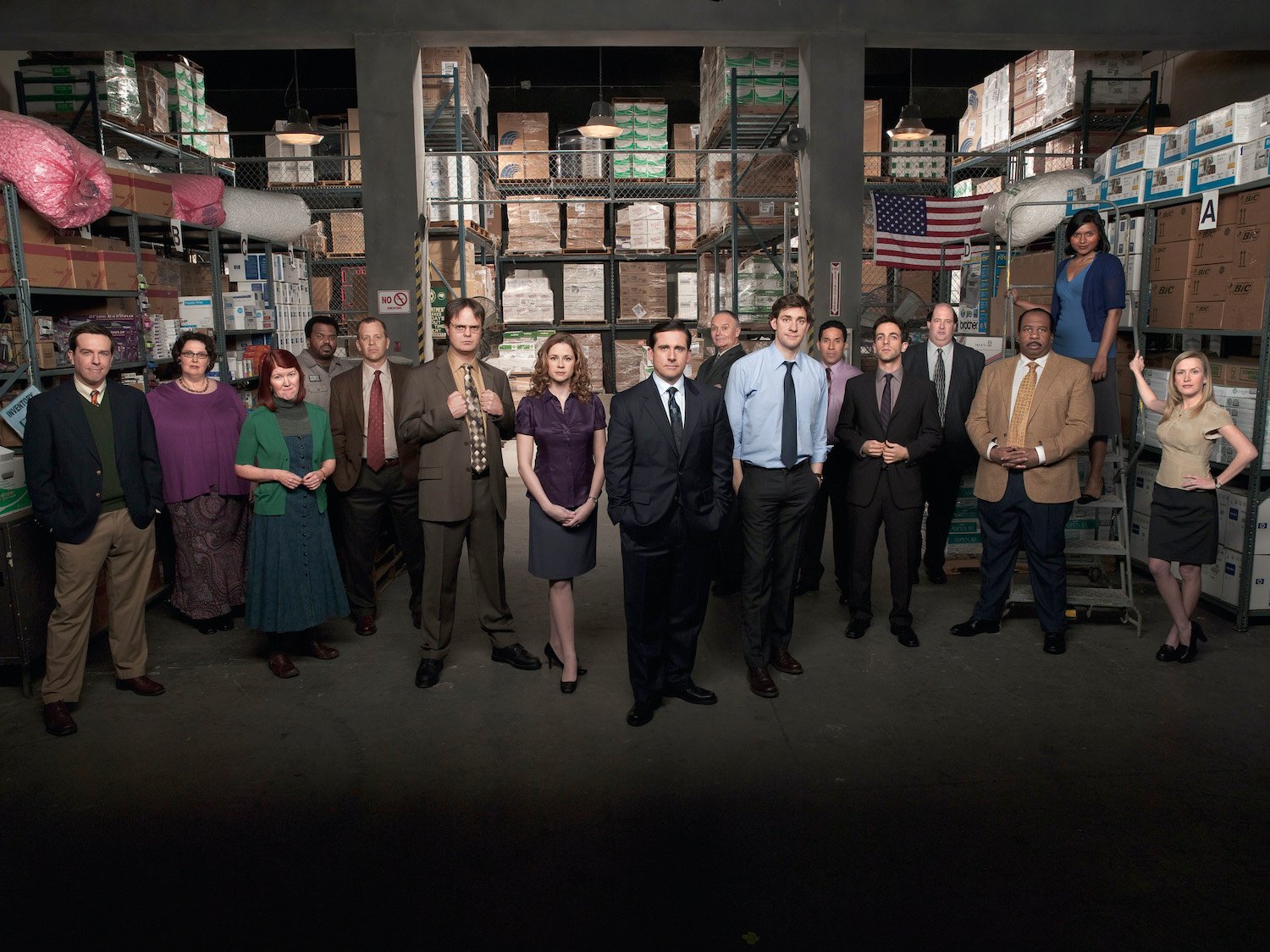 Jim and Pam visit a daycare on 'The Office'
Fischer and Angela Kinsey discussed The Office Season 6 episode "Sabre" during the May 4 episode of their Office Ladies podcast. The episode was directed by Krasinski, so he provided some memories about his experience.
Part of the episode involved Jim and Pam touring a daycare center and meeting the center's director for an interview. "When we get there, Jim and Pam are totally charmed, except Jim accidentally walks in on the daycare director who is using the little kiddy toilet," Fischer said.
Pam tells Jim to "pull it together" and "stop acting weird" because he's clearly rattled after the encounter.
The embarrassing moment plays out further when Jim and Pam have their interview and there's tension in the room. Pam directly asks the director if he's being cold to them because Jim walked in on him in the bathroom.
"I love it because Pam is like, 'I mean, it seems like this isn't going well, but it should be going well because we're really nice people,'" Fischer said of the scene. "And [the daycare director] says, 'You know what? Have you ever considered that you're not as charming as you think you are?'"
John Krasinski said this kind of scene was his favorite with Jenna Fischer
Krasinski called these kinds of scenes with Fischer among his "favorite memories" because they were "stuck" in a situation together that they had to navigate their way out of.
"My other favorite memory from that episode was the interview with the daycare center. Jenna, as we've talked about many times…," Krasinski said. "Truly some of my favorite memories in all of my career were getting to do scenes with you, period."
He continued, "But especially those scenes where the two of us were sort of stuck in it together, that we were both in something that we had to get out of together. I remember very specifically your line reading when I came out from seeing Jerry in the bathroom and I said, 'I just saw someone in the bathroom,' and you very earnestly ask, 'Who was it? Who was it?' And then you quickly digress as your brain realizes, 'Oh, it was definitely the guy that we're about to interview.'"
Krasinski called filming 'The Office' scene a 'giggle-fest'
Krasinski recalled that Fischer's delivery "was so funny" that he couldn't get through the moment. "It was so funny and I don't know that I had a good enough take of my reaction to you. In fact, do I physically bail out after you say that to me? Man, that really made me laugh," he said.
The actor added, "I seem to remember going through, I don't know, 10, 12 takes of just not being able to keep it together. That was a total giggle-fest day for me. You were always more professional, but I was in full giggle-fest mode."
Fischer said she recalled that Krasinski did "bail out the scene" because he couldn't keep it together. "But also, you know what? I really appreciate him saying that he liked shooting these scenes with me because I think there's often a lot written about our romantic chemistry on screen," she said. "But we had a really special comedic chemistry together, and I feel like this storyline really highlights that. We were great partners all around."