'The Office': John Krasinski Reveals What Prevented Him From Being 'Fully Happy' When He Was Cast
John Krasinski plays one of the most beloved characters on The Office. But before he became Jim Halpert, Krasinski went through what he remembers as a rigorous audition process. Find out what Krasinski recalls about his audition for The Office, why he refers to it as an "acid trip," and what prevented him from being "fully happy" when he got cast in the comedy series.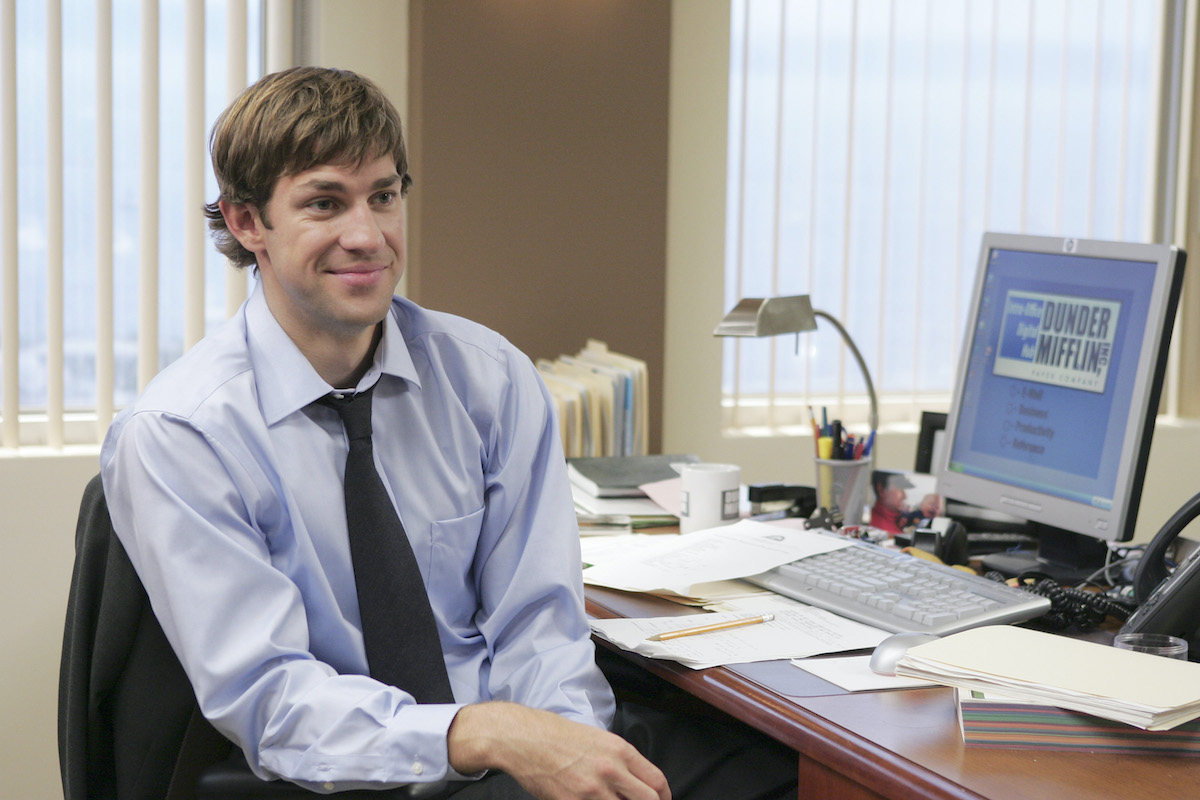 John Krasinski recalls his audition for 'The Office'
After college, Krasinski was living and working in New York. His mother convinced him to pursue his dream of becoming an actor. When The Office began auditioning, Krasinski was one of the "New York actors" who were flown to Los Angeles for the auditions. 
There's a big difference between New York actors and LA actors, according to Krasinski. "It's like the Sharks and the Jets," the actor explained to his Office co-star Brian Baumgartner on The Office Deep Dive podcast. For Krasinski, recalling the audition process began to feel like an "acid trip." 
"Two people walked in who really blew my brain out," Krasinski continued. One of them was B.J. Novak, who he hadn't seen since high school. "Imagine somebody from your high school walking into this weird bizzaro world where you're auditioning to do something pretend for the rest of your life," Krasinski laughed. "It was an acid trip." 
B.J. Novak made John Krasinski nervous when 'The Office' was casting
Having worked on improv together in school, Krasinski knew what Novak was capable of. "I got more nervous because he acted and directed in high school — he was already in," Krasinski recalled. "I was barely an actor." 
When he found out Novak was going out for the part of Ryan Howard and not Jim, he instantly felt relief. "I might still have a shot," he remembered thinking. Ironically, those aren't the only auditions Krasinski recalls vividly. 
John Krasinski and Jenna Fischer auditioned together for 'The Office'
Both Krasinski and Jenna Fischer knew the other was right for the role they were auditioning for. "I know it sounds like a fairytale, but it's true — I remember Jenna Fischer walking in," Krasinski said. As soon as he saw her, Krasinski knew she would be playing Pam Beesly in the show. 
During the audition process, Krasinski sat and watched all of the other actors going out for Jim audition beside Fischer. "Four hours after they let go of all the New York guys, [I walked out] and said, 'Sorry, I'm going to leave now — I think you forgot to let me go home,'" Krasinski said, being one of the only "New York actors" left.  
Producer Greg Daniels asked Krasinski to wait a bit longer. A short time later, they had him read with Fischer. "I walked in, saw that it was Jenna, and was like, 'Oh my God…if I'm auditioning with her, I have a shot,'" he told Baumgartner. 
John Krasinski didn't get 'fully happy' until he knew Jenna Fischer was cast
Leaving his audition, Krasinski told Fischer he was confident she would be cast as Pam. She shared the same sentiment, believing he was the only actor to play Jim Halpert. 
When he was cast as Jim, Krasinski said he jumped on the couch and couldn't believe the news was real. But his joy was short lived.
"The only question I asked my manager at the time was, 'Did Jenna Fischer get it?'" he said. "I didn't even get fully happy until I knew she was doing the part."