'The Office': John Krasinski Said This Sad Scene Was 'The Most Emotional I've Ever Been on a Set'
The Office had so many hilarious and cringey moments that won over their fans, but there were some sweet and touching scenes during the show's nine seasons, too. John Krasinski called one of his scenes with Steve Carell "the most emotional I've ever been on a set" and it's easy to see why.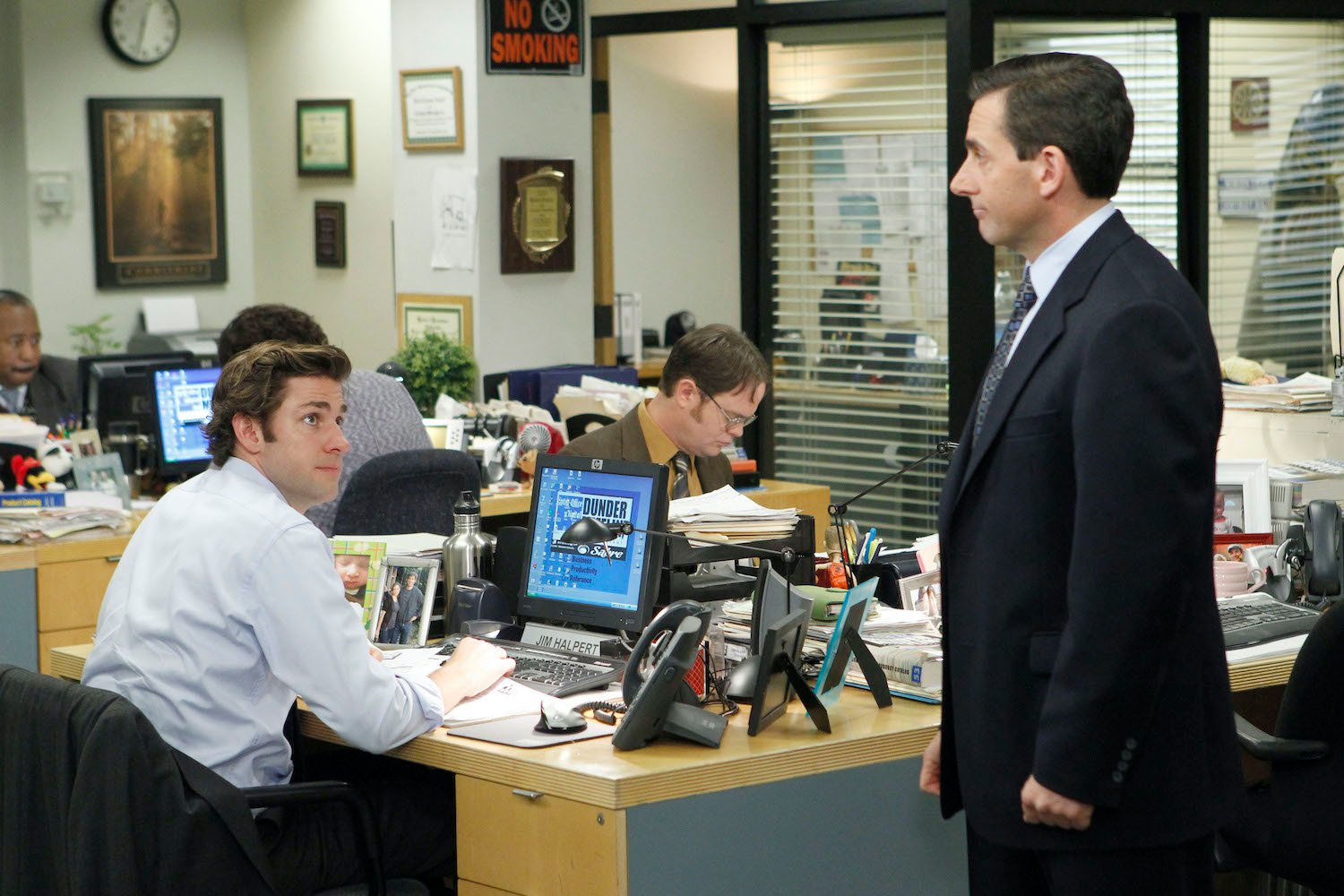 John Krasinski and Steve Carell shared an emotional moment on 'The Office'
During an episode of Krasinki's YouTube series Some Good News, he chatted with Carell and the two discussed their memories of working together on The Office. There was one moment that the actors found to be particularly hard to get through because it was so sad.
The season 7 episode "Goodbye, Michael" had Carell's Michael Scott moving on from Scranton and saying his goodbyes to each of his co-workers. Krasinski's character Jim figures out that Michael is getting all of his farewells in so he can leave without a lot of fanfare and shares a touching moment with his boss.
Krasinski called their scene together in Michael's office "the most emotional I've ever been on a set."
Carell and Krasinski did so many takes of the scene
Carell agreed that the scene was definitely challenging because it was so emotional. "That was a hard one. That was really — that one was tough," Carell said.
The actors found it hard to even say their lines through their tears. "I was sort of hoping that they wouldn't do your scene and my scene, the episode where you leave, last," Krasinski recalled.
"I think you and I counted, I think it was either 17 or 19 takes where there wasn't an audible word that came out, it was just 'action' and then you and I [emotional grunting]," he added.
Carell and Krasinski reflected on their fondest memories of 'The Office'
The stars of The Office became so close while filming the show that Carell said most of his fondest memories from the series really had to do with them all collectively.
"Some of my most fond memories — personally or professionally — are entwined and connected with that show," Carell explained.
He continued, "I think that most of the memories have to do with things that we shared as a cast … Part of what was so much fun about it was everybody in the cast was rooting for everybody else."
"People would step back when it was time for other people to shine and celebrate it," Carell added.
As for a reunion, of course, Krasinski and Carell would happily revisit their roles as Jim and Michael. "Listen, I know everyone's talking about a reunion, but hopefully one day we just get to reunite as people and just all get to say 'hi,'" Krasinski said during the coronavirus (COVID-19) pandemic. "I miss you a ton, man."