'The Office' Has Connections to Keanu Reeves That Fans Might Have Missed
The Office has had its fair share of connections and references to movies, pop culture, and other TV shows over its 9 seasons on the air. Did you ever notice that The Office shares several connections with Keanu Reeves? Find out how these worlds have collided.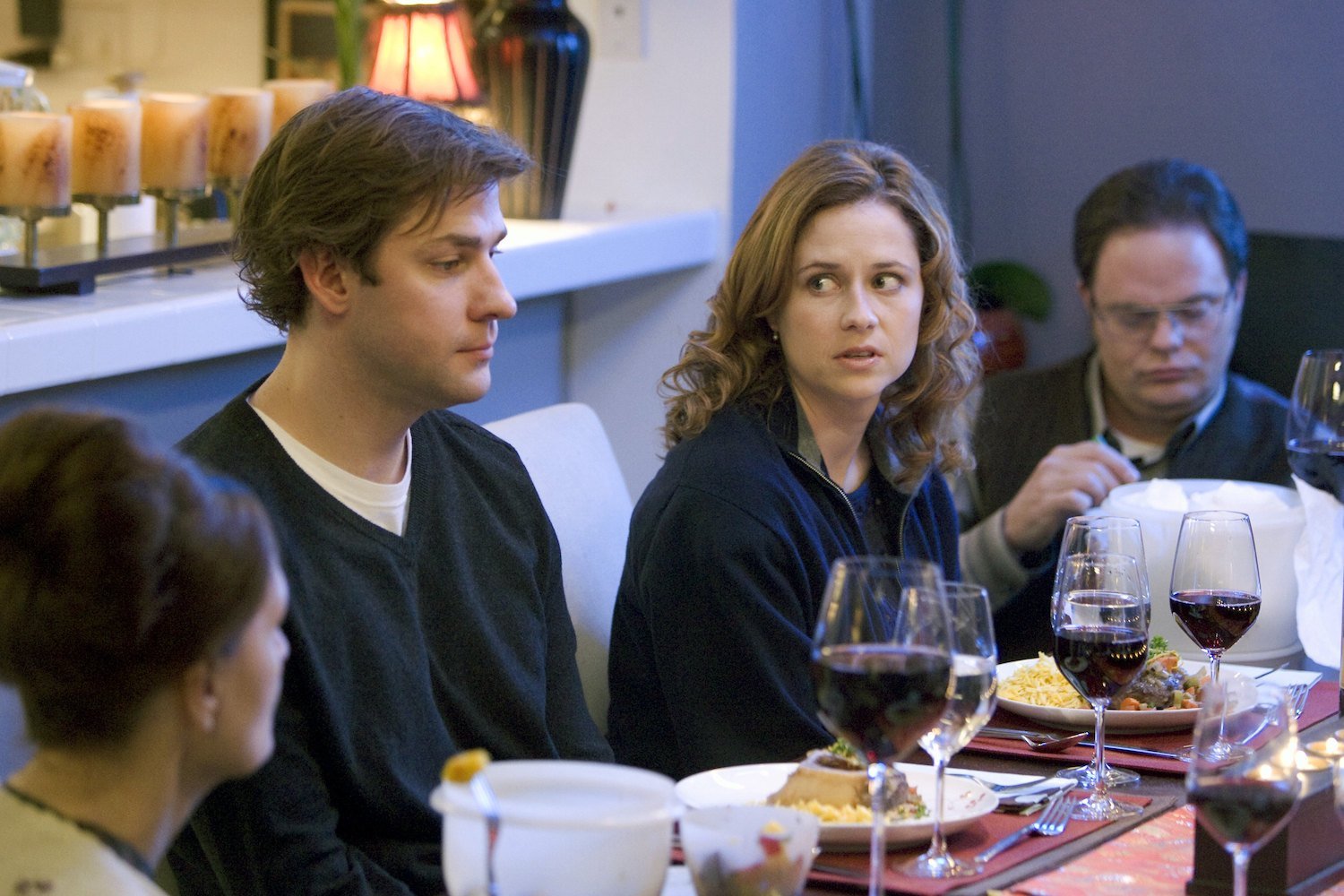 Jenna Fischer shared her Keanu Reeves connection
During the Feb. 10 Office Ladies podcast, hosts Jenna Fischer and Angela Kinsey chatted about some of the finer details seen in episodes from season 3 of The Office. During the conversation, they circled back to an earlier conversation about Reeves' movies.
Kinsey started to launch into a discussion about the connection their hit sitcom had with Reeves. "Well, I guess there are a few Keanu Reeves / The Office crossover connections," she explained. "Jenna, we are like six degrees of separation of Keanu Reeves. We almost know him."
Fischer then dropped a piece of information that Kinsey couldn't believe her co-host never told her before. "Wait, I could blow your mind right now," Fischer said.
Kinsey tried to guess what she meant by the comment. "What? Have you met him? Have you met Keanu Reeves?," she asked.
While that didn't happen, Fischer has been in the same room as the actor. "No, but I was at a birthday party with him for a mutual friend," she explained. "But I never got up the courage to cross the room and introduce myself. And this happened like recently, like before coronavirus."
RELATED: Keanu Reeves Was a Reluctant Action Star: Why He Had to Be Convinced to Star in 'Speed'
Angela Kinsey had an interesting Keanu Reeves story
After hearing Fischer's piece of Reeves news for the first time ever, Kinsey remarked, "I have no words. What is wrong with you? How could you forget to tell me this? We have talked for six months about Keanu Reeves."
Fischer said that Kinsey's exploration of The Office and Reeves connection sparked the memory. "I know. And, you know, it's really weird because when you told me I had a Keanu Reeves Office connection, I got really excited because I think I'd forgotten that I had actually been in the same room with him once," she explained.
Kinsey had her own Reeves story, explaining how she was performing improv at a theater in her early 20s and was waiting to cross the street when a car pulled up with Reeves inside. Her friend told her, "He just checked you out. Kinsey, he just checked you out."
"I don't know if this is true. I never saw it," she added.
'The Office' and Keanu Reeves share these connections
When the co-hosts got back to connecting Reeves with The Office, they pointed out a couple of ways they could connect the two.
"Here are our crossover connections," Kinsey said, pointing out that a fan wrote in to say, "Peak Keanu Reeves hotness includes David Denman in The Replacements. If you don't get the chills when David as Brian scores a touchdown, you're broken."
When Fischer pointed out that Denman, who played Roy on The Office, knows Reeves, Kinsey wondered, "Why didn't we talk to David about Keanu Reeves?"
"Why haven't we been exploiting this relationship?," Fischer added.
Kinsey relayed that another fan pointed out: "the movie Speed features the amazing Beth Grant, who later appears in a couple of episodes with you all, most notably in the dinner party as Dwight's date/ex-babysitter, Melvina. 
For anyone who needs their memory jogged, Fischer pointed out, "She is the woman who is very, very nervous about getting off the bus and walking across the little plank" in Speed.
"That is just really good Keanu/Office crossover," Kinsey noted.