'The Office' Proposal Scene Between Jim and Pam Was Super Expensive to Film
Find out why the infamous proposal scene between Jim and Pam was so expensive.
Dwight Schrute (Rainn Wilson), Andy Bernard (Ed Helms), and Michael Scott (Steve Carell) are just a few of the beloved characters from The Office. No characters or storyline will ever quite compare to Pam Beesly (Jenna Fischer) and Jim Halpert (John Krasinski). Viewers immediately began to root for them from season one.
Through the many twists and turns of the interesting plot the two characters continued to grow, and luckily, eventually, find companionship in one another. Jim and Pam's relationship quickly became a fan favorite. Followers everywhere were enthralled with their dynamic.
In season five, fans finally got to see the beautiful moment between Jim and Pam when he proposes to her. It is no surprise that this particular scene stands out as one of the most memorable moments in the history of The Office.
However, fans and viewers may be surprised to learn how much the precious moment actually cost to film. Greg Daniels, the executive producer, claimed the characters' lengthy journeys and storyline together deserved a scene that represented the momentous occasion.
Jim Halpert and Pam Beesly's relationship on 'The Office'
Jim and Pam's chemistry was so sweet and undeniable from the start. However, in the first few seasons, there was a slight problem of Roy (David Denman), Pam's fiancé.
The Office's earlier seasons depict a different kind of love story for Pam. For three seasons fans and viewers watched Pam struggle to make it work with Roy until the inevitable demise of their relationship.
Finally, in season four, fans finally were able to see the anticipated beginning of Pam and Jim's relationship. It was even better than expected.
Jim Halpert and Pam Beesly's engagement on 'The Office'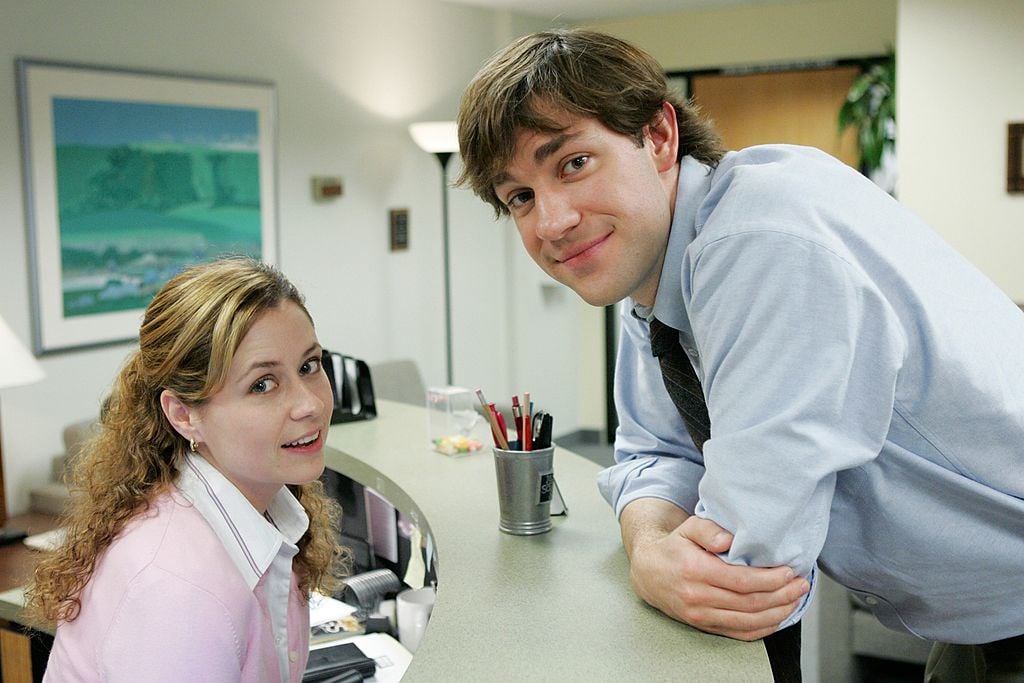 The season premiere that would eventually lead to Jim's proposal was broken up into a two-part episode to kick-off the start of a new season. "Weight Loss Part 1" focused on the challenge the characters take on to collectively lose weight together, while Jim struggled with Pam pursuing her passion for art in New York City.
Part two of the famous episode aired immediately after part one. The unique two-part season premiere should have clued viewers in that something special was coming up.
"Weight Loss Part 2" begins with the comical footage of the characters as they continue to battle against the fellow Dunder Mifflin branches in a weight-loss challenge. Pam seemed to be adjusting to her new life in New York and even began making friends, but it was obvious that throughout the episode Jim was tense and in a state of unrest when it came to Pam.
As the days and weeks pass by the episode illustrates the annoyances and inconveniences that the couple endured as a result of dating at a distance. From family obligations to last-minute schedule changes, it became obvious that Pam and Jim were becoming frustrated with their current situation.
That was until one afternoon Jim asked Pam to meet for a spontaneous lunch. They agreed to meet halfway, and Jim proposed to Pam outside of a gas station in the pouring rain. The couple's love for one another couldn't be contained, and despite deciding to wait, viewers got to see Jim propose to Pam unexpectedly in season five. The beautiful scene captured everything the viewers and fans loved about the popular couple.
Why was Jim and Pam's proposal scene so expensive?
Fans and viewers grew to love Jim and Pam overtime, but imagine being one of the people responsible for creating the show, characters, and storylines. Daniels implied that nothing would be held back when it came to getting the proposal scene just right.
That is probably why the whole scene cost about $250,000. Using the fake rain and designing a replica of the famous gas station that the couple has shared memories at in the past were two essential pieces of the proposal.
In order to have both of those elements present it cost about $250,000. Talk about an expensive scene!
When it comes to television series, it is safe to say that Jim and Pam's love story is one for the books. The couple's storyline meant a great deal to the fans and the teams of people who were dedicated to writing, producing, and filming the show. The famous proposal scene is representative of the beloved characters.