'The Office': Rainn Wilson Admits He Still Feels Horrible for Injuring Craig Robinson While Filming
One person who had quite a few stunts on The Office is Rainn Wilson, who played Dwight Schrute. They didn't always go over well. Wilson admitted he accidentally injured Craig Robinson. Find out how and other mistakes that happened during filming.
Rainn Wilson accidentally took down Angela Kinsey while filming 'The Office'
The cold open of "Dwight's Speech" shows Michael (Steve Carell) and Dwight throwing a football back and forth. Dwight eventually pushes Ryan (B.J. Novak), Angela (Angela Kinsey), and Stanley (Leslie David Baker) to the ground and shoves Creed (Creed Bratton).
Kinsey revealed that things got really intense when filming this scene on the podcast, Office Ladies. "Rainn is … he goes full out, guys. If the script says 'tackle,' 'shove,' you're gonna go flying because Rainn as Dwight is like all in," she explained. "So he tackles Ryan to the ground, he shoves the heck out of Creed, and then he runs towards Leslie David Baker, who is standing by accounting. What you cannot see is there is a petite blonde person standing behind him."
The co-host said Baker wasn't expecting getting stiff-armed because it wasn't scripted. "So when Leslie lost his balance he started steamrolling back and I was under that," she said.
He also injured himself during another episode
The intense actor didn't just accidentally hurt his co-stars in some scenes. Wilson also injured himself while filming.
"The Injury" shows Dwight suffering from a concussion after he hits a pole with his car. He gets out of the car and pukes all over it.
"They only did about two takes but he said he really hurt his neck," Jenna Fischer revealed on Office Ladies. She then said, "He had to like propel his neck forward so the vomit would really splatter and he said it was sore for like two weeks afterward." There is one accident during filming that he still makes him feel bad.
He still feels horrible about a filming accident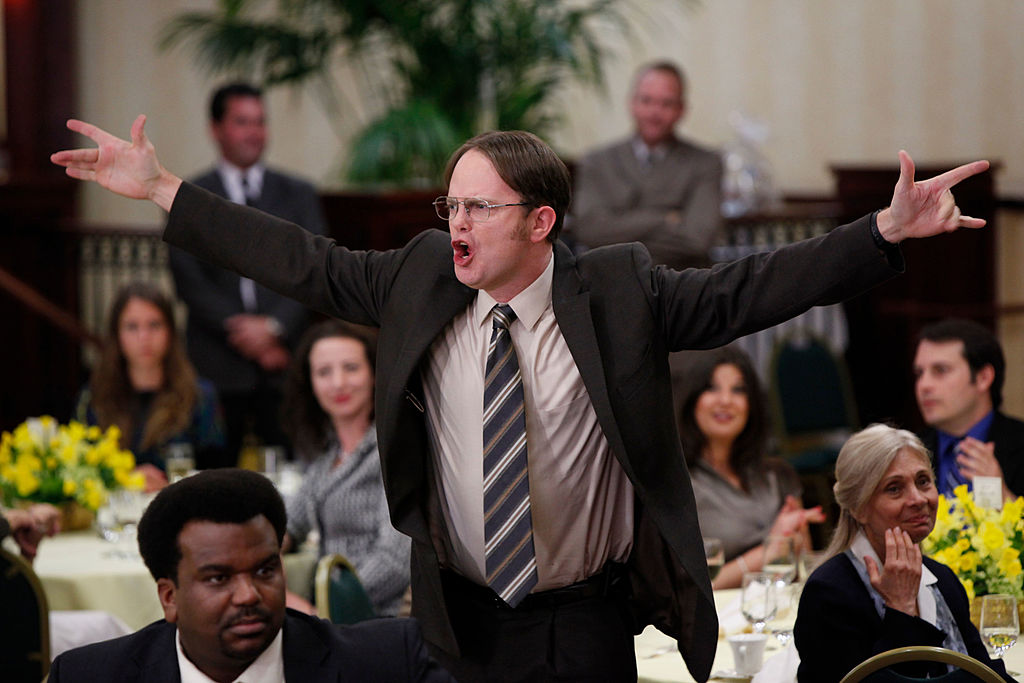 Wilson had Robinson, who played Darryl Philbin, on as a guest for his Hey There, Human podcast. He pointed out that he still feels badly about an accident that happened during the episode "Mrs. California."
In the episode, Dwight opens a gym and Darryl tries to use it. There is then a scene of Dwight messing around with a weight that is on Darryl's desk.
"When I see you immediately I feel terrible, because I did a horrible thing to you once on the set of The Office and it was one of the stupidest things I've ever done in my entire life," Wilson admitted according to Cinema Blend.
He then said, "For the rest of my life I'll apologize to you…I had some little scene where I had to run into him and be like, 'Darryl, we gotta have a meeting.' Let's go down to the warehouse. Come on, let's go,' or something like that…And you had on your desk a little desk weight, a miniature barbell… I was like, this'll be nice, I'll just pick up this prop and I flipped it in the air and it went bonk! Right in [Craig's] forehead."
Wilson added, "He was shocked, and angry, and hurt and an egg swelled up on your forehead." Robinson noted that the weight wasn't as light as Wilson expected.
It sounds like Wilson was intense and unpredictable to work with on The Office. Now we get some interesting stories about it from the cast.