'The Office' Reunion: Cast Recreates Iconic Wedding Dance to Surprise Couple on 'Some Good News'
The cast of The Office reunites for a virtual wedding, pulling out the stops to recreate the wedding dance scene from season 6.
It's a The Office reunion like no other! The cast of The Office reunited — virtually — to recreate one of the series' most memorable scenes, for a special occasion… a wedding! John Krasinski's latest installment of Some Good News highlighted weddings that have carried on during the coronavirus (COVID-19) pandemic and he got a little help from his former co-stars for one special wedding ceremony.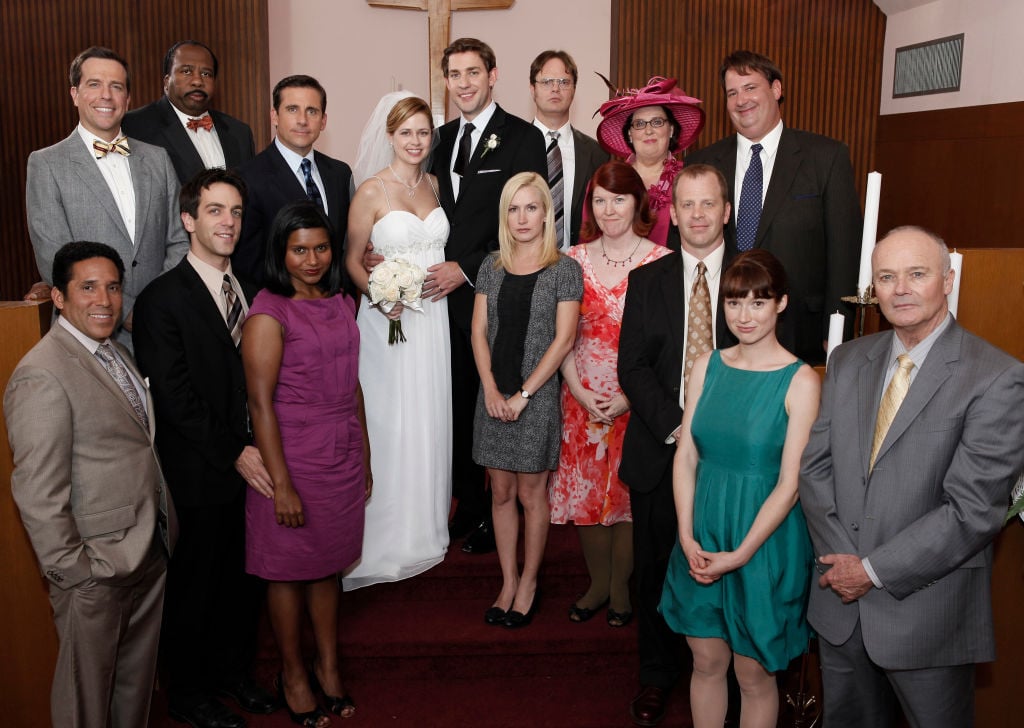 'The Office'-inspired proposal
During the May 11 YouTube series Some Good News, Krasinski showed footage of couples who have had to get creative with their weddings during this time of social distancing. One proposal caught his eye and he had a surprise for the Maryland couple, superfans of The Office who were inspired by Jim's proposal to Pam.
"Perhaps my favorite love story of the week was a couple down in Maryland, whose wedding proposal was oddly familiar," Krasinski said.
The bride shared that her boyfriend got down on a knee and said, "Just like Jim, I can't wait any longer."
It's a wedding, 'Office' style
During his interview with Susan and John about their gas station proposal, Krasinski brought the bride and groom's parents and friends on the call to join a surprise wedding for the couple. The actor served as the best man and officiant and his co-star Jenna Fischer stepped in virtually as the maid of honor.
It was very sweet, including a performance by country star Zac Brown.
As if that wasn't special enough, however, Krasinski had the perfect way to celebrate the couple — recreating the joyous dance down the aisle the characters did at Pam and Jim's wedding! Krasinski and Fischer were joined by Steve Carell, Mindy Kaling, BJ Novak, Rainn Wilson, Angela Kinsey, Ellie Kemper, Kate Flannery, Brian Baumgartner, Ed Helms, Phyllis Smith, Oscar Nunez, and Creed Bratton for the fun moment.
"There's only one way out of this wedding. And Susan and John, because you so elegantly ripped off our show for your proposal, I feel like it's only fitting that you rip off the wedding too," Krasinski noted.
The cast reunited virtually to recreate the wedding dance to the song "Forever" by Chris Brown seen in the season 6 episode "Niagara."
The episode almost had a different ending
"Niagara" was co-written by Kaling and  Greg Daniels and the inspiration for that dance moment came from a 2009 viral video.
"That video was so joyous and fun," Kaling explained to Entertainment Weekly in 2019. "That was obviously that couples' friends and family, and we thought it would be pretty funny and misguided for Michael [Carell] to equate the co-workers of the office as Jim and Pam's beloved close family and friends and do the same thing. But then when we were pitching it, it's so fun to see our cast walk down the aisle that it actually just became where Jim and Pam really liked it too."
The wedding episode almost had a totally different ending that was scrapped but the writers had to come up with something quickly to replace their first idea. Director Paul Feig explained to Entertainment Weekly, "This was right when that viral video came out. It was so popular that we went, 'Let's just re-create that.' It was a real last-minute addition."