'The Office' Star John Krasinski Shares the Advice Robin Williams Gave Him That He's 'Taken to Heart' Every Day Since
John Krasinski has had a lot of career highlights, but no doubt getting the opportunity to star alongside the late, great Robin Williams tops his list. The two shared the screen in the 2007 movie License to Wed and, in addition to watching a master of comedy in action, Krasinski also got some amazing advice from Williams.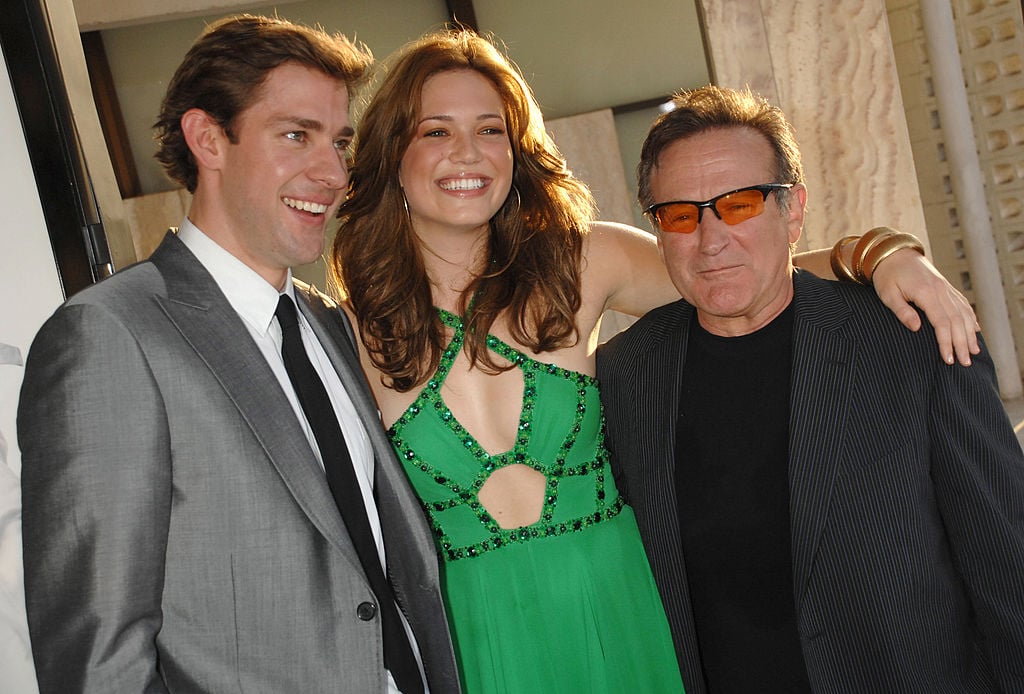 Krasinski had some help from his 'Office' co-stars
License to Wed was Krasinski's "first big movie," he told MTV in 2007, adding, "so I was terrified every day." He got a little boost on set with some familiar faces, however, as some of his co-stars from The Office were in the movie too.
"To come in and see familiar faces really made it nice; I felt like I was at home," Krasinski said. Mindy Kaling, Angela Kinsey, and Brian Baumgartner were in the film directed by Ken Kwapis. "Ken being at the helm, who directs a lot of our episodes, was fun," Krasinski shared. "He found a similarity of how he directs the show and tried to use some of the subtlety and the specifics of what it means to be in a relationship. Then, as far as having all those guys on set… it was a blast."
His co-star in the movie, Mandy Moore, was a "big fan" of Krasinski's small screen work, so having some of the show's cast in the film was a bonus. "With Ken being a producer of the show, and having directed a bunch of the episodes, and John's involvement in this movie as well, it totally sold me… But then we kept getting all these fun cameos from Angela and Mindy and Brian — and being a big fan of the show, I was like, 'Cool, what Office castmember is coming by today, guys?'"
Krasinski learned a lot from Williams
Williams shared some of what he had learned from his young co-stars at the time, telling MTV what a pleasure the experience had been. "They are two sexy people and fun and really funny. There's a sweetness and a kindness about them that makes life really lovely, and for me, that was nice too — because that was before I went to rehab," he explained.
Krasinski said he learned something priceless from Williams that he's carried with him "every single day."
"I remember he took me aside one day," Krasinski recalled during a 2016 interview with Sunday TODAY. "And he said, 'I think you're gonna be in this business for a while. Don't ever forget the responsibility you have to be the better person than anybody else on this set.' Meaning, 'You have a responsibility to be a leader, and to care about this movie and these people for everybody.'"
"And I've taken it to heart every single day," he added.
Krasinski called Williams 'a classy guy'
During the LA premiere of his 2008 film Leatherheads, Krasinski shared with People how Williams continued to support him after they finished their film, saying they had talked "a bunch of times."
"He's been so supportive of me since the movie and still keeps in touch," Krasinksi said. "That just shows you what a classy guy he is, to keep tabs on people that he cares about."