'The Office': Steve Carell and Amy Ryan Worked Together Before the NBC Comedy Series
Before becoming Michael Scott's love interest on The Office, Amy Ryan worked with Steve Carell on another project. Find out what movie set the two first met on. Plus, how Ryan's minor role in the movie helped her land a major part in the NBC comedy series.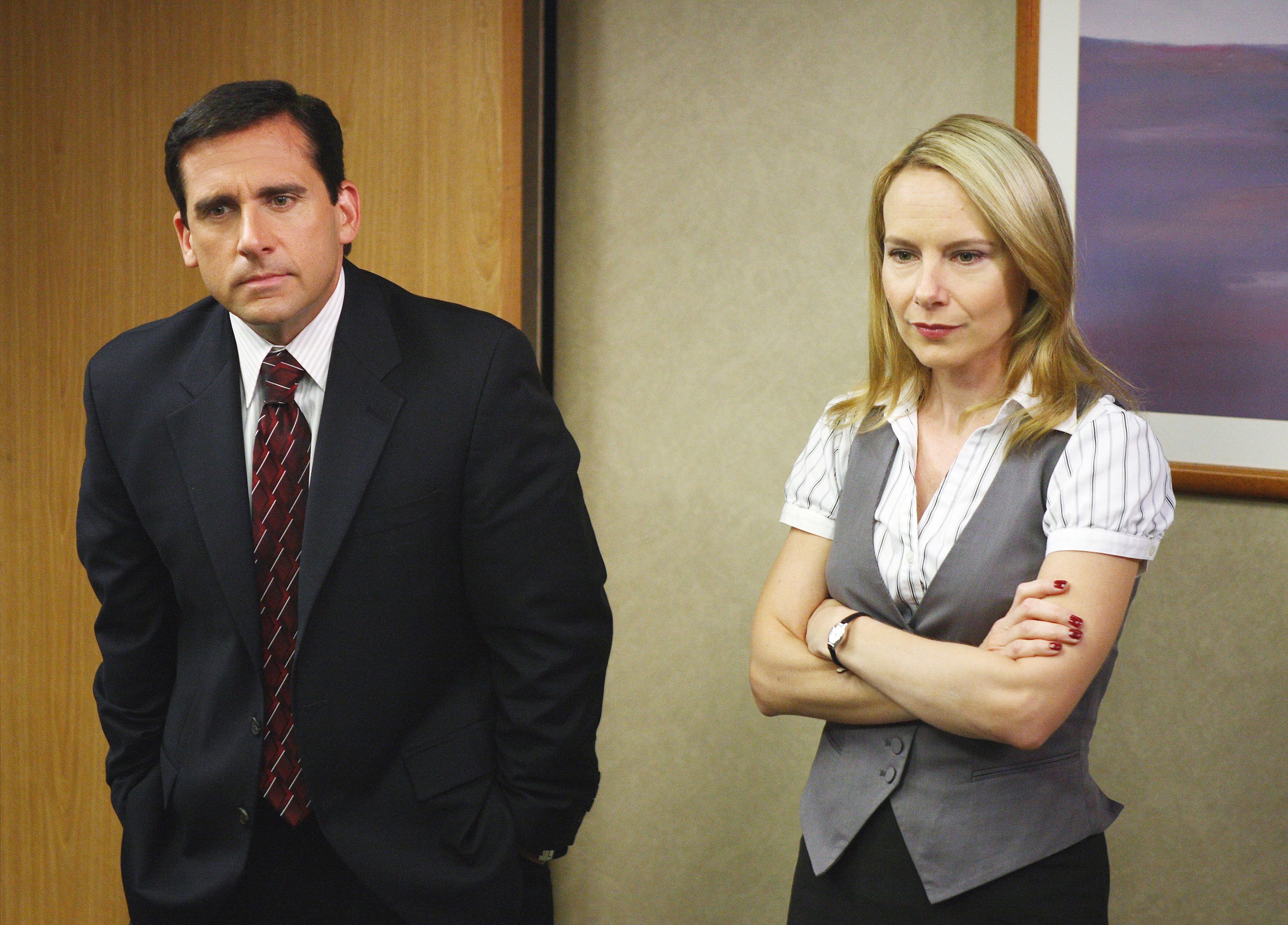 Amy Ryan and Steve Carell have undeniable chemistry in 'The Office' 
When Holly Flax enters The Office at the end of season 4 in "Goodbye Toby," she changes the trajectory of Michael's life. Holly's goofiness makes her the perfect match for the "World's Best Boss." More than that, Holly is a pivotal character in The Office because she demonstrates Michael's growth. 
Michael is a unique character in that he's awkward and occasionally ignorant, but he always means well. Before Holly, Michael had to sacrifice parts of his personality in any given relationship. But when he met his soul mate, he didn't have to sacrifice any part of himself. 
"He's still crazy; that's what I still like," Ryan told Office co-star Brian Baumgartner on his podcast, An Oral History of The Office. "He still makes really bad choices along the way and [does] things that make other people cringe. It's not like Holly comes and spreads this magic pixie dust on him, and he's a normal person." Instead, the two quirky personalities live harmoniously ever after.
Steve Carell and Amy Ryan were in 'Dan in Real Life' 
Carell plays the lead in the 2007 romantic comedy Dan in Real Life, Dan Burns. The widower and newspaper advice columnist is a single parent to three daughters. When they take a trip to the Burns family home in Rhode Island, Dan's extended family is there, including his brothers Mitch (Dane Cook) and Clay (Norbert Leo Butz), and sister Amy (Jessica Hecht).   
While the story focuses on Dan's kismet meeting and falling for Marie (Juliette Binoche), Clay's girlfriend, Carell's soon-to-be Office co-star Ryan has a small but significant role in Dan in Real Life. Ryan plays Eileen, Clay's wife, another shining example of a relationship that Dan longs to have.
Working with Steve Carell on 'Dan in Real Life' helped Amy Ryan get cast on 'The Office' 
Ryan talked about her experience getting cast for The Office as a guest on Jenna Fischer and Angela Kinsey's podcast. Ironically, her landing the role of Holly Flax is partly thanks to the 2007 film. 
RELATED: 'The Office' Showrunners Reveal How Their Lives Inspired Some of the Show's Funniest Moments
"I have this minuscule part in Dan in Real Life that Steve starred in," Ryan explained on The Office Ladies podcast, adding:
"It was this big extended family comedy. [There was a] whole group of us on location in Rhode Island, and so we all became friends. And then I think it was about six months after that film is when The Office came up. And I believe they ran the idea by Steve of casting me." 
Amy Ryan's roles outside of 'The Office'
Outside of The Office, Ryan has had several other roles in movies and television. She is widely known for playing Beatrice "Beadie" Russell in The Wire from 2003 until 2008. Plus, Ryan has had roles in TV series like:
As the World Turns (1990)
Quantum Leap (1991)
Brooklyn Bridge (1991)
Home Improvement (1992)
I'll Fly Away (1992)
Sirens (1995)
ER (1995)
The Naked Truth (1995-1996)
Chicago Hope (1998)
Homicide: Life on the Street (1999)
Law & Order: Special Victims Unit (2000)
100 Centre Street (2001-2002)
Hack (2003)
Third Watch (2004)
Law & Order (1993, 2006)
Kidnapped (2006-2007)
Law & Order: Criminal Intent (2003-2007)
In Treatment (2010)
Broad City (2015, 2017)
High Maintenance (2016, 2019)
Only Murders in the Building (2021)