'The Office': Steve Carell Has a 'Great Idea' for Another Episode, but Will It Ever Be Filmed?
Whether you've streamed The Office once, twice, or upward of 30 times as we have, you know the series couldn't possibility be rebooted. With a perfect cast including Steve Carell, John Krasinski, Jenna Fischer, and more, it would be impossible to replace the show's iconic stars.
But what if we told you there's another episode of The Office written by Carell that some of the other cast members want to film? Fischer and her Office co-star Brian Baumgartner talk about Carell's "great idea" and the possibility of an Office cast reunion.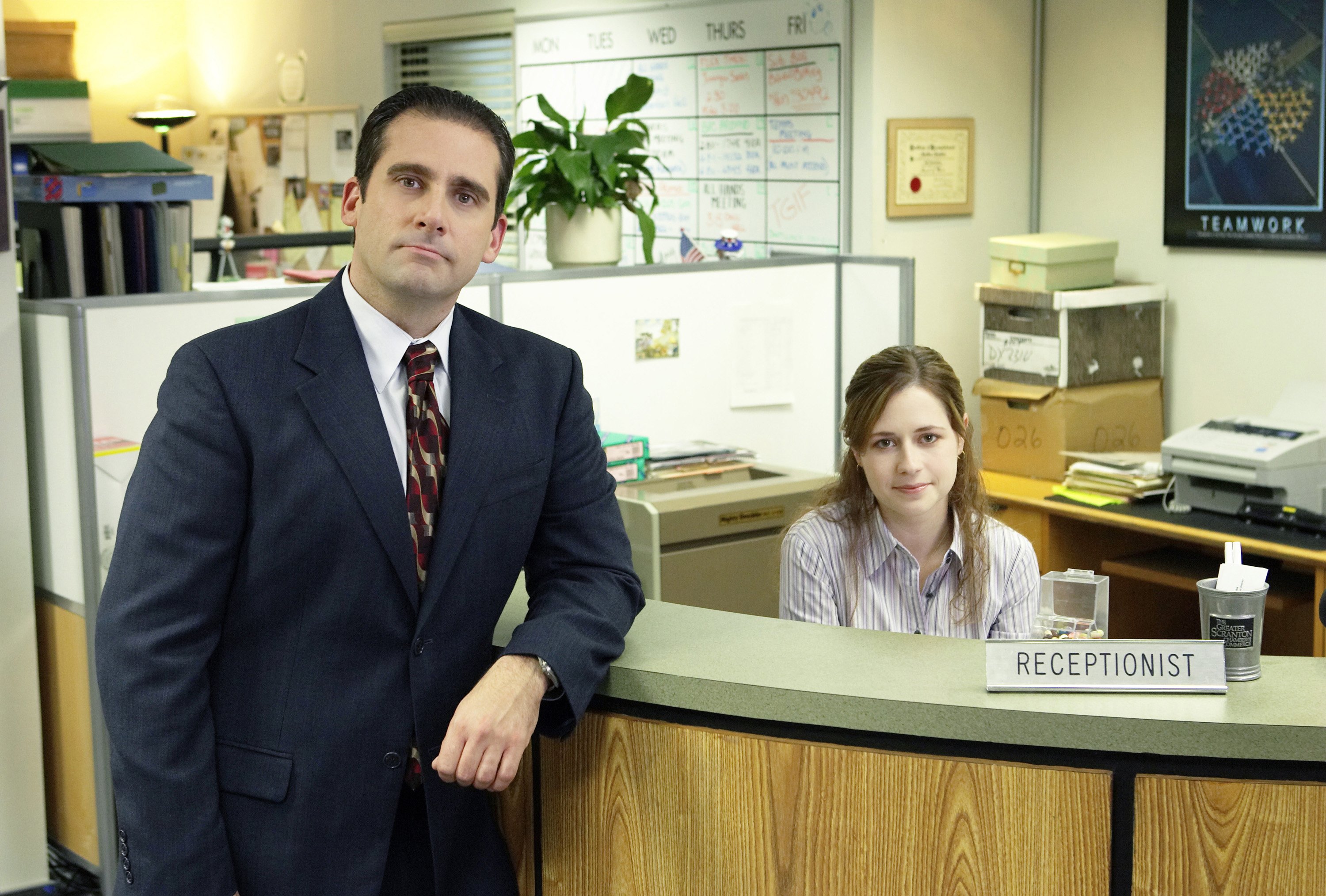 Pam from 'The Office' used to want a reunion episode of the series
For some time, Fischer says she has been "on Greg [Daniels]" about doing an Office reunion special. As discussed during her conversation with Baumgartner on The Office Deep Dive, the actor said she always wanted to revive the show in some way "selfishly because [she] wants to work with [the cast] again."
'The Office' series is 'so perfect just as it is' according to Jenna Fischer
Like Baumgartner, Fischer has a podcast that she works on with Angela Kinsey. Office Ladies is a podcast where Fischer and Kinsey rewatch The Office one episode at a time. Each episode of the podcast takes a "deep dive" into the episode — pun totally intended, Mr. Baumgartner.
RELATED: 'The Office' Fans Will Be Shocked to Learn Jenna Fischer's Real Name
Fischer says rewatching the show has changed her mind. Despite being a champion for doing an Office reunion, she now thinks doing so is a bad idea. "In my rewatching of the episodes, I emailed Greg and said, 'Greg, I don't think you should reopen the show,'" Fischer admits to Baumgartner.
"It is so perfect just as it is," she continues. "I don't think we should now. You don't want to have this weird, extra, seven years later episode that we made." Instead, Fischer is pushing the cast to pursue Carell's idea.
Steve Carell's 'really good idea' for another episode of 'The Office'
According to Fischer, Carell is sitting on an idea for another episode of The Office. Baumgartner is also aware of Carell's "great idea" — an episode shot in Scranton. For a series about Scranton, Pennsylvania, none of The Office's episodes were ever filmed on location.
RELATED: 'The Office' Spinoff Series About Dwight Schrute's Farm Couldn't Have Worked
Fischer says she has been urging Daniels to "get Steve's idea going," but she wouldn't say much more. So right now, it's unclear what Carell's vision is for this possible future episode of The Office. Still, many fans are hopeful that the episode could come to fruition someday — especially if the cast keeps talking about it.
'The Office' cast might reunite eventually
During his discussion with Fischer, Baumgartner shares his true feelings about the idea of a reunion. "I have no interest in a reunion episode," Baumgartner admits.
But during the "Sweet 16" episode of the podcast, Baumgartner teased the possibility of future Office content. "We have discussed it quite a lot," the actor says.
I believe it is certainly possible. There are some ideas that have been circulated among email and text chains. But I am not at liberty to discuss that.
If the cast and crew of The Office did reunite to film Carell's episode or any other Office content, Baumgartner seems like he would participate! Stay tuned to Showbiz Cheat Sheet for updates on future episodes of The Office.