'The Office': The 1 Way John Krasinski Was Like Jim Halpert While Working With the Cast on Set
Many fans of The Office fell in love with the characters. Some may wonder which aspects of the characters are similar or different from the actors who play them.
John Krasinski is reportedly similar to Jim Halpert with how he interacted with the cast on set. Find out how and more of what was revealed about his character.
Jenna Fischer said a part of her and John Krasinski fell in love working on 'The Office'
Many fans of The Office love the relationship between Jim and Pam. Fischer also seems to love the characters and talked about what it took to portray that relationship.
"John and I have real chemistry," she told the Los Angeles Times. "There's like a real part of me that is Pam and a real part of him that's Jim. And those parts of us were genuinely in love with one another." The actress did note "In real life, we aren't totally Pam and totally Jim. So in real life, we're not like the perfect match."
Fans went wild over Fischer saying this. Krasinski was later asked to respond to it.
"I think that was wildly misquoted or taken out of context," he told Daily Beast. "I'm sure she was trying to say something nice about how genuine the acting relationship was, of bringing a relationship that became that popular onscreen—and I think we both feel it's such an honor to be a part of that relationship."
The actor disagree about one thing about Jim and Pam's relationship
Fischer revealed that she and Krasinski didn't always agree on Jim and Pam's relationship. One thing they saw differently was their first kiss.
Jim and Pam do kiss in the episode "Casino Night," but Fischer doesn't count it. "I did not consider this their first kiss," she said on The Office Ladies. "The intention was that Pam was going for his cheek, and it was one of those moments where he moved his head in a way that I wasn't expecting and I'm drunk and I just followed through."
The actress added, "John said that Jim, who is not drunk, was very aware that they just kissed on the lips. This was a whole conversation that we had off-camera."
The actors obviously were close and cared about their characters. Fischer said there was one part of Krasinski that was very much like Jim.
He would take charge like Jim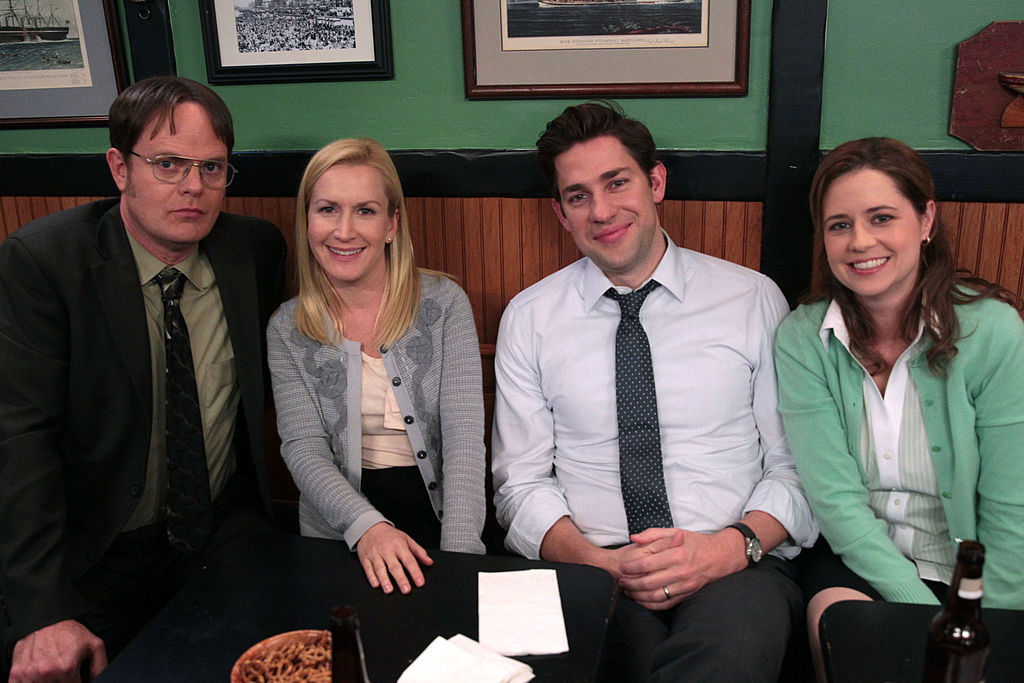 Fischer and Kinsey talked about "The Fire" episode on The Office Ladies. Fischer pointed out an aspect of Jim that is very similar to Krasinski.
"So when we get down into the parking lot I notice something," she said. "This is another episode where Jim takes charge just like 'Office Olympics.' He's the fun guy. He's the guy that's going to keep everything going and I thought it was interesting that in real life John was kind of that guy on our set who did that."
Kinsey then added, "He would. He would entertain us when we were like stuck somewhere on location or in the conference room." Fischer said, "Definitely in the conference room. Whenever we had conference room scenes and it was hour five, and we were in a slump John would rally us."
That meant finding ways to get co-stars laughing. It sounds like Krasinski knew how to lighten things up like Jim Halpert.