'The Office': The Heartbreaking Truth Behind Pam and Michael's Goodbye
The Office is one of the most beloved TV shows of all time. Even though it's been 20 years since it aired, fans still love talking about it, rehashing their favorite episodes, and binge-watching past episodes. Everyone has their favorite characters, episodes, and moments from the show that has created a multitude of memes.
Even the cast has their own favorite episodes. From wondering if Jim and Pam would still be together today to how Steve Carell's exit affected the show, fans get downright passionate about the conversations.
The show was so funny that people wondered if it was scripted or improvised, and there's at least one scene that was the latter.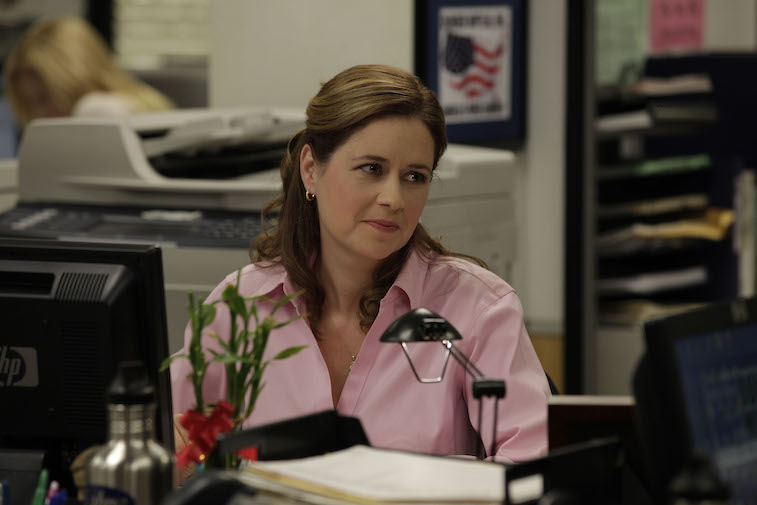 Michael Scott was an iconic character
Michael Scott, played by the fantastic Carell, was quite the character. He could be a little over-the-top and annoying, even for viewers, but he was oh-so-good at the same time.
While he genuinely did care about his employees (sans one named Toby), he was also awkward, obnoxious, and complicated. That complexity came from his tendency toward racism, chauvinism, and cultural tactlessness.
And despite his underlying love for his employees, he was quite two-dimensional. He wanted everyone to have a good time but expected a lot from each of his staff. Yes, he didn't worry when he hit someone with his car, simply because of who it was, and he expected Pam to rub butter on his foot in one episode, but he's still lovable. That World's Best Boss mug says so. 
Pam was loved by fans
Pam Beesly, played by Jenna Fischer, was probably the most-loved character on the show and was undoubtedly a fan-favorite if not at the top of the list.
She started out as the receptionist in the bad relationship, but she grew into someone who singlehandedly held the office together and got her life together in the process. Fans loved her so much; they couldn't help but overlook her flaws, minor though they may be. 
Their heartbreaking goodbye
Carell left the show after seven seasons when there were still two seasons remaining before the end. His loss was felt far and wide and by none more so than Pam. Her goodbye with Michael was one of those unscripted moments that turned out to be quite heartbreaking. It wasn't the only moment like that, though.
When the cast sang the goodbye song to Michael, Carell had never heard it before because they rehearsed it while he wasn't around. It was a genuinely moving moment. 
As with other unscripted moments that crept into the show, Pam and Michael's goodbye at the airport was too. Fischer was told by producers to say what she'd really say like she was talking to Carell as Fischer.
This opened the door for magic to happen, as Fischer has said in interviews that the tears and the goodbye were both real.
What did she say? Well, it was an emotional scene where she shared with Carell all the ways she was going to miss both him and his character once the show was over. What a fantastic run for an amazing character, and what a heartbreaking way to end his time on the show.