'The Office': The Interracial Relationship Showrunners Nixed
The Office is a comedy series about fictional paper company Dunder Mifflin. But the show relied heavily on the employees and their interpersonal relationships to do a lot of the storytelling. Jim Halpert's (John Krasinski) and Pam Beesley's (Jenna Fisher) relationship was one of the most profound. Before the iconic duo became a couple, showrunners considered making Jim and Pam an interracial relationship on The Office.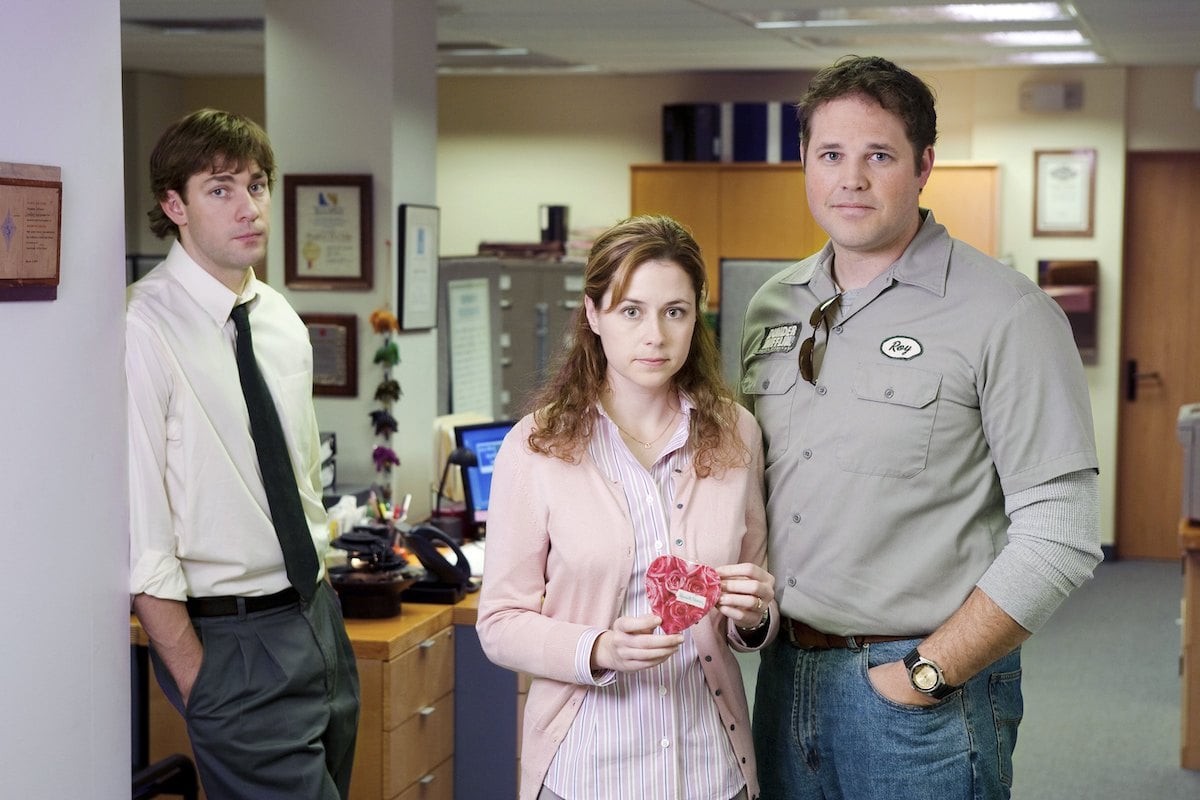 Jenna Fischer wasn't the original casting choice for Pam Beesly on 'The Office'
The Office creator and showrunner Greg Daniels originally wanted Erica Vittina Phillips, known for her role in Superbad, to play Pam Beesley. "There was a time when I thought that maybe in America, Jim and Pam should be an interracial couple," Daniels told Yahoo! Entertainment in March of 2020. "So I had an actress named Erica Vittina Phillips, who I was kind of interested in for Pam for a while." But when Fischer came in to read for the part, Daniels said "it was insane." Fischer was so comfortable reading for Pam, it didn't seem like she was acting. So Daniels and his team stopped considering anyone else for the role. 
Jim and Pam's relationship on 'The Office' was one of the most captivating parts of the show
The Office is a mockumentary-style series about a mid-size paper company. But many fans of the show love Jim Halpert's and Pam Beesley's relationship. As writer Mike Schur explained to Office star Brian Baumgartner on his podcast An Oral History of The Office, typically a show centers around a love story. The "wacky boss" is incorporated into the story so the show is funny. But The Office focused on the "wacky boss" and put Jim and Pam's "will-they-won't-they romance" in the background. 
RELATED: 'The Office': All of Michael Scott's Girlfriends
"When you shove the romance into the corners, it becomes this very delicate gossamer spiderweb of glances and tiny little moments," Schur added. "[In this way,] you have fundamentally changed [how] audiences relate to romance." Over time, Jim and Pam's romance became one of the most compelling narratives in The Office. Fans were always left wondering if they would ever be together. But before The Office ever debuted, Daniels was considering another way to make Jim and Pam's love story interracial.
Showrunners thought Craig Robinson would make a good Roy Anderson on 'The Office' 
Fans of The Office will remember Pam's first relationship in the show wasn't with Jim Halpert. In season 1, she was with Roy Anderson. David Denman was cast for the role, but The Office creator and showrunner ultimately had a different idea for Pam and Roy's relationship. 
"In trying to get an interesting love story, [there was one part of me] that thought maybe it should be an interracial love story," Daniels revealed during his conversation with Baumgartner. Funny guy Craig Robinson was up for consideration for Pam's fiancé instead of Denman. "I had one version of it where Craig Robinson was Roy, not Darryl," he added. Daniels also recalled his consideration of Phillips to play Pam Beesley. But ultimately, Daniels remains confident in the casting decisions he made.