'The Office': 'The Sweetest of Sweet Moments' Between Jim and Pam, According to Jenna Fischer
The Office's episode titled The Carpet sees Jim and Pam apart, but the ending is one of the sweetest of sweet moments, according to star Jenna Fischer.
The Office has shown plenty of sweet moments between Pam and Jim over the run of the series, but there's one standout moment to the show's star, Jenna Fischer, that she calls "the sweetest of sweet moments" between the couple. During the Mar. 18 episode of Office Ladies podcast, Fischer and co-star Angela Kinsey do a deep dive into a season 2 episode that includes a very touching moment for Pam and Jim.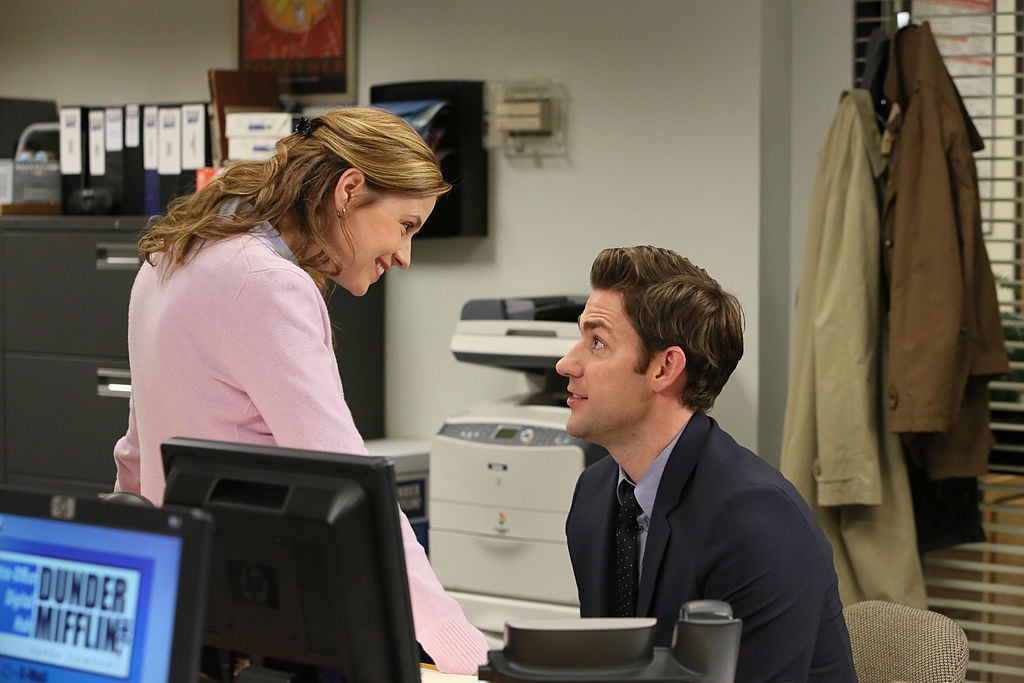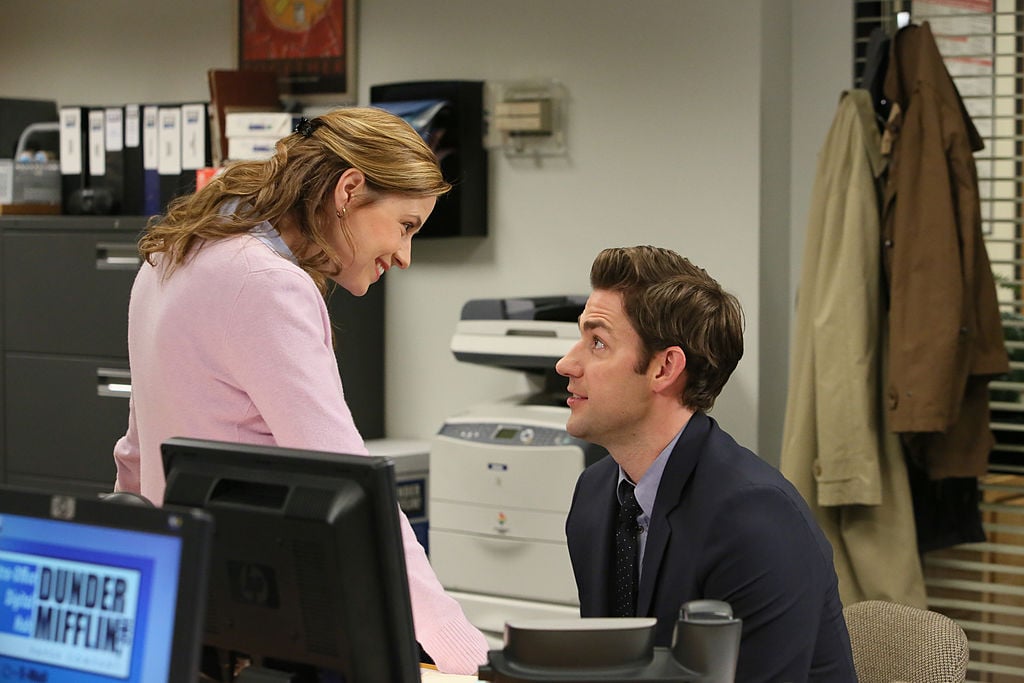 'The Carpet' episode
Fischer and Angela Kinsey covered The Office Season 2, Episode 14, "The Carpet" in their Office Ladies podcast and, while it was another solid episode, the two had to point out how the ending includes a sweet moment between the beloved couple, especially after they spent the entire time apart.
In the episode, Michael has to have his office carpet removed after discovering something disgusting and smelly. That requires some office shuffling, with Michael taking over Jim's desk and displacing him away from Pam in the annex with Kelly. Given that his day to day office experience is only bearable because of his interactions with Pam, this becomes a tough situation, especially when he gets an earful of chatter from Kelly. Throw in Roy getting more contact with Pam and a bit of a missed moment with his office BFF/crush and you can feel Jim's sadness.
The ending is a surprise for Jim and fans when Pam instantly makes his day 100% better.
Jim has a rough time
During the Office Ladies podcast, Fischer and Kinsey chatter about their fun facts about the episode and get to the moment when Jim sees Pam leaving for the day and waves goodbye to her from the kitchen — but she doesn't see him.
It's a bummer of a moment for Jim and viewers, who feel like this relationship didn't make any forward progress, as fans had been rooting for the two to get together.
Feeling defeated, Jim makes a desperate call to corporate's Brenda from the Booze Cruise, asking her out via a voice mail message, which seems altogether a bit pathetic.
It's 'the sweetest of sweet moments'
Thankfully things turn around for Jim during what Fischer calls "the sweetest of sweet moments" viewers have seen in the series up to that point. As he leaves for the day, he stops at his desk to listen to his voicemail and it turns out Pam had very much been missing him, as evidenced by the 7 voicemails she left him.
"This has one of the sweetest endings of an episode yet," Kinsey noted, with Fischer sharing, "This whole episode we've given you no indication that Pam is clocking Jim in any way, but Jim walks to his desk, he sees the little message light flashing, and he plays his messages."
She adds, "Pam has left him 7 voicemails all about her day… and you see him kind of walk to his car as these messages play."
The moment is significant, Kinsey explains, as "clearly she's missing him and missing interacting with him," adding, "And his face. He's so happy. And everything is right in his world again." 
Fischer noted, "It's funny, I forgot about the voicemail messages when I was watching this, and I was frustrated with Pam. I was like, 'What is wrong with you? This is your friend, why are you being so coy?'"
Kinsey saw it a bit differently, pointing to the challenges in their relationship since Pam is with Roy but clearly likes Jim.
"I'm sure there are hills and valleys of her wanting to invest in Roy — what they built together — and see it through. Then there's all these overwhelming feelings of, 'I don't think he's the right person, but we've been together so long,'" Kinsey noted. "Then when she sees Jim it's like holding up a mirror to herself."
The two further discussed whether Pam missed Jim while vacationing with Roy, with Kinsey explaining, "admitting to missing him is admitting to this emotional affair and she's not there yet." 
"She's not there yet," Fischer said, adding, "But these messages meant the world to me as a viewer when I was watching it."