'The Office': Who Plays Baby Phillip Schrute and What Line Did He Improvise?
It's rare that an actor joins the cast of a show for one episode and leaves a lasting impression on viewers. It's even rarer that a toddler can hold that kind of power. But after watching "A.A.R.M" the penultimate episode of The Office, fans of the show completley fell in love with baby Phillip Schrute, the son of Angela Martin and Dwight Schrute.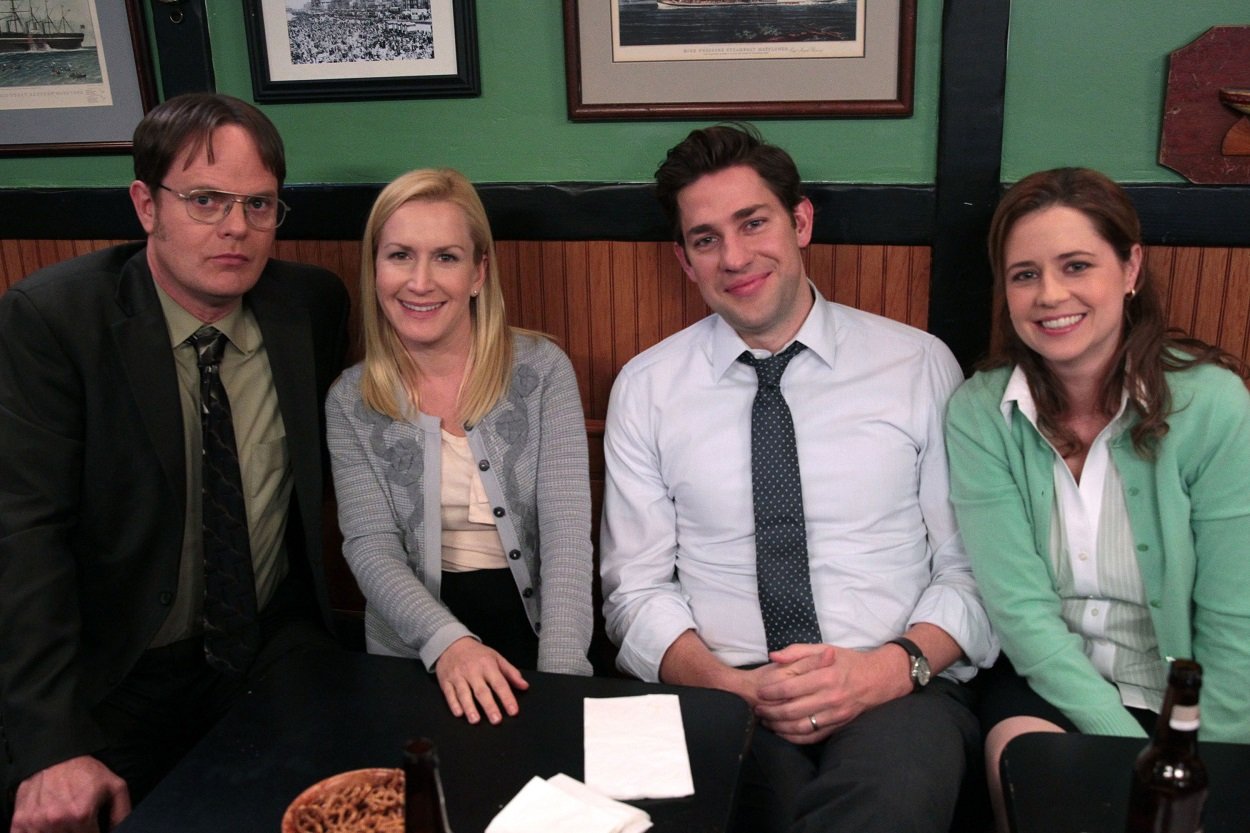 Fans of The Office have long-since wondered who plays baby Phillip. Because of his comfortability and genuine connection with the cast, many viewers have speculated that he is the real-life son of one of the cast or crew members. Because he shares the same blond hair as his on-screen mother, Angela Kinsey, fans question if he's her biological son. But in a 2013 interview with Office Tally, David Rogers, who directed "A.A.R.M", revealed that baby Phillip isn't related to anyone in The Office cast. Furthermore, he shared that more than one actor played Phillip!
Who played baby Phillip Schrute in 'The Office'?
"Baby Phillip was absolutely amazing!" Rogers shared reflecting on the memorable episode of The Office. "He was played by Vince and Evan Edwards and this was their first professional job in front of cameras on a professional set. They were not related to anyone in the cast or crew, but quickly became part of our 'family' as soon as everybody saw and fell in love with them. Phillip even looks like the perfect offspring of Dwight and Angela between having Dwight's nose and lips and Angela's blonde hair!"
Rogers continued on to share how the Edwards' twins were able to bond with The Office cast and how he used editing to make the scenes with baby Phillip even better. "The cast would spend time with them before they were needed on stage, and those kids were just calm and attentive from the get-go," the director said. "And lucky for us, one cried when I needed him to when the scene called for it, and as for calming down as soon as Dwight picked him up, well that's where I come in as an editor, cutting to a take where the baby wasn't crying to give the illusion of Phillip instantly settling down."
Which of baby Phillip's lines wasn't scripted?
But there's one moment in the episode that wasn't edited at all. In fact, one of the toddlers managed to create a pretty incredible unscripted moment. According to Rogers, when baby Phillip proves his Schrute status by picking the beet over the money that Dwight offers him, he actually said the word "beet" without any prompting.
"The kids pointed at the Galactica, were never afraid whenever a new cast member would hold them, and one said the word 'beet!' when asked what he would prefer during 'Schrute or Consequences.'" Rogers shared. "That wasn't even scripted. All he had to do was grab the beet, but he pointed at it and said 'beet' It was amazing!" Clearly, the cast and crew of The Office loved working with the Edwards' twins almost as much as fans enjoyed watching baby Phillip. It's no wonder that production brought them back for a cameo in the series finale.