'The Office': Why Jenna Fischer Went Through About 4 Packs of Pantyhose a Day Playing Pam Beesly
Pam Beelsy (Jenna Fischer) is often seen in a skirt and pantyhose on The Office. This looks like normal office attire, but it turns out Fischer had some issues with her costume while working.
Find out why she went through about four packs of pantyhose a day while playing the character. Also, find out about the invention that was created to stop this problem.
Jenna Fischer said she doesn't care if fans keep calling her Pam Beelsy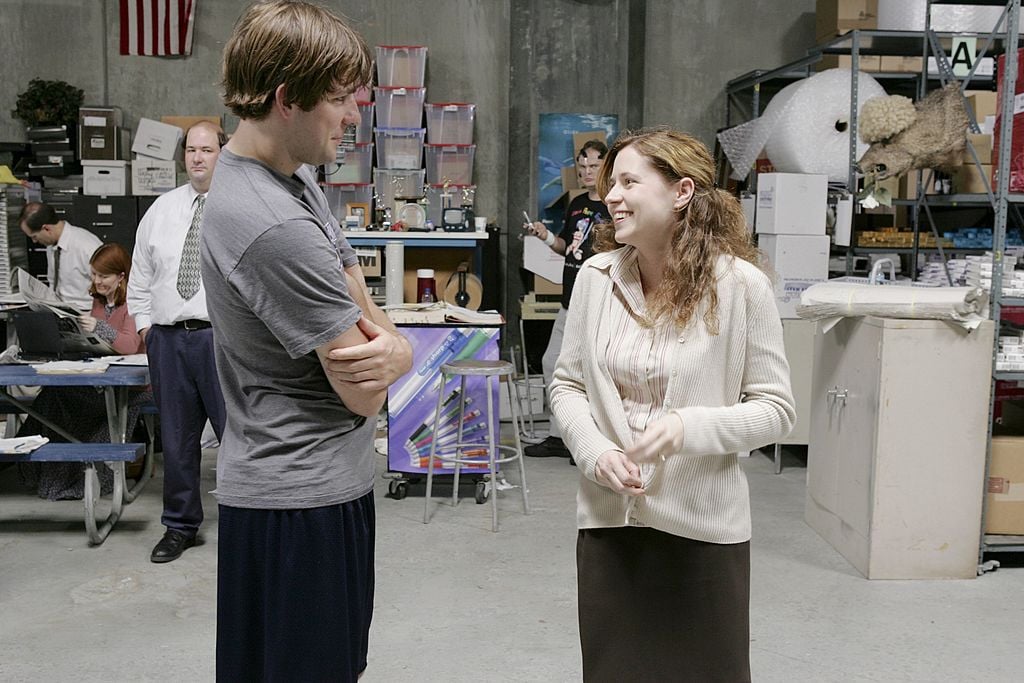 The actress spent many years playing Pam Beesly. So it's unsurprising that fans call her that even though the show is over. She said that she doesn't mind it.
"When I was a little girl growing up in St. Louis, I wanted more than anything to be on a comedy television show," Fischer said on her podcast, Office Ladies. "I used to watch Cheers with my family and thought, 'One day I want to be Shelley Long. I want to play a character on a TV comedy that everyone remembers.' So I don't care if people call me Pam for the rest of my life. I'm proud of that."
She changed pantyhose so often because of her mic
Fischer often wore a pencil skirt when playing Pam Beesly. This meant the sound guy had to get crafty when putting on her microphone.
"Often times you know I was in that pencil skirt," she said on the podcast, Office Ladies on the "Basketball" episode. "And if I was standing up we would sometimes have to put a leg wrap around my upper thigh to hide the microphone pack and then very delicately weave a microphone wire through underneath my bra, up my blouse."
She later said, "Here's something that would happen though. Those leg wraps they closed via velcro. They were a velcro leg wrap and Pam wore pantyhose and I would get a run in my pantyhose and I would have to change my pantyhose four to five times a day."
She continued, "The wardrobe people, they would put four or five packs of pantyhose in my trailer because they knew inevitably that I would get a run from this velcro, which was also itchy and uncomfortable."
She got an invention to help with this problem
The good thing is that this problem was eventually fixed by the sound guy. Fischer said he made a leg wrap with bra hooks and that wouldn't give her a run in her pantyhose.
The actress also said because she liked to eat around the holidays she would gain weight. This invention therefore had three different settings like a bra so it can be used even though her weight fluctuated.
She said the invention was called "The Jenna." Fischer also uses the same leg wrap on Splitting Up Together because the same sound guy works on her new show.
The funny thing is that Angela Kinsey refused to wear pantyhose so she never had this problem. Fischer admitted that she never even thought that she could refuse so she went with it for a long time.