'The Office': Why Jim and Pam Shared the Biggest Kiss of the Series in This Episode
While fans of The Office loved the moment that Jim and Pam shared a kiss in the "Casino Night" episode, Jenna Fischer revealed another kiss between the characters that went on even longer. Fischer explained why they had to go so big with this season 4 Jim and Pam moment.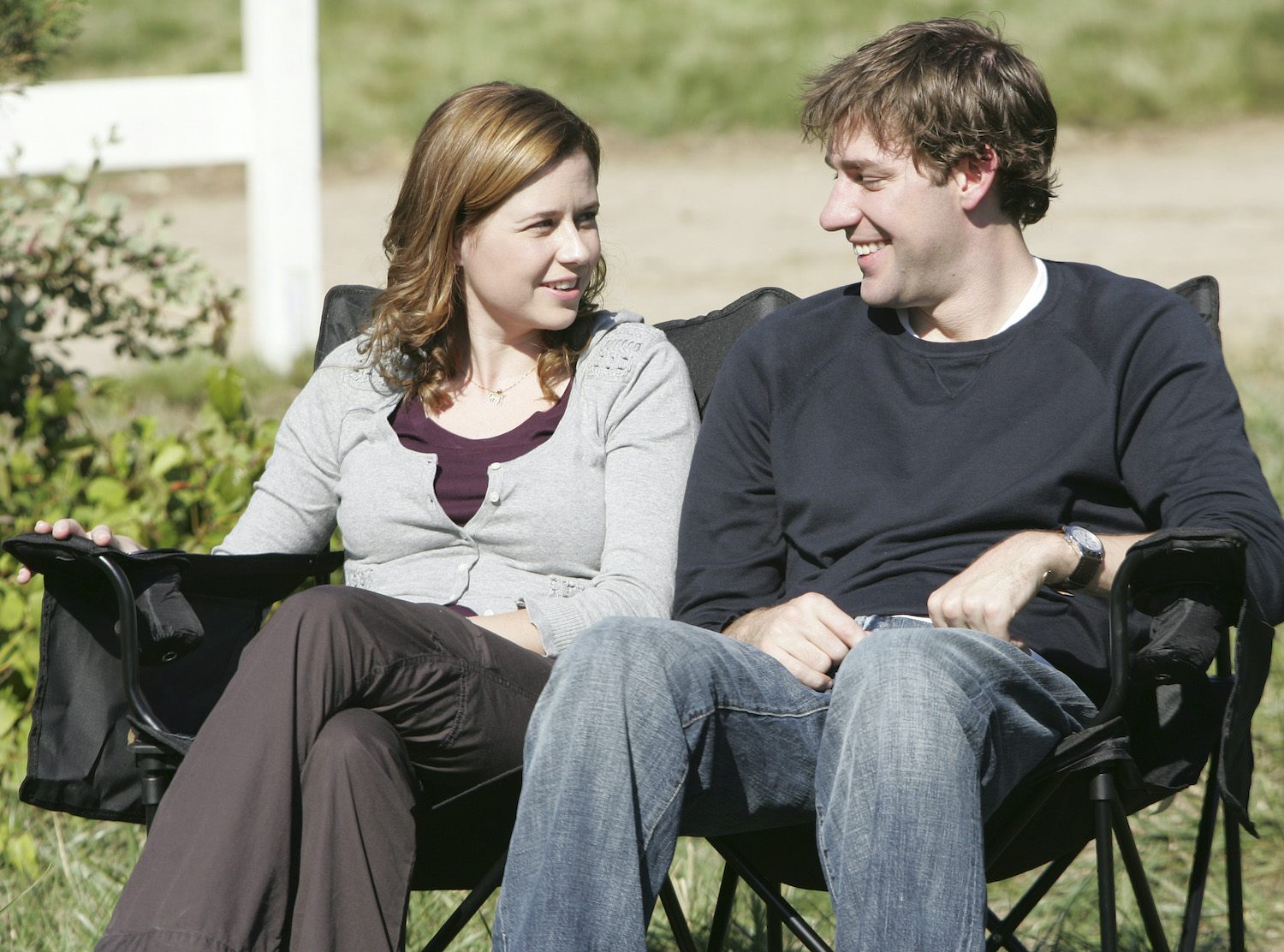 Jim works hard for a big sale in 'The Office' 'Job Fair' episode
During the April 21 Office Ladies podcast, Fischer and Angela Kinsey discussed the season 4 episode "Job Fair." In the episode, Jim tries his best to woo a potential client on the golf course but finds it challenging. He eventually lands the sale after demonstrating his persistence.
Fischer noted that Jim's effort "pays off."
"They're going to come back to the office and they're going to be drinking some beers, toasting their good fortune as Michael and Pam and Oscar and Darryl return from the job fair," Fischer added.
Jim and Pam celebrate the win with a big kiss
Jim and Pam share a big kiss when she returns from the job fair. "And Pam is like, 'You did it. You closed the deal, you sold it,'" Kinsey explained. "And she runs up and they smooch. Then they shake hands because they're like awkward and then they completely make out in front of everyone."
Fischer recalled what it was like to film the scene. "Angela, I remember shooting this scene," she said. "We were kissing for so long. And it's not even hardly on camera now that I see the episode."
Fischer also explained why the kiss was so long. The need for this big moment in the episode was the result of the writers' strike that shortened the season and forced the writers to make changes to Jim and Pam's storyline.
"Part of this big kiss was because we had this shorter season from the writers' strike and we didn't get to advance a lot of Jammy storylines after all, right?," she explained. "They had this whole plan that they were going to move in together. So we're near the end of the season and we had to throw in big Jam moment."
"So here it is. You're going to get to see them have a big smooch," she added. "This is, I think, the biggest smooch of the series. Really."
Kinsey argued, "It's the longest smooch. I would say the biggest, most epic smooch was 'Casino Night.'" She added it was a "big pivotal smooch. But this is the longest smooch."
RELATED: Jenna Fischer Reveals the Heartbreaking Pam and Jim Moments That Made Her Cry
Steve Carell's line cracked them up
Steve Carell's line during Jim and Pam's kiss proved challenging for the actors. "It was very, very funny … Was it in the script for Michael to say, 'Kiss her. Kiss her good'? Because I could not get through that," Fischer said.
"We were laughing so hard and my memory is that Steve did that as an improvisation," she added. It turns out that it was written in the script.
"It was very, very funny," the actor explained. "And you can see when John and I separate that my face is a little red. It's a little chafed from so much kissing. We had to do this scene so many times."