'The One That Got Away': Which Couples End up Together in the Finale?
The One That Got Away is a reality TV that reunites singles with possible missed connections from their past. But how does the Amazon Prime Video end? Here are the couples that leave together in the finale.
[SPOILER ALERT: Major spoilers ahead for The One That Got Away.]
'The One That Got Away' started with 5 single people
RELATED: 'All Star Shore': Giannina Gibelli Says the Cast Told Her to 'Get a Room' With Blake Horstmann
The season started with Ashley Algarin, Nigel Sydnor, Kasey Ma, Vince Xu, Jeff Perla, and Allyssa Anderson single and ready to find love. Throughout the season, they go to the portal to find a new person from their past who wants a chance to be with them again.
Vince is a 30-year-old lawyer from California. He was in a nine-year relationship from high school, so he befriended more girls than tried to date them through those years.
Allyssa is a 25-year-old model from Texas. She admitted in the first episode that she's ready for marriage and children right now.
Nigel is a 28-year-old real estate fund manager. He admitted to making mistakes in the past because he wasn't ready for a relationship.
Jeff is a 28-year-old travel blogger from New York. He grew up going to Catholic school, so he came out as gay after his 21st birthday. He then moved to the city and explored but struggled to connect with someone after suppressing his sexuality for so long.
Ashley is a 26-year-old CAT scan technician from Ohio. She got out of a relationship five months ago and broke up with him because he lived with his parents.
Kasey Ma is a 29-year-old Twitch Streamer from New Jersey. In the past, she was in toxic relationships but is ready to find her soul mate.
Ashley Algarin left 'The One That Got Away' early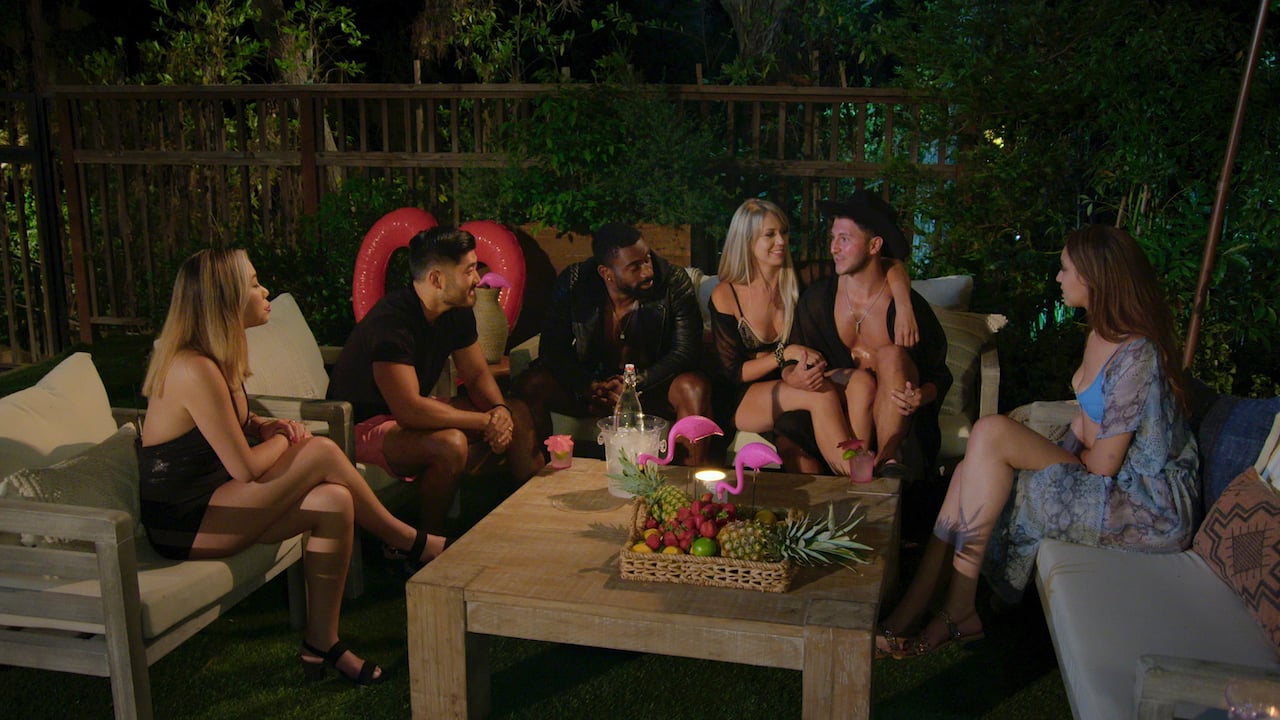 RELATED: 'All Star Shore': Everything We Know About the New Paramount+ Reality Star Series
In episode 4, Ashley had a date with Taylor, who followed her on Instagram. They talked briefly on the platform, but Ashley didn't move forward with him because he's 23. Their date went well, but when Ashley got jealous at the pool party he started to have doubts.
Then Ashley's ex-boyfriend, Quinn came through the portal. At first, she was torn between them, but then Taylor left after he tried to talk to her about her behavior at the pool party, and she wouldn't listen.
In episode 8, Ashley decided to leave with Quinn. "I feel like I've taken you for granted and you came here really ready to prove things to me that you're willing to change," she told him. "But like, there's things that I need to change too."
Which couples end up together in the finale?
The rest of the cast stayed for the finale. Kasey struggled through the process but chose Simon Fung in the end. They agreed to see where things go off the show without any commitment.
Allyssa chose Adam Drexler, a family friend who went to the same high school as her. They saw each other last in high school. In the finale, he got down on one knee and gave her a ring promising to support her.
Jeff chose Alex Van Gurp. Alex has been his best friend for years, and they've been friends with benefits in the past. They decided to be platonic in order to protect their friendship. But Alex wanted to give a romantic relationship a fair shot. Jeff decided to commit and ask Alex to be his boyfriend in the finale.
Nigel chose Dezi, who he previously dated. He wasn't ready for a relationship, and in the end, he started talking to other women. They stayed friends but did business together. In the finale, they agreed to work on repairing their relationship.
Vince chose Yurika Yoneda, the prom queen at his high school. Their connection stayed strong ever since she got out of the portal, and he proposed to her in the finale.​​
RELATED: 'The Ultimatum': Alexis Says 'It's No Longer About Alexis' Since She Married Hunter