The Only 2 Beatles Songs Ringo Wrote by Himself
While Ringo was a big part of The Beatles, songwriting wasn't his specialty. Here are the 2 tracks credited to Ringo alone from his Beatles days.
Right from the beginning, Ringo Starr showed he wouldn't be confined behind the drum kit. On Please Please Me (1963), the Beatles' debut record, fans heard old "Ring" belt out "Boys," a track made famous in America by The Shirelles.
Before '63 ended, the Fab Four had another record out (With The Beatles) and Ringo delivered another lead vocal. This time, Ringo and the boys really let it rip with "I Wanna Be Your Man," a rocker written by John Lennon and Paul McCartney.
Right around that time, Ringo tried his hand at songwriting for the first time. Two years later, he would get his first credit (shared with John and Paul) on Rubber Soul's "What Goes On."
But it would take until 1968 for Ringo (born Richard Starkey) to deliver a track written all by himself. And it would be the first of just two song he wrote with The Beatles.
Ringo's 1st effort was 'Don't Pass Me By' for 'The White Album.'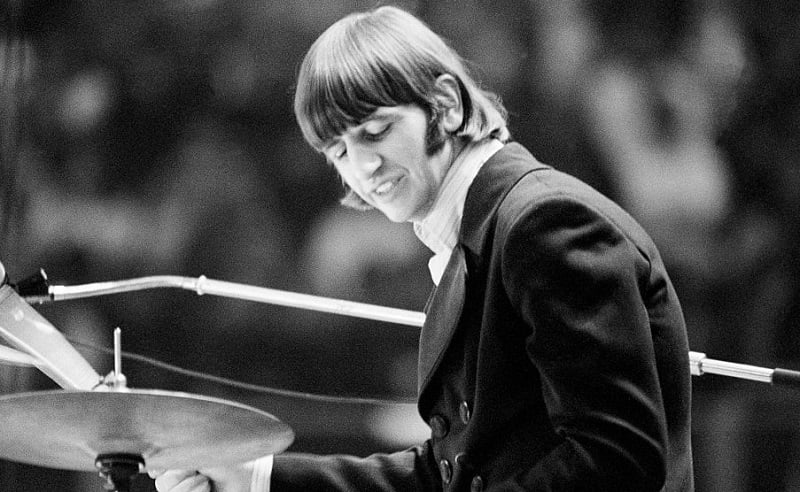 When reporters asked about the odd Lennon-McCartney-Starkey credit on "What Goes On" (1965), Ringo replied with his trademark humor about his own contribution. "About five words, and I haven't done a thing since!" he said.
But he already had one original tucked away in a safe place. In fact, he had it with him before he displaced Pete Best as the Beatles drummer. According to Mark Lewisohn, Ringo played it for his new bandmates after joining the group in 1962.
Two years later, Ringo hyped the track during a visit to a New Zealand radio station. "Sing the song I've written, just for a plug," Ringo says. The band doesn't, and it sat dormant for several more years — until the band made its fateful '68 trip to India.
While there, Ringo finally finished the song (sort of) and the band recorded it for The White Album. John and George Harrison didn't play on the track, but Paul played piano and bass. A guest fiddle player took the lead part to give the song its country feel.
Ringo found his ideal subject with 'Octopus's Garden' on 'Abbey Road.'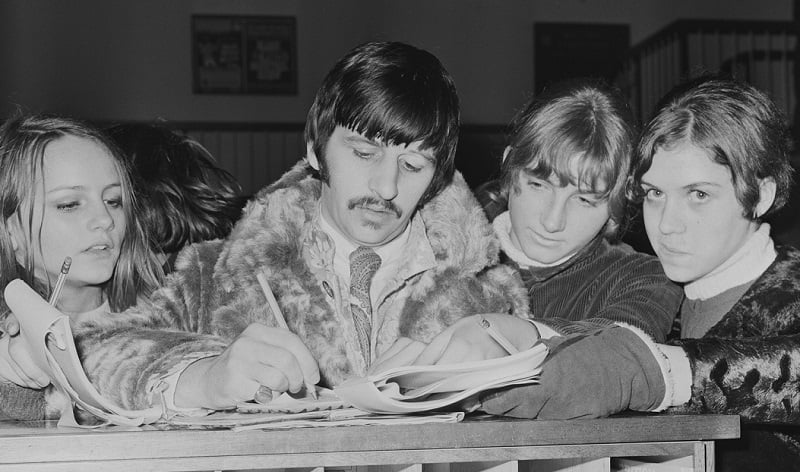 While "Don't Pass Me By" is amusing enough, Ringo would hit his songwriting peak later the same year when he wrote "Octopus's Garden." He got to writing that track after leaving the band in the middle of The White Album sessions.
Away on a family holiday in Italy and not sure he'd return to The Beatles, Ringo learned about the habits of octopuses while floating on Peter Sellers's yacht in the Mediterranean. The captain explained to him how the sea creatures set up their gardens.
"He told me all about octopuses — how they go 'round the sea bed and pick up stones and shiny objects and build gardens," Ringo said in 1981. "I thought, 'How fabulous!' Because at the time I just wanted to be under the sea, too. I wanted to get out of it for a while."
For this second and final Starkey track, every Beatle contributes, and Ringo gamely supplied the bubble effects as well as singing his moving lead vocal. It's one of Ringo's all-around finest moments with the band, and George loved the song.
"I find very deep meaning in the lyrics," George said after Abbey Road's release. "'Resting our head on the sea bed' and 'We'll be warm beneath the storm,' which is really great. Because it's like this level is a storm, and if you get sort of deep in your consciousness, it's very peaceful."
Also see: The 'Abbey Road' Song John Lennon Thought Ringo Played Terribly on