The Only Beatles Song Ringo Starr Co-Wrote With John Lennon and Paul McCartney
John Lennon and Paul McCartney share credit on hundreds of songs, but only 1 between the 2 of them and Ringo Starr.
When The Beatles broke up, the public's fascination with the Fab Four's primary songwriters didn't die with the band. In fact, you could say the attention paid to the work of John Lennon and Paul McCartney has only increased since 1970.
That surprised neither John nor Paul. In 1980, in the months before he died, John was running down who wrote what in the Lennon-McCartney songbook with Playboy's David Sheff. And Paul eventually did the same in his own authorized biography, Many Years From Now (1997).
Considering the pair went their separate ways as songwriters in the late '60s, you can understand why people would want to know these details. After all, every tracks sported the same Lennon-McCartney credit (even "Give Peace a Chance").
But only one song ever featured the great songwriting duo sharing a credit with Ringo Starr. It kicked off the second side of The Beatles' 1965 Rubber Soul album and turned up a few months later as the B-side of the "Nowhere Man" single in the U.S.
'What Goes On' sported the 1 and only Lennon-McCartney-Starkey credit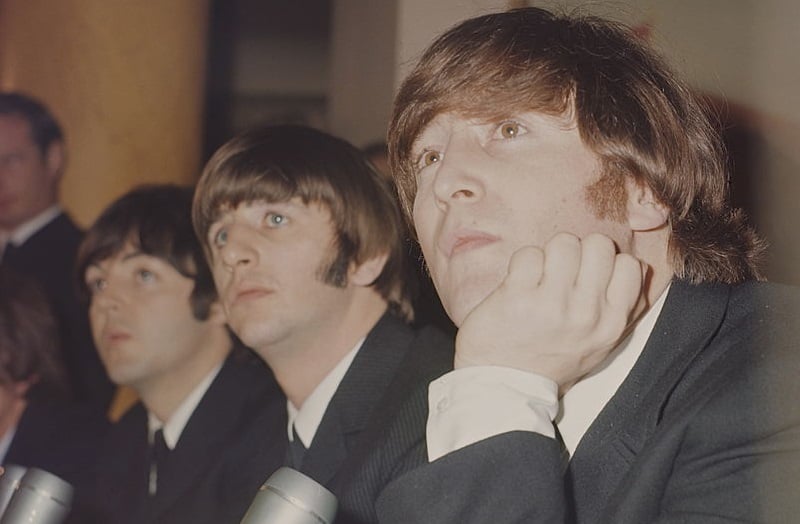 While The Beatles usually planned to get Ringo a song to sing on each album, it didn't always work out that way. On A Hard Day's Night (1964), for example, Ringo didn't get a track. But on the following two Fab Four records Ringo got covers to sing.
During the sessions for Rubber Soul (the group's second release of '65), The Beatles had to scramble to fill out the album in time. That meant John and Paul reviving some older material. In Paul's case, it was the ballad "Michelle."
John also went into the chest and came out with "What Goes On," which would be Ringo's vocal feature. "That was an early Lennon written before The Beatles when we were The Quarrymen, or something like that," he told Sheff in the interviews that became All We Are Saying.
But while John believed Paul helped with the middle eight of "What Goes On," that didn't explain how Ringo ended up sharing the song credit with them. And Ringo didn't help much with the explanation.
Ringo said he contributed 'about 5 words' to 'What Goes On'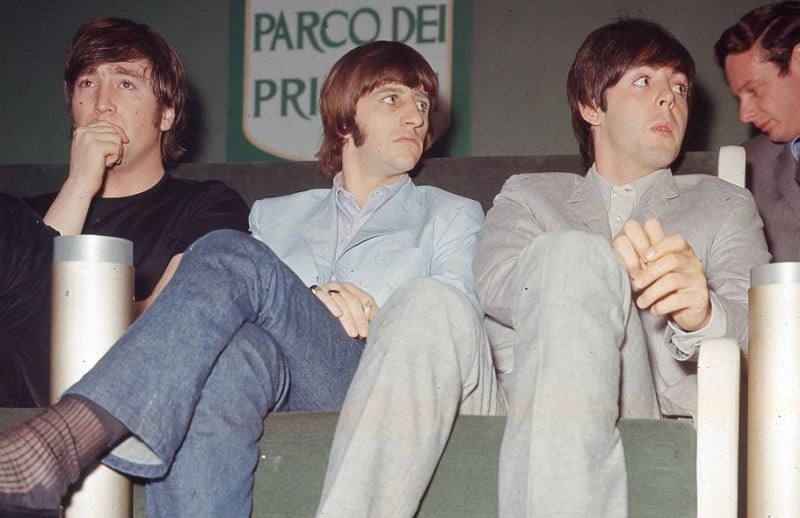 John and Paul didn't really go into detail about the composition of "What Goes On." And the reason is probably simple. As Paul once said, he and John didn't take Ringo songs as seriously as they did their own. That sounds about right with this lighthearted track.
As for the "middle eight" John believed Paul must have written, that's misleading because the song doesn't feature a middle eight. However, Ringo must have helped enough with the lyrics to prompt John and Paul to add him on as a writer.
At a 1966 press conference in Los Angeles, reporters wanted to know all about Ringo the composer. "How much did you contribute to 'What Goes On' and are you contributing to any other Lennon/McCartney compositions?" one asked (via beatlesinterviews.org).
Ringo was happy to give the assembled reporters what they wanted. " Um, [I wrote] about five words to 'What Goes On," he said with his trademark wit. "And I haven't done a thing since."