The Only Time The Beatles Recorded a Song by Buddy Holly on a Studio Album
When you dig into the history of The Beatles, you see the influence of rock 'n' roll pioneers Little Richard, Elvis Presley, Chuck Berry, and Jerry Lee Lewis. But the list wouldn't be complete without Buddy Holly (1936-59).
"Buddy Holly was the first one that we were really aware of in England who could play and sing at the same time," John Lennon said in an interview later published in Beatles Anthology. "Not just strum — but actually play the licks [and sing]"
Paul McCartney also noted what a major influence Holly was. "One of the main things about The Beatles is that we started out writing our own material," Paul said. "People these days take it for granted that you [write], but nobody used to then. John and I started to write because of Buddy Holly."
When John and Paul (then as The Quarry Men) first recorded anything, a cover of Holly's "That'll Be the Day" was how they got started in 1958. Over the years, The Beatles would play many more Holly songs. But they only ever recorded one Holly track for a Fab Four studio album.
The Beatles recorded 'Words of Love' for 'Beatles for Sale'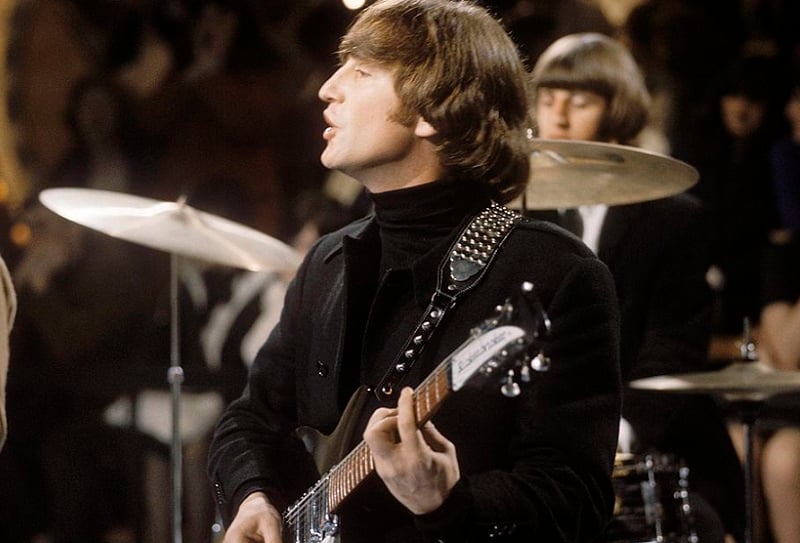 If you start ranking Fab Four albums with your friends, we doubt anyone will pick 1964's Beatles For Sale . While you do find "Eight Days a Week" and some minor gems (including "I'll Follow the Sun") on it, the record has several covers (e.g., "Mr Moonlight") that aren't exactly inspired.
Still, The Beatles did deliver a strong rendition of "Words of Love," which Holly originally released as a single in 1957. With John, Paul, and George Harrison singing the vocal together, the group knocked out the track at the end of a nine-hour recording session.
Geoff Emerick, the longtime Beatles engineer, recalled the scene of the group in the studio that day in late '64 in his book Here, There and Everywhere. "They were clearly flagging by the time they got around to it," Emerick wrote.
"Yet John, Paul, and George sang beautiful three-part harmony, gathered around a single mic. […] It was a fitting tribute to one of the group's musical idols." Later, John would pick up the thread in his solo career.
John Lennon later recorded 'Peggy Sue' on his 'Rock and Roll' album
While you can catch The Beatles performing "Crying, Waiting, Hoping" on Live at the BBC — and several other Holly tracks while rehearsing during the Let It Be sessions (on various Anthology releases) — you won't find the Fab Four tackling another track by Holly on one of their studio albums.
But that wasn't the case with the former Beatles' solo albums after the band parted ways. When John made his Rock and Roll album (1975), he included a strong rendition of the Holly classic, "Peggy Sue." (Note the heavy instrumental break at 1:04.)
Of course, John had many more classic rock songs on that album. In addition to "Be-Bop-a-Lula" and Berry's "Sweet Little Sixteen," he delivered versions of "Rip It Up" and Richard's "Slippin' and Slidin'," two tracks Holly also recorded with his band.
Also see: When The New Beatles Documentary From Peter Jackson Will Hit US Theaters