The Origin of 50 Cent and Floyd Mayweather's Beef
Rapper-turned-mogul Curtis "50 Cent" Jackson has a career that's on fire right now. He has multiple entertainment ventures, liquor brands, and he earned a star on the Hollywood Walk of Fame. But he's also notorious for feuding with other celebrities and trolling just about anyone he pleases on the internet.
Some of his antics are funny, and some not so much. Many of 50 Cent's beefs have stood the test of time (ahem, Ja Rule) but one that sticks out is between him and boxer Floyd Mayweather, Jr. Why did it start?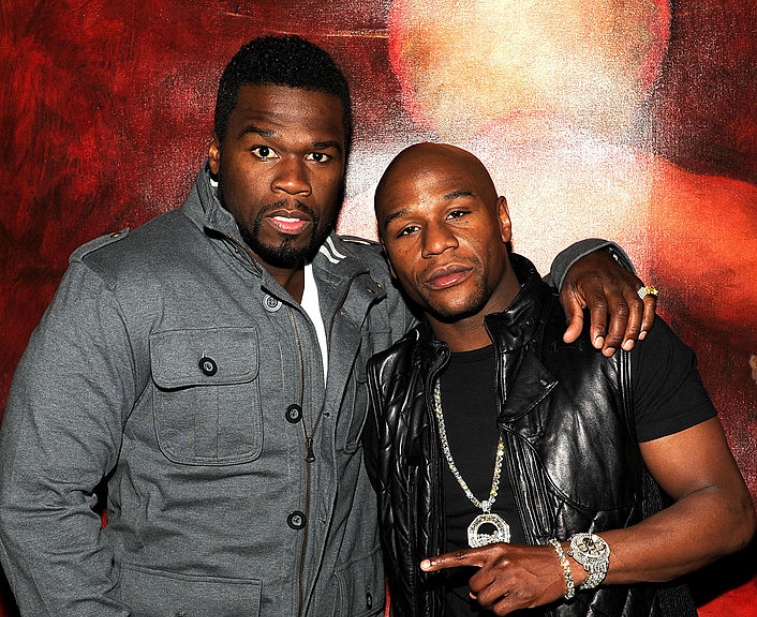 50 Cent and Floyd Mayweather used to be close friends
For years, the two men were tight. They hung out daily, partied, and were on an upward trajectory in their careers around the same time. 50 Cent mentioned in the past that he considered Mayweather to be his brother, citing things they had in common and Mayweather's love for music.
50 Cent attended Mayweather's fights and showed up for his WrestleMania match against Big Show. On the flip, Mayweather appeared on one of 50's five XXL covers. They also set up business partnerships in areas such as film.
In 2013, 50 Cent told the Wall Street Journal that Mayweather was a fan of his since 2002, and that's part of the reason they connected. The pair had a falling out in 2012 that's lasted on and off for years, with each one taking shots at one another, and each stating their own side of the story.
Mayweather says he has no problem but…
According to Mayweather, the tension goes back to 2012 when he had to do some jail time. Things were cool for a few months, but by the fall of that year, a rift ensued over business matters. Mayweather said that trouble can be traced backed to Tommy Summers.
Mayweather told Complex News that when he was locked up, Summers approached 50 Cent about getting into the boxing business – specifically under the TMT (The Money Team) Promotions brand.
When Mayweather got out, he learned 50 Cent wanted to remove longtime promoter/manager Al Haymon from the equation.
That's when things started to go sour. By the end of 2012, the two friends were exchanging verbal jabs and doing petty things to each other in the public eye, and it lasted for years.
During an interview on Drink Champs in February 2020, Mayweather said he didn't know why his friend was saying negative things about him, but he got caught up in a back and forth.
Eventually, he decided to let it go. On 50 Cent, he said, "I guess he could've been upset that we didn't come together and start doing the TMT Promotions together."
"We could've stayed friends. I never asked him to get a part of G-Unit or whatever he was doing, I just thought we had a genuine friendship. That's what I thought."
50 Cent asserts it comes down to business
50 Cent said when Mayweather was in jail, he asked him to help run the business. Fif said when he first became involved, there was no formal paperwork under Mayweather's name or brand, so he took care of that on the business end.
He also began investing in the company and brand, including signing fighters to the team. Once Mayweather was released and back on his grind, 50 Cent expected at some point to be repaid for half of his investment as a partner, and that amount was well over $1 million.
During an appearance on Hot 97 this year, he said Mayweather claims he doesn't know why there was a problem. Per 50, he technically holds all the power when it comes to TMT as a business entity, but he won't use it.
However, he insists that there is no beef and he'll always consider Mayweather a friend. As you can tell from social media, that won't stop him from trolling his frenemy on occasion.