The 'Outlander' Cast Rallies Around Sam Heughan in Support
In a lengthy post, Outlander star Sam Heughan opened up about the years of hurtful bullying he's faced. After seeing the actor's emotional message, his co-stars are rallying around him in support.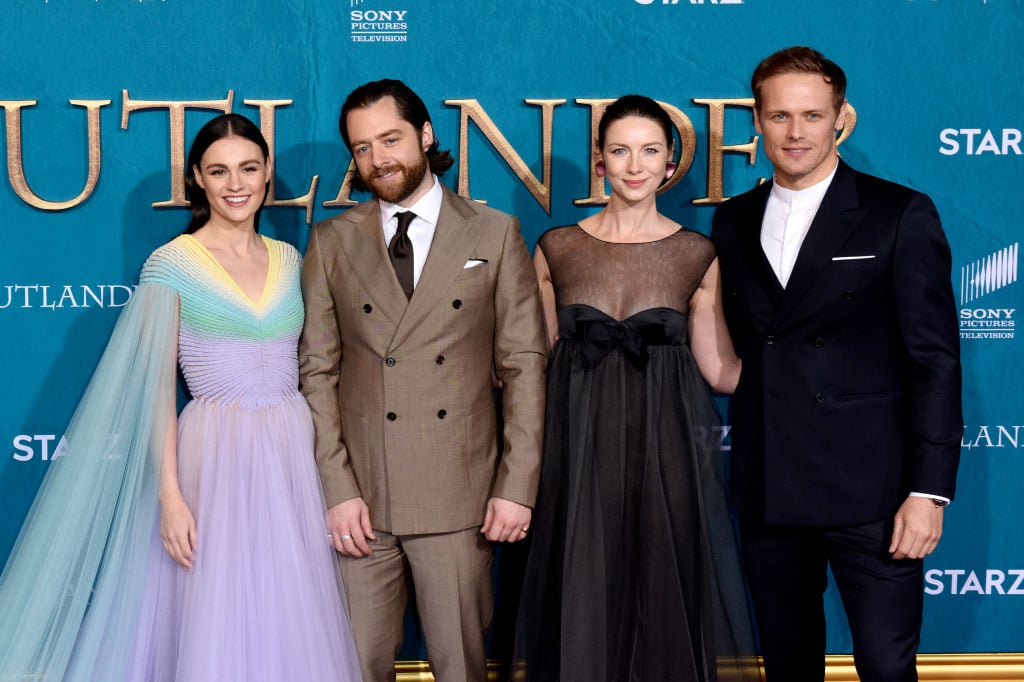 Sam Heughan posts a lengthy message about being bullied
On his social media pages, Heughan shared an emotional post about the harassment and bullying he's faced for years. "After the past 6 years of constant bullying, harassment, stalking and false narrative I am at a loss, upset, hurt and have to speak out. It's affecting my life, mental state and is a daily concern," the actor revealed. "My costars, friends, family, myself, in fact, anyone I'm associated with, has been subjected to personal slurs, shaming, abuse, death threats, stalking, sharing of private information and vile, false narrative."
Heughan said that he hasn't talked about it until now because he always believed the bullying would stop. He also mentioned that some of the bullies are educated professionals like teachers and psychologists, but wouldn't go into detail because of "ongoing legal reasons."   
The Outlander star revealed that he receives harassment about his sexuality, as well as his recent choice to self-isolate in Hawaii during the coronavirus pandemic. He also said that some bullies have become a threat to his personal safety. 
"These bullies have created a false narrative, sharing private information and abused my loved ones and I consistently for the last six years on blogs and SM (social media)," Heughan added. "I will not entertain it anymore and am blocking anyone that writes anything defamatory or abusive. Sending items or stalking my private accommodation, they have harassed my work colleagues and constantly tried to hack our email and personal accounts. I'm so hurt by this."
He ended the post by thanking the fans who've supported him. "I'm so grateful, from the bottom of my heart," Heughan wrote. "Stay safe and please be kind to yourself and each other. There's so much more to concern ourselves with right now."
Heughan's 'Outlander' co-stars react to his post
Soon after Heughan posted his message, his Outlander co-stars rallied around him in support. Caitriona Balfe, who plays Claire Fraser on the show, retweeted his post and slammed haters for their abusive rhetoric. 
"Sad that Sam has had to come out and say all this," Balfe wrote on Twitter. "I would have thought mean bitchy behaviour would have been left in the school yard. But unfortunately a VERY SMALL but very vocal part of this fandom use their energy to write and say awful untrue things. Maybe they should harness all that energy to get involved in their local charities."
Actor Richard Rankin, who portrays Roger MacKenzie on the Starz series, tweeted about Heughan and called out his trolls. "A nicer, sweeter guy you'll struggle to meet," Rankin tweeted about his co-star.  "Unacceptable, abhorrent behaviour from those determined to bend, twist and fabricate to suit themselves and whatever nonsense narrative fits their fantasy or rumour mill that day."
As Jamie's daughter on the show, actress Sophie Skelton works closely with Heughan. She also took to Twitter to show her love and support for the actor. "Screens don't protect from those sticks and stones so please stop throwing them," Skelton wrote in the tweet. "Thankfully, there are also incredible fans out there, and thankfully we have a very close cast. Standing together. We love you, Heughan."
David Berry, who plays Lord John Grey, shared a heartfelt message for Heughan on Instagram. "I want to add my support to @samheughan and his bravery in standing up to online bullying," Berry wrote in the post. "Sam is a wonderful actor, a kind person, and a generous friend. I stand in solidarity with you. Always got your back."
Outlander author Diana Gabaldon also came to Heughan's defense. "I don't know what possesses some people, but the bottom line is that Sam's private life is exactly that," the writer tweeted. "Nothing he does is anyone else's business."