'The Pioneer Woman': Ree Drummond's 16 Minute Greek Feast Is the Perfect Summer Recipe
Ree Drummond makes an easy Greek feast recipe — complete with chicken skewers, a Greek salad, and hummus — in just 16 minutes. It's perfect for summer and is a totally portable meal idea.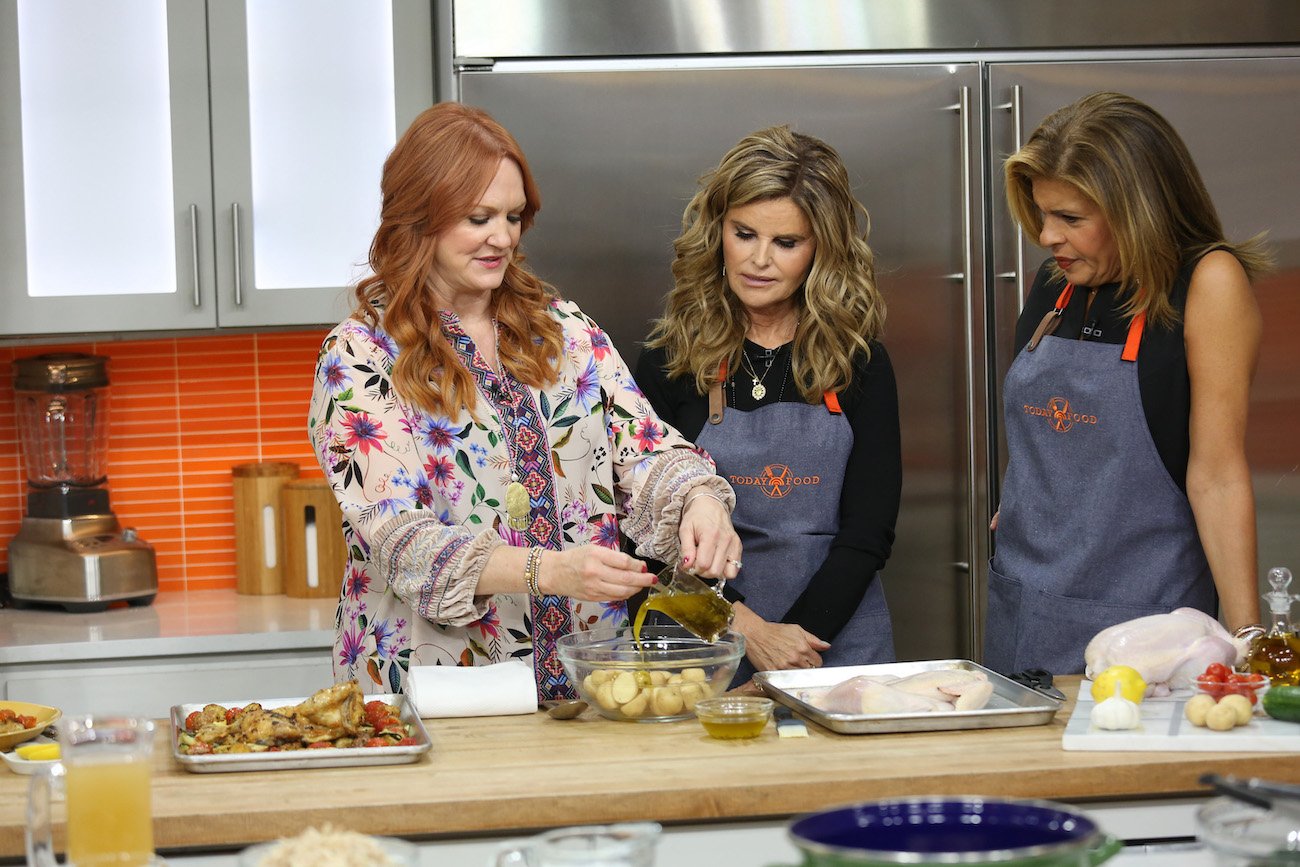 Ree Drummond has an easy hack for her Greek feast recipe
Drummond demonstrated how to make her Greek feast on an episode of The Pioneer Woman dedicated to 16-minute summer meals. She whipped up the quick meal "to go" as she planned to bring it to a meeting.
"It's really full of color and flavor and it's gonna take no time at all to whip up," she shared.
The Food Network host prepped the vegetables for a Greek salad, combining tomato, cucumber, and red onion in a bowl, then set it aside while she made a simple dressing. "This is a super-simple Greek dressing. It's also going to double as a marinade for some chicken," she explained. "I love to double up on dressings and marinade. It saves time — you don't have to make two different things."
Drummond shook up olive oil, red wine vinegar, sugar, oregano, salt, pepper, and crushed red pepper flakes in a mason jar. She poured half of the dressing over chicken tenders in a dish to marinate and put the rest on the vegetables, tossing to coat. Then she added feta to the salad, noting, "I waited until the end to put this in just so it didn't get all crumbled up."
For the chicken, she first soaked skewers in water then threaded the chicken onto the skewers, and placed them on a grill pan.
Drummond made an easy hummus to go with the meal
Drummond had to make hummus to go with her "feast," but the process was easy. "No 16-minute Greek feast is complete without hummus and I'm making a batch of my roasted red pepper hummus," she said. "This stuff is delicious."
She added rinsed chickpeas to a food processor with garlic, salt, cumin, olive oil, lemon juice, roasted red peppers, and tahini. "It's basically a sesame paste," she explained about the tahini. "It is so flavorful — you really miss it if you don't add it to the hummus."
The Pioneer Woman star pulsed the ingredients together and added a drizzle of water to get it the right consistency. "Whenever I think of Greek salad I always think of summer," she said. "It has tomatoes and cucumbers and those are things I always grow in my garden."
Drummond assembled the Greek feast by placing the hummus in a container and bringing along olives, pita bread, and the grilled chicken. "Now that is one scrumptious 16-minute Greek feast," she said. And it's totally portable, too!
The full recipe is available on the Food Network website.
'The Pioneer Woman' star's Greek feast recipe earns glowing reviews
Based on the reviews left on the Food Network recipe, people love Drummond's simple Greek feast.
"Make this chicken and salad every few weeks — entire family loves it! Very easy and flavorful," one person shared. "Love that it's one recipe that doubles as both marinade and dressing. I buy hummus and tzatziki sauce at the store to serve with it. Make extra chicken and chop up and add to leftover tomato/onion/cucumber salad for a great lunch."
Another reviewer shared, "This was very good! I'm glad I decided to try it. Not only was it fast it was easy and a perfect meal on a hot day! I will make this often. Oh, and the hummus is the best I've had yet!"
RELATED: 'The Pioneer Woman': Ree Drummond's Chocolate Silk Pie 'Looks Like a Chocolate Cloud in Heaven'