How 'The Pioneer Woman' Ree Drummond Chooses Which Blouse to Wear on the Cover of Her Cookbooks
"The Pioneer Woman" star Ree Drummond is a big fan of blouses. If you regularly watch her Food Network television show or see her during interviews, she's usually wearing a brightly colored top with lots of flowers. This style has become her signature look and fans seem to love it. When it's time to take …
"The Pioneer Woman" star Ree Drummond is a big fan of blouses. If you regularly watch her Food Network television show or see her during interviews, she's usually wearing a brightly colored top with lots of flowers. This style has become her signature look and fans seem to love it.
When it's time to take a photo for one of her cookbooks, Drummond takes great care to choose the right blouse. Here's how she chooses which blouse to wear for the cover of her cookbooks.
Ree Drummond loves 'blousy' tops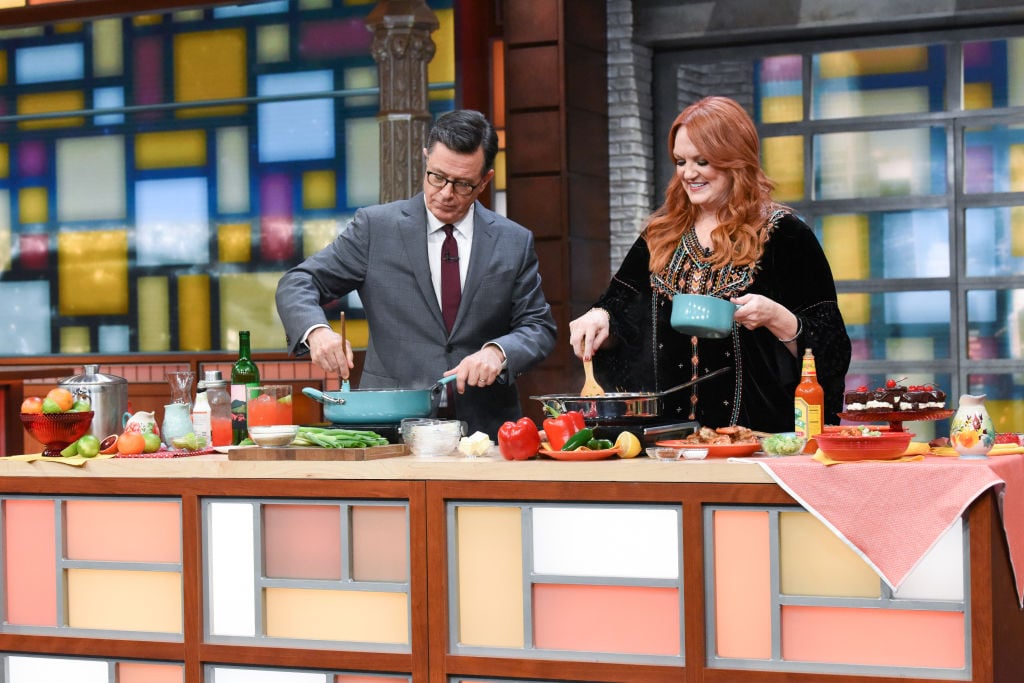 It's unlikely you'll see Drummond in a form-fitting blouse. Rather, she prefers a style that allows for more movement. Drummond says he likes to wear what she calls "blousy tops." She confessed to her fans she doesn't just wear these tops because of their beautiful designs. She revealed on Instagram that she also wears the blouses to disguise her tummy. "In other news, I have been eating low carb for a couple of months, but there's still plenty of calamity and chaos going on under my blousy top, which is why I have an undying loyalty to blousy tops. And this is my favorite color of red. It's like a cherry and a watermelon had a baby. Thank you for listening," wrote Drummond.
How Ree Drummond chooses her blouses for the cookbook cover
How does Drummond pick just the right top for her cookbook covers? She puts a lot of thought into her outfit for the cover of her cookbooks. In the fall 2017 issue of "The Pioneer Woman" magazine, she explained how she comes up with her final look:
Choosing a shirt for the cover is a big commitment. I'll be wearing it on the front of that cookbook forever! I always test out a few options to find the right one. Sometimes I hold up the shirts to the camera and snap a pic to see how they look, and other times I put them on "tripod Ree": I actually dress my camera tripod (or sometimes an upside-down table leg) in different options!

Then I set up the rest of the shot and plan out exactly where the kids will stand because I know I'll only have a short window when I can get the four of them, and Lad, in one place. Ladd is the one who takes the final pic, and he does such a good job.
Where can you buy Ree Drummond's blouses?
One question many of Ree Drummond's fans have is where they can buy her blouses. If you're looking to purchase a blouse just like Drummond's, you're in luck. She shared with her fans on Instagram that she often buys tops from the clothing company Soft Surroundings. Sometimes she will even have closet giveaways on The Pioneer Woman blog. Drummond says she also purchases tops from Ella Moss, Hale Bob, and Leifsdottir. Also, if you happen to visit The Pioneer Woman Mercantile, you can find blouses like the ones Drummond wears.
Read more: 'The Pioneer Woman' Ree Drummond's Favorite Comfort Food
Check out Showbiz Cheat Sheet on Facebook!