'The Pioneer Woman': Ree Drummond's Halloween Bark Recipe Is the Easiest Candy Loaded Treat
Ree Drummond's easy bark recipe is perfect for the fall holiday and is a great way to use up leftover Halloween candy, too. The Pioneer Woman star shared how to make the quick Halloween recipe that's totally customizable.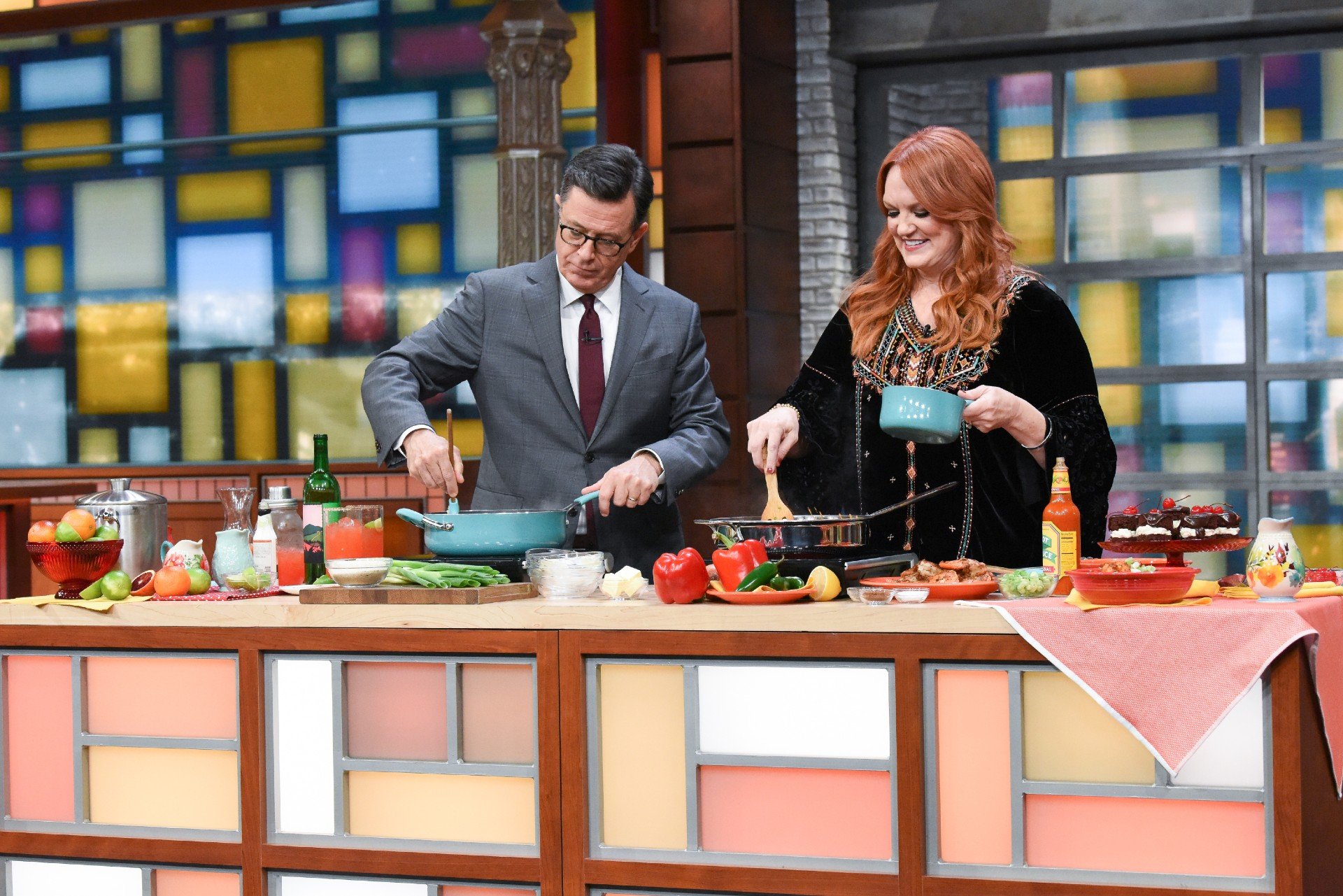 Ree Drummond's Halloween bark recipe is a fun snack idea
Drummond's Halloween bark recipe isn't all that spooky, but it is a lot of fun. In a 2013 blog post on The Pioneer Woman website, Drummond shared her customizable chocolate bark idea. "There are as many versions of Halloween bark as there are grains of sand in all the beaches of the world," she explained.
There's not much to it, as Drummond explained, "You need a bunch of … well, stuff. Some form of melting chocolate is a must (I used widely available almond bark but you can sub good quality chocolate or colored melting candies from the craft store), then you just need stuff to adorn it with: nuts, cookies, pretzels, candies, the kitchen sink, etc. I also used graham crackers as a base, but sometimes I don't. There's no right or wrong way to make it."
To make the bark, Drummond melts chocolate melting wafers in a bowl set over simmering water and melts white almond bark in another bowl. Then there's no limit to the combination of toppings you can use. For her recipe, she suggested pretzel sticks, chopped pistachios, chopped Oreos, mini chocolate chips, and "for a big injection of Halloween color, some Reese's Pieces."
Drummond makes two versions of Halloween bark
There are two approaches to making bark and Drummond shared the process for each. "The classic way is just to smear a layer of chocolate or almond bark on a pan and sprinkle on a bunch of different toppings," she wrote in her blog post.
"But I love the barks that have a graham cracker base, so that's what I'm-a-gonna-do," she added.
The Pioneer Woman star placed graham crackers on a baking sheet, then spread the melted almond bark over the top, and sprinkled the toppings on. Drummond made a non-graham cracker option too. She recommends giving all the toppings a light press so everything sticks, then refrigerates the bark until it's set.
'The Pioneer Woman' star's saltine 'concession stand crackers' recipe is another yummy Halloween treat
Drummond made a variety of Halloween treats during an episode of The Pioneer Woman, including what she calls concession stand crackers. "Whether you're looking for an easy way to use up some Halloween candy or you just need an inspired snack to serve for movie night, these concession stand crackers are a great bet," she wrote in a 2020 The Pioneer Woman recipe post. "Use whatever chopped candy your heart desires."
While demonstrating how to make the concession stand crackers, Drummond explained, "These are so much fun to make — probably the easiest Halloween treat in the history of Halloween treats." She started by making a mixture of chocolate candy melts and hazelnut chocolate spread, melting it in 30-second increments in the microwave, stirring it each time.
"This is what a concession cracker is," she said. "Good old saltine crackers and then you just dip it halfway into the chocolate mixture and then you can either dip or sprinkle on candy. It's as simple as that!"
Drummond laid the dipped crackers on parchment paper to allow the chocolate to set. "You can totally change it up — you can use nuts, candy bars chopped up — anything goes," the Food Network host explained.
The full recipe is available on the Food Network website.
RELATED: Ree Drummond Loves TikTok's Famous Pasta Recipe Trend: 'The Pioneer Woman' Star's Version of Baked Feta Pasta Is a Winner