'The Pioneer Woman': Ree Drummond's Peach Crisp With Maple Cream Sauce Is a Summer Dream Dessert
Ree Drummond makes an easy peach crisp that's the perfect summertime dessert. The Pioneer Woman star tops it with a simple maple cream sauce that takes the treat to the next level.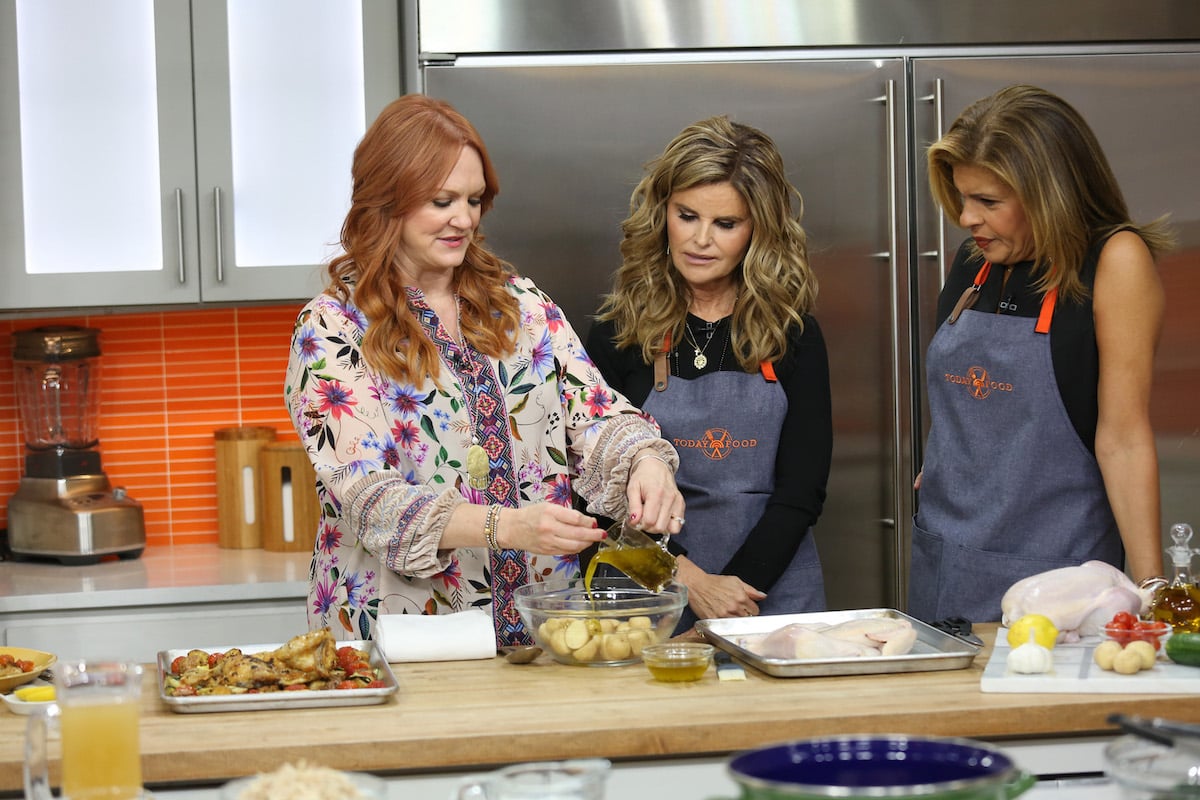 How to make Ree Drummond's peach crisp dessert
Drummond demonstrated how to make her easy peach crisp with maple cream sauce recipe during an episode of The Pioneer Woman dedicated to recipes she made for their Fourth of July celebration.
She sliced peaches first, placed them in a bowl, and added lemon zest, lemon juice, and maple syrup. "I do not like peeling peaches so I just don't peel them," Drummond explained. "I think the peel actually adds some nice color."
The Food Network host added, "This peach crisp recipe isn't just about the crisp. Later, I'm gonna whip up a maple cream sauce that gets drizzled over the crisp when it's done. It will change your entire life."
She let the peaches sit and moved on to the topping, calling it her "favorite part." Drummond noted, "The peaches are good but the topping — oh, is so delicious."
'The Pioneer Woman' star made an easy crisp topping
Drummond combined flour, sugar, brown sugar, cinnamon, nutmeg, and salt in a bowl. She added cold salted butter cut into pieces and used a pastry cutter to combine the mixture until it formed coarse crumbs. "This takes a few minutes so it always takes a little bit of patience on my part," she explained. "You can throw it into a food processor and just pulse it around if you want but I think the consistency is a little bit better when you do it yourself."
Drummond added, "Basically you want to keep working it until you can't see any more fine powder from the flour."
She buttered a baking dish and poured the peaches into the pan and sprinkled the topping evenly over the fruit. "When this bakes, it turns nice and golden brown, gets kind of crispy," she noted.
Drummond covered the pan with foil and baked the crisp in a 350 degree Fahrenheit oven for 15 minutes, then removed the foil and baked it for another 30 minutes.
Ree Drummond elevated her peach crisp with a simple maple cream sauce
For the maple sauce, Drummond added heavy cream, maple syrup, and light corn syrup to a saucepan set over medium heat. She stirred the mixture often during a 20 minute period until the sauce reduced by about a third. "When it's nice and thick, transfer it to a container and chill it for at least an hour," she advised. "Several hours is better."
Drummond added, "It is to die for."
In a 2007 blog post on The Pioneer Woman website, Drummond shared just a hint of how amazing the sauce is.
She advised after it was finished, "DO NOT taste it. It's evil and lethal and rude."
The Food Network host added an easy time-saving tip. "You can chill it in the fridge until it's cold and thick," she noted. "Or, you can take this shortcut: set the saucepan into a small bowl of ice. The ice will melt a little and turn to ice water, and as you stir the sauce, it will cool and thicken. Within about 15 minutes, it's cold!"
The full recipe is available on the Food Network website.
RELATED: 'The Pioneer Woman': Ree Drummond's Strawberry Almond Pound Cake Is an Easy Summer Dessert