'The Pioneer Woman': Ree Drummond's Spoon Cake Is 'Out of This World' Delicious
Ree Drummond makes an easy spoon cake recipe that is a hit with her husband Ladd. 'The Pioneer Woman' star whipped up the cake and made a delicious ganache frosting.
Ree Drummond makes an easy cake that can be eaten straight out of the pan. The Pioneer Woman star's spoon cake is perfect for beginners and is a great little dessert idea when you don't need to feed a crowd.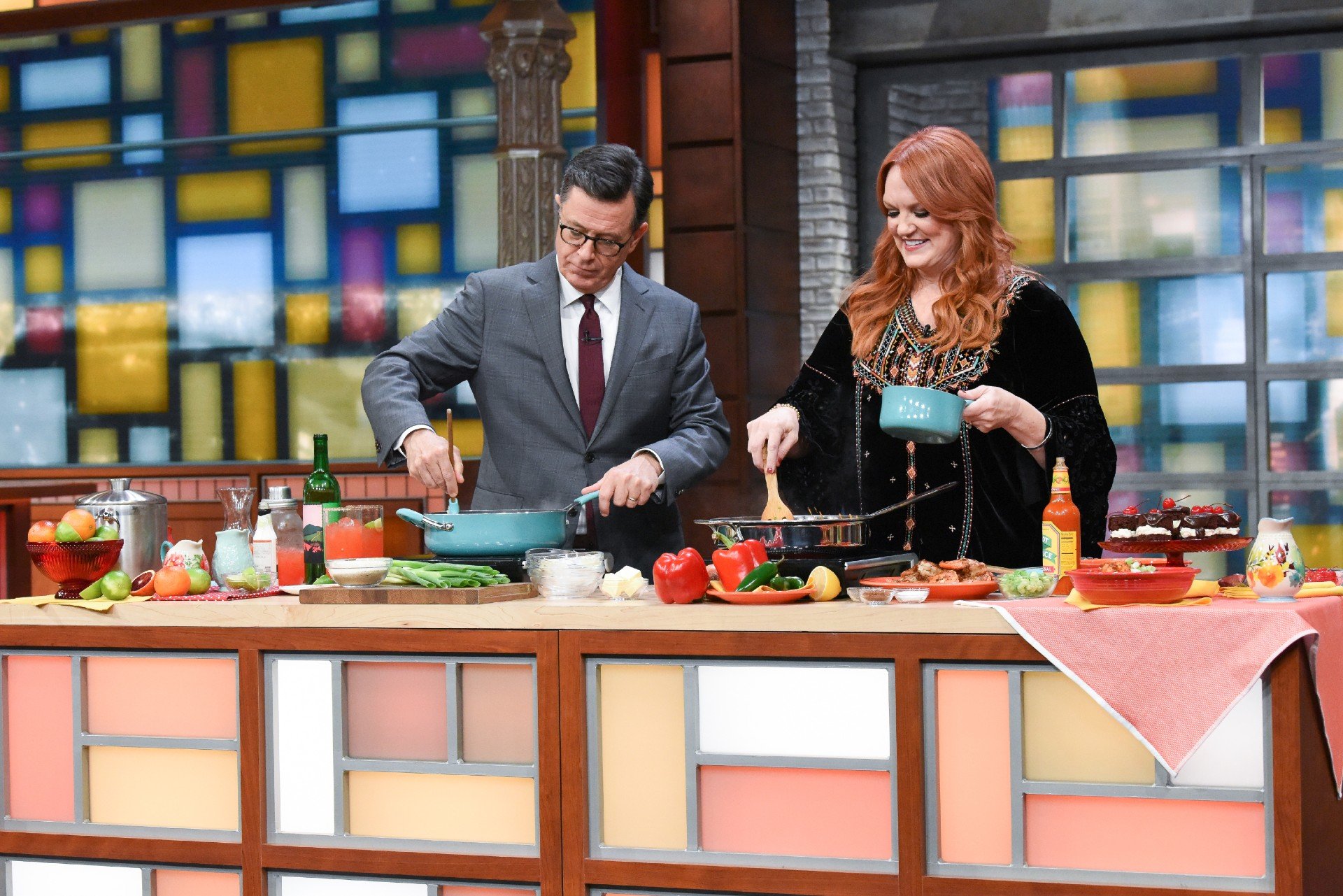 Ree Drummond made the spoon cake recipe for her husband Ladd
Drummond demonstrated how to make her easy spoon cake recipe during an episode of The Pioneer Woman dedicated to her husband, titled '10 Things I Love About Ladd.' Of course, a dessert had to be on the menu and she settled on spoon cake because of its simplicity.
"Ladd, along with every other person in the universe, is a big fan of cake," she said. "So it definitely seemed fitting to include cake on the list of things I'm making in his honor."
Drummond added, "I'm gonna make a spoon cake — it's a luscious yellow cake with an even more luscious chocolate frosting. And it's so good, you don't even want to put it on a plate. You just dip into the pan with a spoon and eat it up."
How to make Ree Drummond's simple cake recipe
Drummond started by sifting flour and corn starch into a bowl. She added sour cream, vegetable oil, an egg, and sugar in a stand mixer and beat the batter while she made a buttermilk mixture, combining buttermilk, vanilla, baking powder, and baking soda.
"Ladd's number one choice for cake is usually just a good old chocolate sheet cake. We have it for every birthday in the family, every picnic, every gathering," Drummond shared. "So every now and then I like to throw in this spoon cake. It does have chocolate icing but the cake itself is yellow and warm and moist and gooey — out of this world!"
The Food Network host added the buttermilk mixture to the mixer and reduced the speed. Then she added the dry ingredients in two batches. She increased the speed noting, "I don't want to overmix this batter. I just want to quit right when the dry ingredients are all incorporated."
Drummond sprayed a loaf pan with nonstick baking spray then added the batter to the pan. She baked the cake in a 350 degree Fahrenheit oven for 40 minutes. "As good as this looks, just wait until I frost it," she said after removing it from the oven.
Drummond's homemade frosting couldn't be easier to make. "I'm making a really fudgy ganache frosting," she said, as she added chopped chocolate to a saucepan over medium-low heat. Drummond added butter and sweetened condensed milk, heating and stirred the mixture, then poured the frosting over the warm cake.
The full recipe is available on the Food Network website.
Ree Drummond's recipe is a winner but reviewers made some slight adjustments
Drummond's spoon cake earned some rave reviews on the Food Network site, with comments including, "My husband's new favorite. Easy to make and the ingredients are always in my pantry."
Another reviewer shared, "It's called spoon cake for a reason. Yes, it's dense and pudding-like and so delicious it's hard for me to describe. The frosting and cake are both amazing and both so easy to make. Obviously a little goes a long way and that's the way I like it sometimes, something super satisfying after 2 or 3 bites."
Some reviewers found the cake needed a couple of small additions to improve the flavor, however. "This cake is so delicious this is my second time making it in two weeks!," one person shared. "When I tasted the cake batter it was kind of bland so I added extra vanilla extract and some almond extract and salt. It added some more flavor which made it perfect! Don't hesitate before making it. It is absolutely delicious."