'The Politician': Gwyneth Paltrow Initially Refused to Play Georgina Hobart
Gwyneth Paltrow will return for season 2 of 'The Politician.' Discover why she wasn't interested in the role in the first place, and who changed her mind.
When Netflix's The Politician returns on June 19, 2020, Gwyneth Paltrow will be reprising her role from the first season. As it turns out, she didn't want this gig to begin with. Learn why she agreed to it, and who convinced her to play Georgina Hobart.
Gwyneth Paltrow returns to TV in 'The Politician' Season 2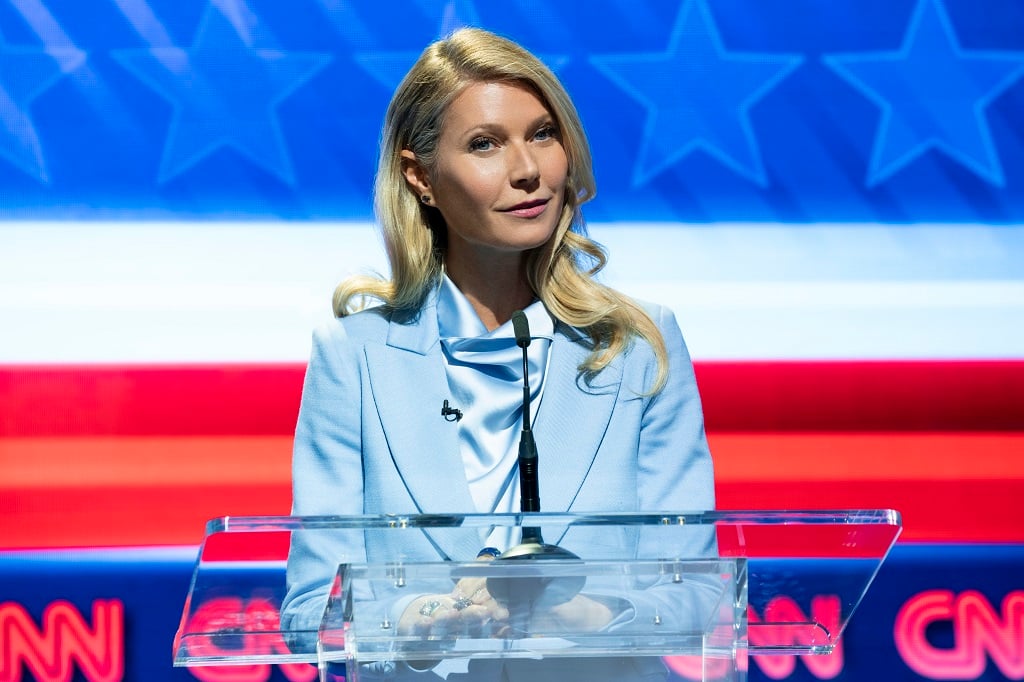 The Politician is officially returning for a second season on Netflix. And Paltrow is confirmed at a member of the cast. The official synopsis from the streaming service explains what's to come in the new season, in which main character Payton Hobart (Ben Platt) runs for Senate. However, someone will get in his way.
According to the description, "his mother, Georgina Hobart (Gwyneth Paltrow), makes a momentous decision that threatens to upstage him and everything he's hoping to accomplish." In the above photo, the character is seen standing at a podium, giving a speech for CNN. Is she running for political office, too?
She had a main role in season 1
Georgina is a complicated character, to be sure. In The Politician Season 1, she's introduced as a doting mother to Payton, who sees him as a breath of fresh air in comparison to her money-obsessed twin sons. She nurtures his ambition, all while looking to leave behind the life of extravagant wealth and unhappiness she led since marrying their father.
At the end of season 1, Georgina finally gets her wish — albeit not in the way she might have hoped. She teaches her son a lesson about losing, and, after being written out of her husband's will, donates what money she does have to charity and leaves the country. Paltrow doesn't appear in the final episode of the season, which takes place years down the road and sets up season 2.
Paltrow initially turned down the role
When The Politician Season 1 was released, many found it easy to compare Paltrow to Georgina. Both are wealthy and into things like crystals, which some consider to be a sign of privilege. And, as a matter of fact, the role was actually written for her by her the man who would become her husband, Brad Falchuk.
Paltrow told Elle in October 2019 that she turned him down at first, but he and co-creator Ryan Murphy were "like a dog with a bone." However, she doesn't seem to think she's that similar to the Georgina, saying, "The way [my character is] as a mother is most closely based on me," adding that Falchuk "was also borrowing from other aspects of [her] life."
Did she quit actually acting?
Why did Paltrow insist at first that she wouldn't do The Politician? It's hard to say for sure, but it's likely because she has "quit" acting time and time again. First in the early '00s, when she became a mom, then later as she shifted her focus to her lifestyle brand, Goop.
In reality, Paltrow scaled by her work in film and TV considerably, mostly making guest appearances on series like Glee (where she first met Falchuk) and in the Marvel Cinematic Universe. But with the musical series long over and Paltrow insisting she has said "goodbye" to Pepper Potts, The Politician did mark an unlikely return.