'The Price Is Right' Could Have Gone 'Happy Gilmore' When Aaron Paul Lost It on Stage
When he was a struggling, broke actor, Aaron Paul from Breaking Bad went for the gusto on The Price is Right and likely left an indelible impression on host Bob Barker.
In a TikTok, Buzzfeed's Spencer Althouse unearthed footage of an amped Paul, gregariously celebrating small wins on the show but also looking completely destroyed when he doesn't win the big showcase prize.
Paul's enthusiasm is so over the top, he thankfully didn't challenge Barker to a fight on stage because his outcome could have been similar to what Happy Gilmore experienced in the Adam Sandler classic comedy.
Aaron Paul gets amped when he meets Bob Barker
In the video, Paul is a contestant on The Price is Right looking incredibly charged and overreacting with every move. He explained that Red Bull was fueling this exaggerated enthusiasm. "Went to 7-11 and filled it up with six cans of Red Bull," he recalled in a 2019 interview on Build, shared in the TikTok. "Just trying to give them as much energy as possible." He added, "If you watched it, I looked like I was on drugs. I could not sit still."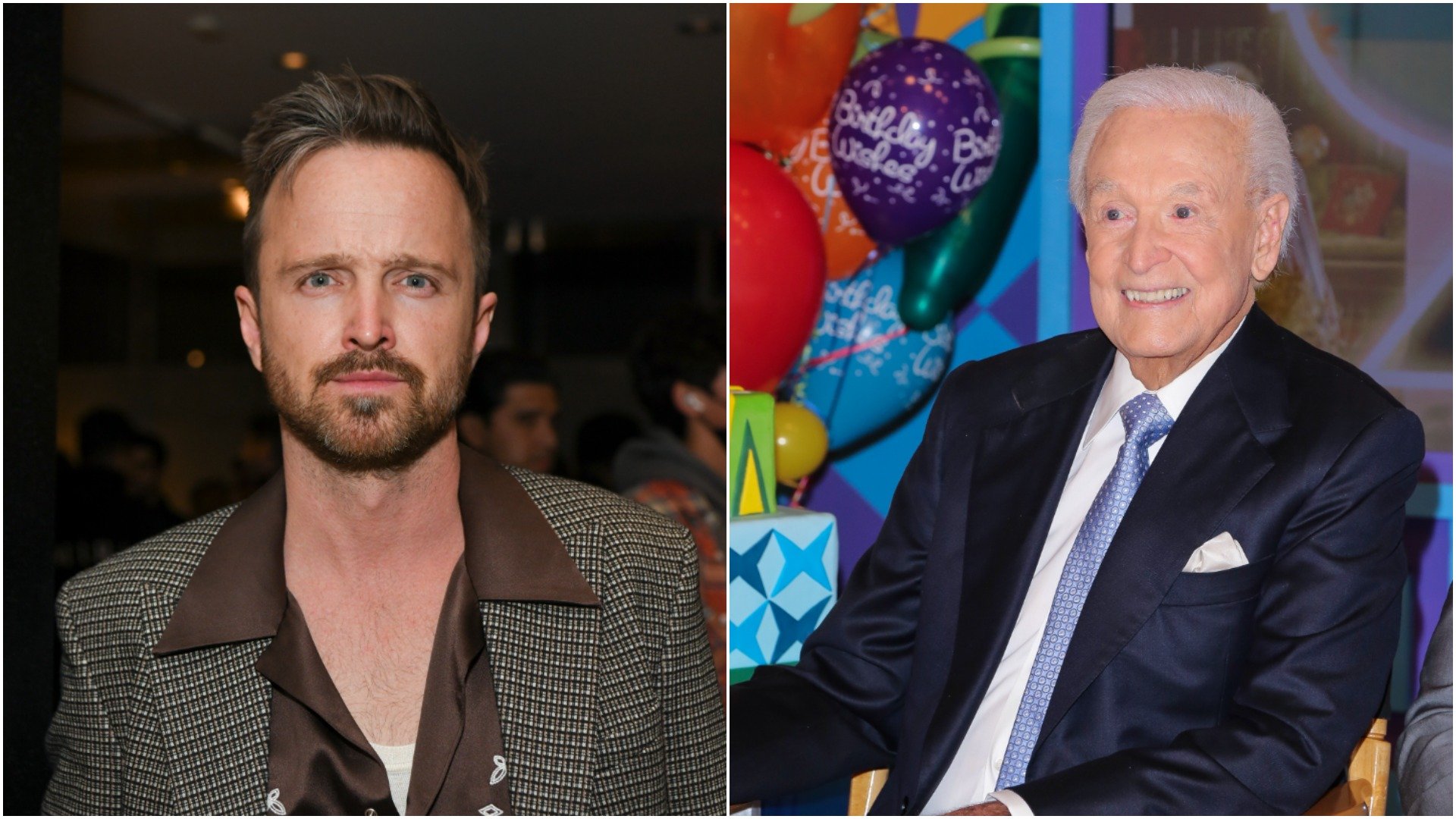 During the initial challenge, Paul screamed at Barker, "Bob! You're my idol!" Barker, completely unfazed continued to read the "actual retail price" which Paul won. Once Paul got on stage he still screamed about meeting Barker, leaping up and down while shaking the iconic host's hand.
A hearbreaking loss for Aaron Paul
Later, just seeing the new car opportunity on The Price is Right laid out Paul on the ground. "I gotta be honest, when I did the show I was struggling, I had no money and it was really a possible source of income," he said shared in the TikTok from a 2017 The Late Late Show with James Corden episode.  
Everything was seriously on the line for Paul because his reaction to losing is nothing short of depressing, especially when he misses the showcase amount by only a few hundred dollars. "When I lost that car I was so depressed for so long," he recalled. "And they shoot two shows at a time and my friend stayed for the second show. My buddy won the showcase showdown. What an a**hole!"
Thankfully Bob Barker never had to go 'Happy Gilmore' on Aaron Paul
Paul's reaction, while over the top, was all in good fun. But if he decided to take out some of that anger on Barker, he could have ended up like Happy Gilmore. Barker appeared in Sandler's 1996 comedy starring as himself. Happy plays in a celebrity golf classic and is teamed with Barker.
They get into an argument and Happy thinks he's going to serve a beat down on Barker. But Barker gets the last laugh, ultimately laying Happy out.
In a 2013 interview with CBS This Morning, Barker said he did his own stunts and could actually deliver if needed. "I said wait a minute, I wanna fight," Barker recalled telling Sandler when he suggested a stunt man. He added, "I wanna do the fight scenes. I wanna win the fight."
Barker said fans asked him if he could really beat up Sandler in real life. "Are you kidding?" Barker said. "Adam Sandler couldn't beat up Regis Philbin." Barker wasn't kidding about his fighting prowess. Barker was originally supposed to lose the fight on Happy Gilmore but he wasn't going down like that.
"I trained with Chuck [Norris]," Barker apparently told Sandler. "We trained every night. He helps me with my punches and my kicks, but I have to win this fight."
RELATED: 'Breaking Bad': Aaron Paul Once Got a Concussion While Playing Jesse Pinkman