'The Princess Diaries' Turns 20: Which Cast Member Has the Highest Net Worth?
It's been two decades since The Princess Diaries premiere. Based on the Meg Cabot book of the same name, the Disney movie saw Mia Thermopolis, an ordinary teen, who discovers she's destined to become the princess of a foreign country.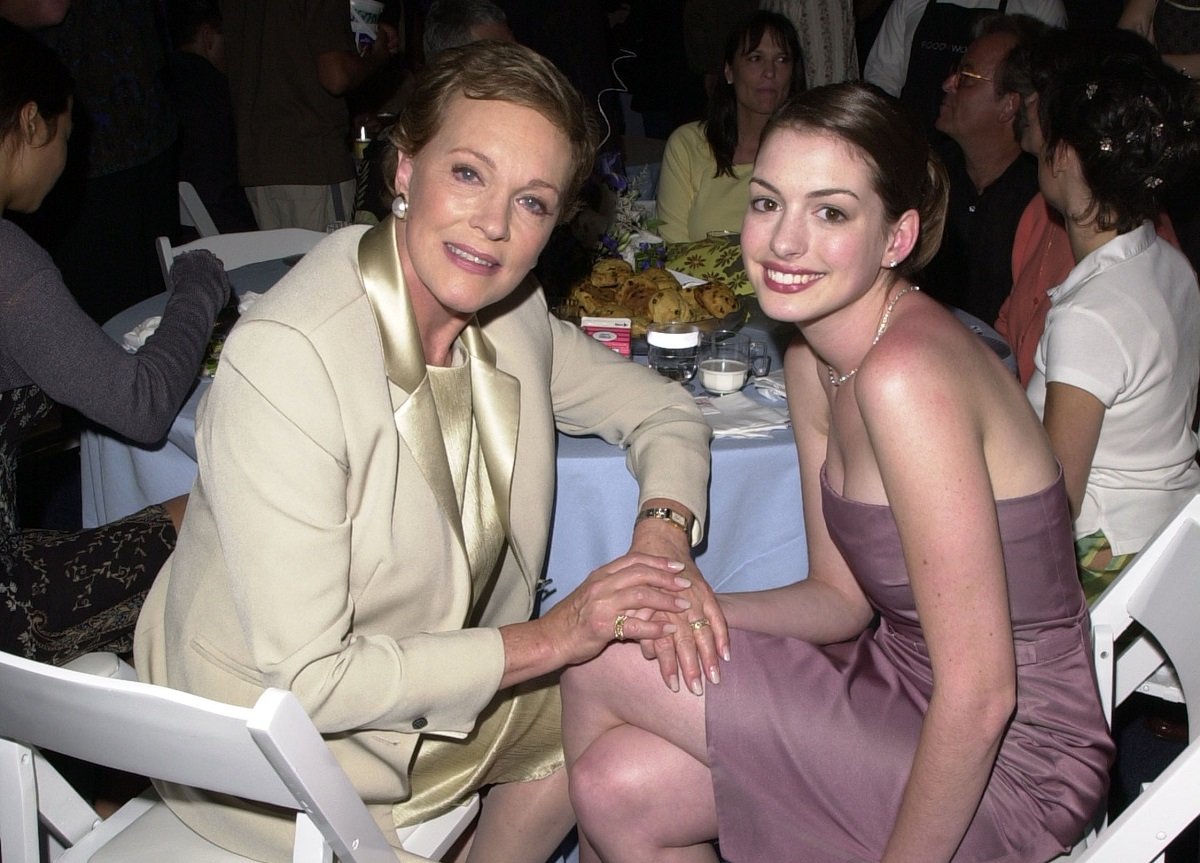 The film, starring Anne Hathaway as Mia and Julie Andrews as her grandmother (and the queen of said country), brought in a lot of money for the studio. It garnered a somewhat successful sequel. The Princess Diaries also helped launch the careers of some of its young stars. So who has the highest net worth 20 years later?
Julie Andrews
Oscar-winner Andrews may have been the big-name draw for The Princess Diaries. But at the time, she wasn't performing much, following a botched vocal cord surgery. She reunited with Disney for the project, which brought her renewed attention and led to a continued partnership between the studio and the actor.
Andrews is worth a reported $30 million, according to Celebrity Net Worth. Over the past decade, she has stuck with voice acting roles, from the Despicable Me movie franchise to the popular Netflix series Bridgerton.
Anne Hathaway
Following Hathaway's short-lived TV career on the unsuccessful Get Real, she made her film debut with The Princess Diaries. The film brought her near-immediate fame, which led to movies like Ella Enchanted, Brokeback Mountain, and The Devil Wears Prada.
Now an Oscar-winning actor with many notable credits to her name, Hathaway is worth a reported $60 million, according to Celebrity Net Worth. She returns to the small screen with her upcoming Apple TV+ drama miniseries WeCrashed.
Héctor Elizondo
The subtle yet beloved performance of Héctor Elizondo remains one of fans' favorites from The Princess Diaries. Elizondo portrayed Joe, who helps guide Mia on her journey to becoming a princess. Like Andrews and Hathaway, he reprised his role in the 2004 sequel.
Aside from The Princess Diaries, Elizondo is famous for movie and TV roles dating back to the '60s, from Pretty Woman to Chicago Hope to Last Man Standing. Celebrity Net Worth estimated the Emmy-winning star's net worth at $10 million.
Mandy Moore
Rising pop star Mandy Moore made her foray into acting with her supporting role as mean girl Lana Thomas in The Princess Diaries. Her performance was so well-received it led to her first leading movie gig, in 2002's A Walk to Remember, which solidified her as a crossover talent.
Today, Moore's made a comeback in the music world. But many think of her as an actor first and foremost, specifically for her leading role in the popular drama series This Is Us. Moore is reportedly worth approximately $14 million, according to Celebrity Net Worth.
Sandra Oh $25 million
Another small but memorable role from The Princess Diaries is that of Vice Principal Gupta. Gupta is strict with her students, yet adores Andrews' royal character. Sandra Oh played the character, having previously appeared primarily in lesser-known independent projects.
A few years after The Princess Diaries, Oh landed her career-defining role as Cristina Yang in Grey's Anatomy. Since leaving the long-running medical drama in 2014, she's starred in Killing Eve and her upcoming Netflix miniseries, The Chair. According to Celebrity Net Worth, Oh's net worth is around $25 million.
RELATED: 'The Princess Diaries' Alternate Ending Would Have Left Fans Unfulfilled