'The Quarantine Crew': A Run-Down of Everyone That Hannah Brown and Tyler Cameron are With During the Coronavirus Pandemic
It's no secret that former Bachelorette Hannah Brown and her second choice, Tyler Cameron, are quarantined together in Florida. However, fans are wondering who all these people are that continuously appear in their TikTok videos and Instagram stories. 
Although it might not seem like it, they are under the group of 10 maximum for gatherings during the coronavirus (COVID-19) quarantine, with only 8 people total. Here's a quick run-down of everyone Brown and Cameron are quarantined with in Florida.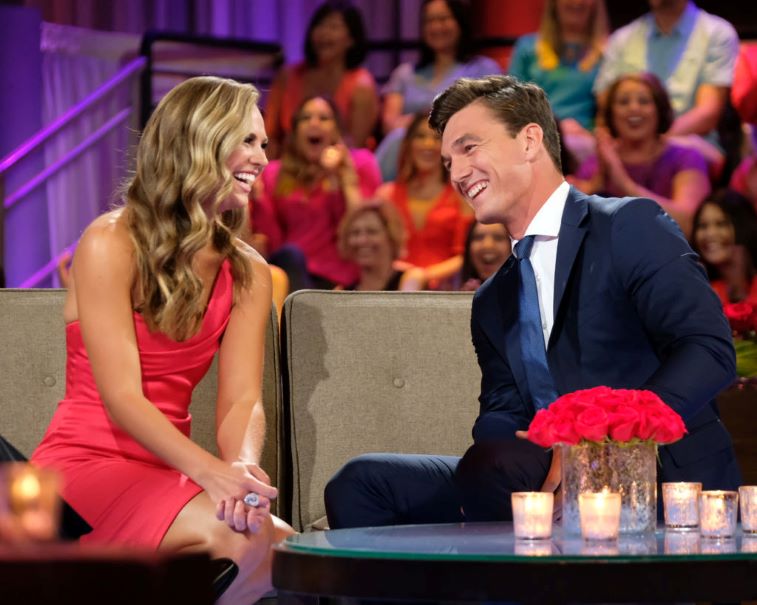 Why is Hannah Brown quarantined with Tyler Cameron in Florida?
Cameron's mother, Andrea Hermann Cameron, died of a brain aneurysm on February 29, 2020, according to The Palm Beach Post. She lived in Jupiter, Florida, and worked as a real estate agent. She died two days after she went to the hospital, so it was very sudden.
On March 10, 2020, Brown flew to Florida to attend a celebration at Miller's Ale House in memory of Cameron's mother. Then on March 15, 2020, fans spot Cameron picking Brown up at the airport again. The two begin quarantining together at this point, and a few days later, the Instagram handle, "The Quarantine Crew," was formed.
Who is Ryan Cameron?
Ryan is Cameron's younger brother, who Brown often gets close to in videos on social media. From what fans can tell, they are just friends but forming a strong bond during this quarantine. He is vlogging during the quarantine and recently began a cooking show vlog, which you can find here.
Who is Tyler Cameron's friend, Matt James?
James is Cameron's best friend, who was about to be a contestant on Clare Crawley's season of The Bachelorette until the coronavirus struck. Although ABC might recast the show, it seems likely that James would remain considering how popular he already is with Bachelor Nation. James works in Real Estate as well as ABC Food Tours.
Who is behind Brown Bear Visuals?
Jacob Laham is the mastermind behind the majority of the videos and content coming from the Quarantine Crew and Cameron's social media accounts. He is a director, filmmaker, and photographer, according to his Instagram profile. He spent two months working in NYC, but is now "Focusing on getting my mind, body, and soul right down in Florida!"
Who are Kate Dooley and Olivia Fariaa in Cameron's 'Quarantine Crew'?
Dooley is a fourth-grade elementary school teacher and a micro-influencer. She partners with three other teachers online to share lesson plans, called "Teachers with Tea." Her Instagram is currently private, so we do not know much about her.
Fariaa is also an influencer based in Florida with a private Instagram account. We wouldn't be surprised if we saw either woman as a contestant on The Bachelor sometime soon.
Who is the Australian guy in the 'Quarantine Crew' videos?
Matthew Hayball is not in many pictures or videos with the Quarantine Crew, but he does make a few clips. He's from Australia, plays football for Florida Atlantic University, and is a friend of both Cameron men. Lately, he is featured in the Quarantine crew's videos about what they are eating daily.
The Quarantine crew documents footage on their Instagram stories, TikTok, vlogs, and a few posts, if you would like to follow their antics. They are currently on Day 19 of quarantine together, so about half-way through a six-week Bachelor season. While The Bachelorette won't be returning in May due to the coronavirus shutdown, it looks like we still have some great content coming with Cameron, Brown, and their new Quarantine Crew.