The 'Reacher' $224,000 Bentley Flying Spur Drives Like a 'Private Jet' Says Star Alan Ritchson
The new Amazon Prime Video series, 'Reacher,' features a beautiful Bentley Flying Spur that actor Alan Ritchson admits drives like a private jet.
The Reacher Bentley Flying Spur is just as fierce as Alan Ritchson's towering hero in the Amazon Prime Video series. And according to the actor, the luxury car lives up to its name, and drives like a private jet on the road. 
The 'Reacher' Bentley Flying Spur costs over $220,000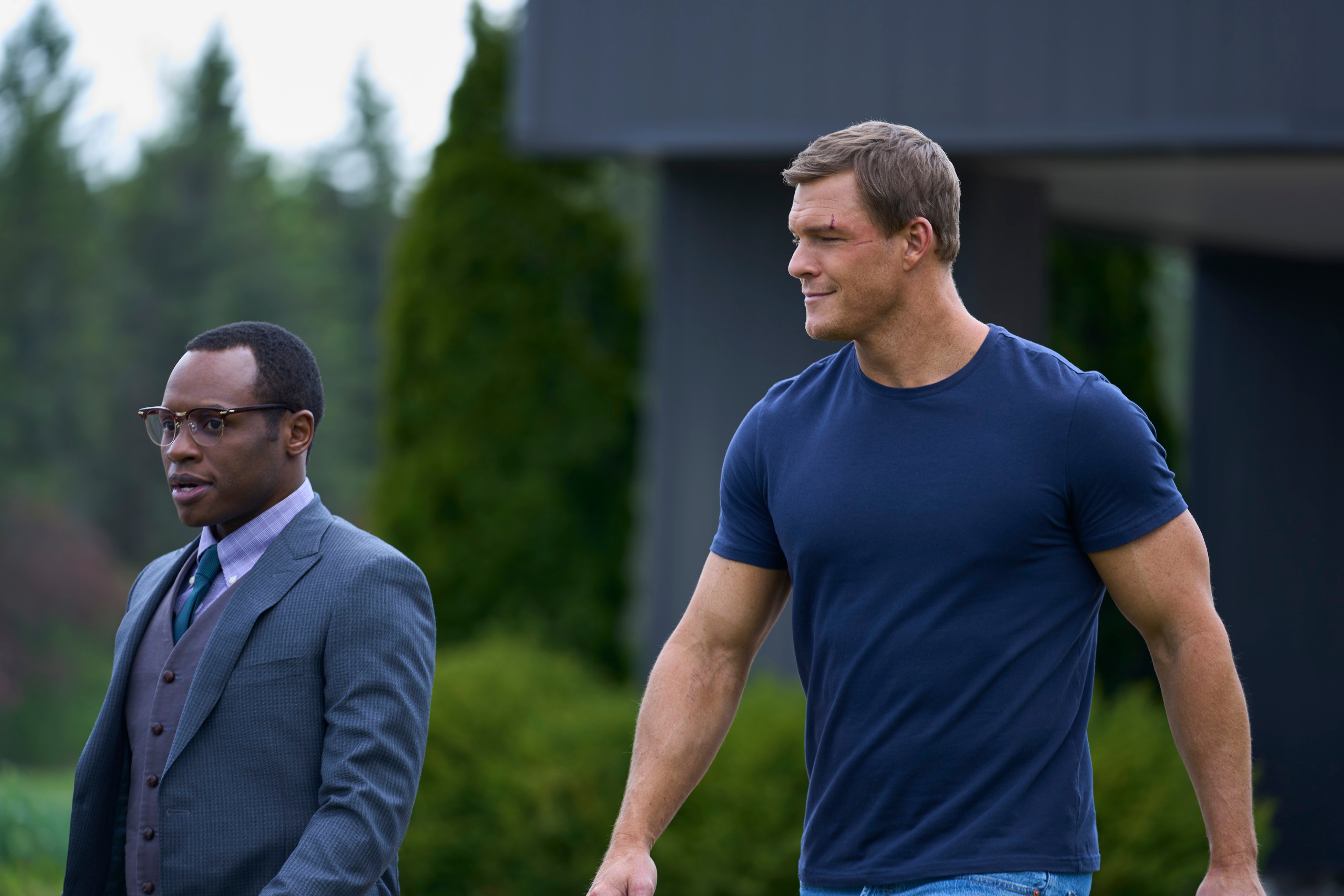 In Reacher Episode 5, Jack Reacher finds himself needing a new car to drive in Margrave. So he heads to Hubble's (Marc Bendavid) garage and pulls out a beautiful, dark green Bentley Flying Spur. 
As described by Bentley, the luxury sedan comes in three versions — a 6.0 liter W12, the agile 4.0 liter V8, and the electric hybrid 2.9 liter V6. The car used in Reacher appears to be a Flying Spur W12. 
For 2022, the Bentley Flying Spur starts at $198,000. But the more powerful W12 that Reacher drives around goes for approximately $224,000.
'Reacher' actor Alan Ritchson loved driving the Bentley Flying Spur
Ritchson got to drive the Bentley Flying Spur quite a bit for Reacher. And in a promotional video shared by Amazon Prime Video and the car company on Twitter, the actor admitted it was a joy to drive. 
"My favorite part about working with Bentley is getting to drive a Bentley," a smiling Ritchson says in the clip. "I love that thing."
"It's like driving a private jet," he adds. "Who wouldn't want to drive a Bentley?"
'Jack Reacher' author featured a Bentley in his book
Reacher is based on Lee Child's 1997 Jack Reacher novel, Killing Floor. And in the book, his hero drives around in a Bentley T2. 
According to Child, he featured the luxury car in his story because of how much he admired it. "It is the most beautiful saloon car ever built," the author told Driving.co.uk, noting he owns a 1977 Bentley T2 himself. "I wrote about it in my first book because if you can't afford something, at least you can write about it." 
In the video clip shared by Bentley, Child talks about the Flying Spur featured in Reacher. And he suggests it was the go-to because it's a perfect fit for the strong, no-nonsense hero. 
"Its values are Reacher's values," Child says. "No other car will do what that Bentley does. It's about producing the best car you can and not compromising."
The Bentley Flying Spur has appeared in other shows as well
Reacher isn't the only show to feature a Bentley Flying Spur. The car has appeared in several TV series and films over the years. 
A 2005 Flying Spur was used in the 2006 James Bond movie, Casino Royale. And in 2018, a Bentley Continental Flying Spur appeared in Crazy Rich Asians. The car has also been seen in shows like NCIS: Los Angeles, Riverdale, Hawaii –Five-0, and Billions.