The Reagan Family on 'Blue Bloods' Might Not Like Plant-Based Burgers but 1 of the Stars Is Vegetarian
The latest episode showed the Reagans aren't fans of plant-based meat and go for a "traditional menu." However, there is one star who is a vegetarian in real life. Find out which actor it is and how that affects filming for him with his Blue Bloods co-stars.
The Reagans always have certain food on their dinner table on 'Blue Bloods'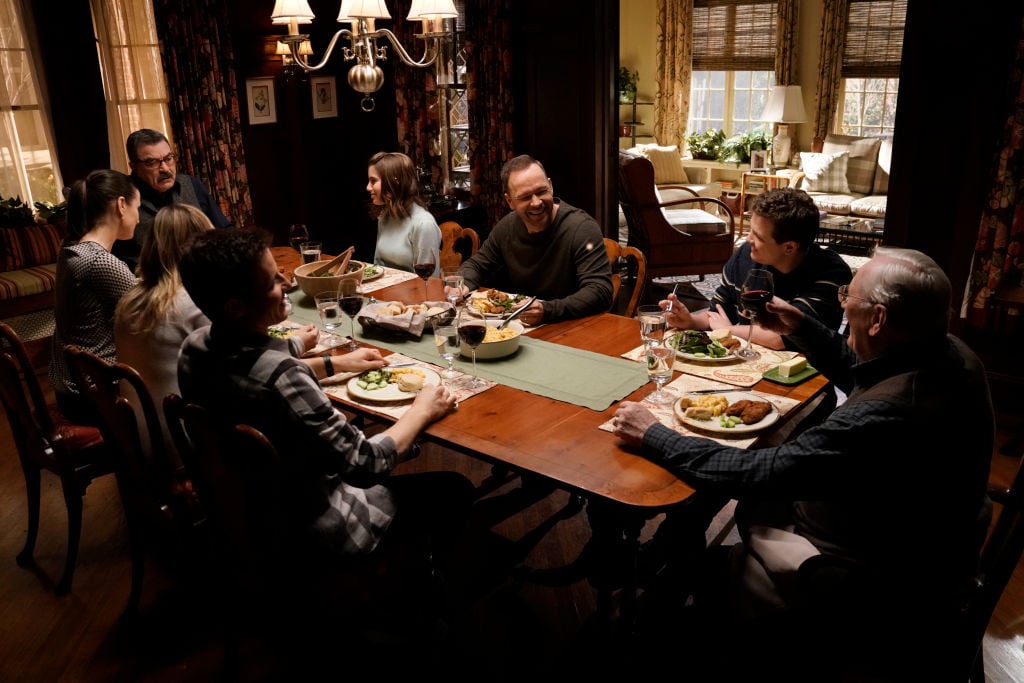 Every episode shows the family eating dinner together. Jamie Reagan (Will Estes) previously revealed his grandmother was from Ireland and always had the goal to feed her family. When she came to America she started the weekly family dinner tradition. There are a few staples that are kept on their table.
"There's always potatoes, there's always a vegetable, there's always a roll, there's always salad," Jim Lillis, the prop master of Blue Bloods, revealed to CBS58. "We peel and chop a lot of cucumbers," he said.
The actors also have their favorite meals. "Tom [Selleck]'s a steak and potatoes kind of guy," he told The Virginian-Pilot. Other meats have been the centerpiece of their dinners.
"It's usually a pot roast, maybe meat loaf, roast chicken with some version of potatoes, green vegetables, always dinner rolls," he said. "That basically is my mother's menu, the one I grew up with because I'm also Irish-Catholic."
There is also a cookbook inspired by the show. The Blue Bloods Cookbook: 120 Recipes That Will Bring Your Family to the Table is co-written by Bridget Moynahan, who plays Erin Reagan.
The Reagans aren't fans of plant-based meat
The episode "Fog of War" showed the Reagan family trying something new. It was Eddie's idea for them to eat Mung bean burgers.
"No offense, Eddie (Vanessa Ray). It's not the same," said Frank. "What dad means is we don't eat fake meat," said Danny (Donnie Wahlberg.)
Eddie pressed on saying it's not fake but plant-based. That didn't do her any favors. "You see Eddie, the thing is we're a traditional menu kind of family," said Frank.
Sadly, Jamie isn't even on her side. He didn't try one because he "read the label." Henry (Len Cariou) is the one who caves to try it and said it's not bad. But Frank still doesn't believe it.
Will Estes is a vegetarian
It's interesting that Jamie wouldn't even try the burger because Estes is a vegetarian in real life. Wahlberg has previously talked about this being one of the many things that makes him different from the co-star.
"We're really kind of different," Wahlberg told Showbiz Cheat Sheet. "We're different. He's a vegetarian and I'm not. I sell hamburgers for a living [laughs.] But he introduces new foods to me and we talk about different things."
Estes might be the only vegetarian in the cast, but it works in his favor. Selleck reportedly isn't a fan of vegetables and will pass his off to Estes, according to TV Guide. We will have to wait and see if the Reagans will try more new foods in the future.