Which 'The Real' Host Has the Highest Net Worth?
Fox's The Real has become one of daytime television's most upbeat talk shows. The show's hosts all come from various entertainment backgrounds, and all of them have been there since the show's beginning in 2013 (with the exception of Amanda Seales, who became a full-time host in 2020).
The women reportedly all receive different pay for the show — but which host has the highest total net worth?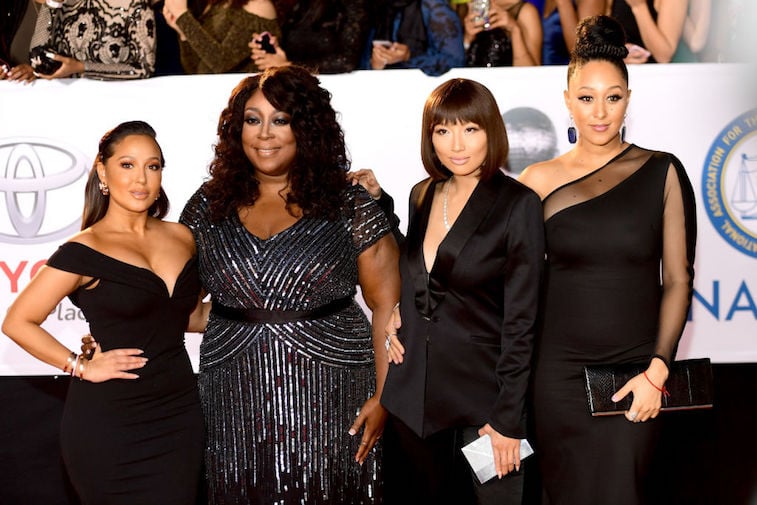 Jeannie Mai: $2 million
Jeannie Mai has an extensive background in entertainment, and it started with cosmetics. Mai is a former makeup artist who reportedly once worked with celebrities such as Alicia Keys and Christina Aguilera. Mai then went on to work for various shows, such as The Biggest Loser. She has been hosting The Real since its first episode, and she's worth an estimated $2 million. Mai recently went through a divorce and kept her $1.2 million home in the settlement.
Amanda Seales: $3 million
Amanda Seales is the newest co-host and the only one on the panel who hasn't been there since the show's start. She often appeared as a guest host, but in January 2020, the network turned her into a full-time co-host. Seales has been in the entertainment industry for years as a comedian and DJ, among other things. She has an estimated net worth of about $3 million.
Loni Love: $3 million
Loni Love wasn't in the entertainment industry from the start. The veteran co-host actually started out as an electrical engineer, but she eventually left the engineering field to pursue stand-up comedy. She has appeared in a slew of films television shows, and she was the winner of Worst Cooks in America back in 2016. In 2018, she won the Daytime Emmy Award for Outstanding Entertainment Talk Show Host alongside her co-hosts. Today, Love is worth an estimated $3 million.
Tamera Mowry-Housley: $4 million
Tamera Mowry-Housley is arguably the most well-known host on the show — and her paycheck proves it. Mowry-Housley reportedly makes $2.5 million per season of The Real, which is far higher than her co-hosts' salary estimates, which range from $200,000 to $950,000.
Mowry-Housley starred on the sitcom Sister, Sister back in the 1990s and early 2000s, alongside her real-life twin sister, Tia Mowry-Hardrict. The sisters, who have mostly had roles together, also starred in the Disney Channel original movies "Twitches" and "Twitches Too." Mowry-Housley's extensive television career has given her a current estimated net worth of $4 million.
Adrienne Bailon-Houghton: $5 million
Adrienne Bailon-Houghton is worth the most out of any of her co-stars, despite the rumors that she's paid one of the lowest salaries on the show. Bailon-Houghton rose to fame in the music group 3LW, but her starring role in Disney Channel's "The Cheetah Girls" franchise is what made her so well-known.
Bailon-Houghton starred in all three "The Cheetah Girls" movies, and she even appeared frequently on Keeping Up With the Kardashians during her relationship with Rob Kardashian. Since then, she's appeared on other shows, such as The Masked Singer in 2019, where she placed third. Today, Bailon-Houghton is said to be worth more than $5 million.