The Real Reason Former 'The Young and the Restless' Star Michael Muhney Wants His Job Back
Michael Muhney played Adam Newman on The Young and the Restless for five years. The actor's time on the set was controversial, but fans deemed Muhney as the star they wish would return most. Muhney's sudden departure from the hit CBS daytime drama came after sexual harassment rumors and on-set feuds surfaced. Here's why the former Y&R actor wants to return to the show.
Michael Muhney wanted to 'end it all' after he was fired from 'The Young and the Restless'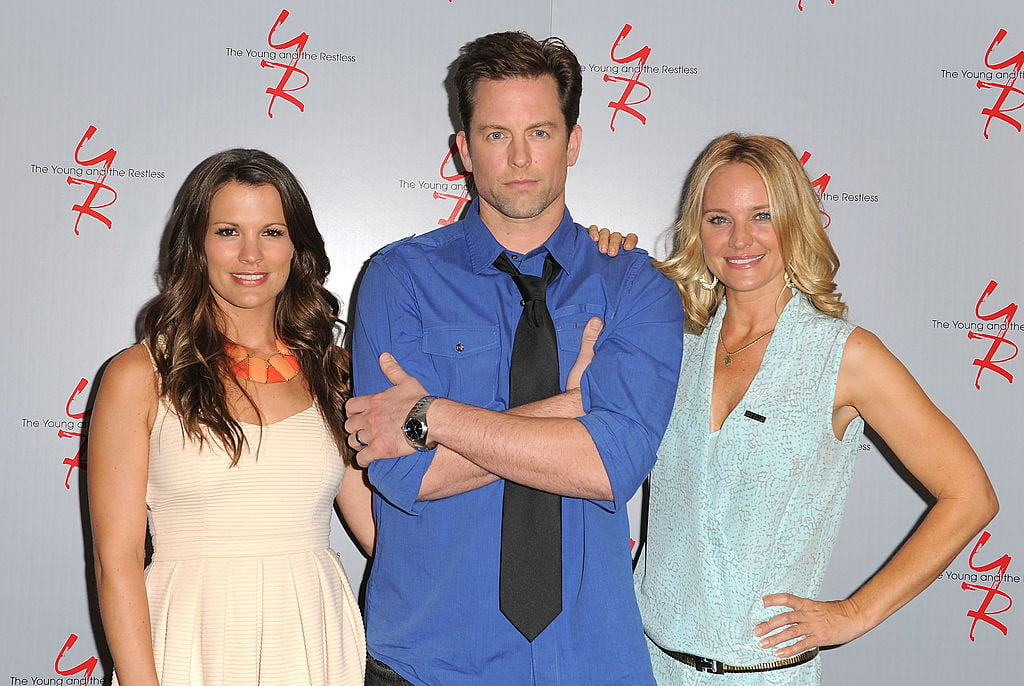 RELATED: How Far in Advance Is Young and the Restless Taped?
In 2014, Michael Muhney was let go from his role as Adam Newman on The Young and the Restless just after he renewed his contract through 2015.
"I was told 'We're going to be letting you go'. Everyone knows I always have something to say. I'm a chatterbox, laugh all you want, but I was rendered speechless for about five minutes. I didn't utter a word," Muhney previously told Huffington Post.
Rumors had circulated about whether Muhney sexually harassed Y&R co-star, Hunter, King, alleging that was a reason behind his firing. However, those rumors have yet to be substantiated.
In an interview on The Peloton Brief Podcast: Real Talent with Phil Gaimon, Muhney opened up about the validity of those rumors, stating the gossip site, TMZ is connected to a blogger who made up the rumor.
Muhney said the rumor is not true nor the reason he was fired. Instead, he admits to giving the network an ultimatum.
"I am gonna leave or you have to push me out the door or something has to change," Muhney said. "After six months they finally said fine, you are leaving."
Following the incident, Muhney struggled with coming to terms with it all. He took to Twitter to remember his mother-in-law who died by suicide, claiming he'd had intrusive thoughts post-Y&R.
"Over the past five years, during several of my many bike rides around Los Angeles, with inescapable pain and frustration and tears in my eyes, my mind would wander," he wrote.
"I'd think about my life insurance policy for my wife & kids. I'd imagine drifting across that double-yellow line into oncoming traffic and ending it all. All over a grotesque internet rumor and a lie."
Some fans thanked Muhney for his honesty, while others criticized the actor for tagging King in the tweet. He also revealed getting through those dark times with the help of his mother and wife, Jaime Garrison. Now, he's reflecting on his days on The Young and the Restless, hoping for a return.
The real reason Muhney wants his job back
RELATED: Former 'The Young and the Restless' Producer Mal Young Admits He 'Ruffled a Few Feathers' Before He Was Fired
Despite the rumors regarding King, Muhney's on-set feud with longtime Y&R veteran, Eric Braeden (who plays Victor Newman), also came into play. Once Muhney lost his job, he realized he'd made a mistake and asked for his job back. Producers considered it but ultimately, they passed.
"My problem was I was a f*cking idiot. I was my own worst enemy," he said in the podcast. "I just kept pushing and I needed to just keep my head down and do my work."
Muhney's silence regarding those sexual harassment rumors seemed to be the reason for his Y&R career's demise. Some believed he should've defended himself sooner.
"This rumor disgusted me. I have a daughter. I never would do that," he explained. "People thought I was gay on sets cause I never hit on girls. I was always professional."
He did admit his part in the feud with Braeden, claiming he was the cause. Braeden has since publically stated he has no beef with the former star. Still, he's hoping for a second chance.
"My people are trying to talk to the right people," Muhney said. "I want to go back to Y&R."
Muhney wants to return to redeem himself and his reputation among his co-stars. Fans would happily welcome him back as he has been touted as the best Adam Newman to date, according to multiple sources.
Here's what Muhney has been up to his he left 'Y&R'
RELATED: 'The Young and the Restless' Star Melody Thomas Scott Once Named the 1 Co-Star That's Difficult to Work With
Since his 2014 firing from The Young and the Restless, Muhney has finished a handful of projects including the TV movie, Correcting Christmas, The Track, Search Engines, an episode of The Good Doctor, and a video short, Sidepiece.
The married father of three is active on Twitter, posting photos of him and friends cycling. During the quarantine, he lost his cat, Sandals, and has tracked the movie he's watched with his family and games they've played. For the record, he has also "acquired an acute taste for Cheez-its & caramel ice cream."
It's unclear what will happen from here — if Muhney will successfully get his job back and reprise his role as Adam Newman. He would replace the current actor, Mark Grossman, whom Muhney's successor, Justin Hartley, approves of.
If he did return, fans would be all for it. Only time will tell. Your move, CBS.
The Young and the Restless airs weekdays on CBS.