The Real Reason Giada De Laurentiis Refuses to Eat Eggs for Breakfast
Celebrity chef Giada De Laurentiis enjoys a good frittata, but she simply won't eat it in the morning. Here's why.
Food Network mainstay and Cordon Bleu Paris educated chef Giada De Laurentiis knows a thing or two about food. This celebrity chef feels completely at ease preparing gourmet dishes and what's even better is she makes fans feel like they're capable of doing the same. Her mega-watt smile is both genuine and inviting.
But like just about everyone else in the world, De Laurentiis has some pretty specific tastes when it comes to cuisine. There are some foods she avoids cooking and eating. And while she does enjoy a good frittata, there's a good reason you won't ever catch De Laurentiis having eggs for breakfast.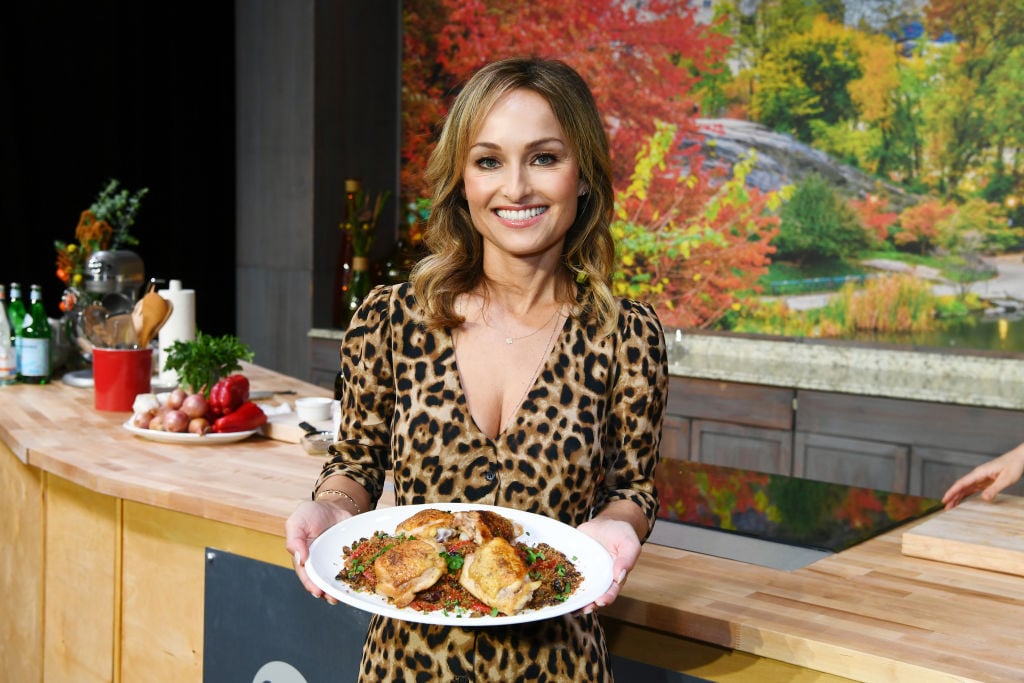 She starts each day with a glass of water
Plenty of people stumble sleepily to the coffeemaker first thing in the morning. But De Laurentiis recommends fully hydrating your body and waking up your digestive system before eating or drinking anything else. The best way to do that? A nice glass of water with lemon.
As she told Delish, "You get dehydrated as you sleep and need to help your body rehydrate when you get up." 
She prefers carbs in the morning
Most celebrities these days are trying extreme low carb eating plans, like the keto diet or South Beach Diet, to lose weight. But De Laurentiis takes the opposite approach and always eats carb-heavy meals first thing in the morning.
"I do brown rice, with olive oil and salt. I like a carb for breakfast, and I like a savory breakfast," she told Pop Sugar (via Mashed). "If you start your day with sugar, you're jacked for the rest of the day. I get up really early in the morning, so I need a carbohydrate. So I'll do 1/4 cup of brown rice, with warm olive oil and salt."
De Laurentiis also said she enjoys lemon buttermilk pancakes on the weekends, which she shares with her daughter, Jade.
De Laurentiis loves eggs, but not for breakfast
Since she's usually eating savory carbs for her first meal of the day, that means she doesn't want to have eggs. Curiously, De Laurentiis reserves this breakfast mainstay for lunch or dinner instead.
"I am not a protein person for breakfast – it's not my thing," she told Food & Wine (via Mashed). "I'm a starch girl because that's the way I was brought up… We can eat eggs for lunch and dinner, like in a frittata, but not breakfast. I can't do eggs for breakfast."
She loosely follows a Mediterranean diet
Though she admits she'll eat most things in moderation, the mainstays of De Laurentiis' diet include healthy grains, olive oil, and lean protein or fish. Experts have touted the benefits of the Mediterranean diet for decades and these customs make sense for De Laurentiis, who is of Italian descent.
De Laurentiis uses plenty of garlic and olive oil in her dishes but told Cooking Light that one of her favorite low-calorie and low-carb ingredients to add is lemon.
And one thing the cookbook author and food enthusiast won't do is deprive herself. She noshes on burgers, fries, chips, chocolate, and all types of "naughty" foods occasionally as a treat. "I make sure they aren't a daily habit!" she said.
That sounds like great advice to us!